From PhD students to professors - lots of people love us!
Word is getting out - and scientists all over the world are using Hello Bio products:
95% of researchers who reviewed our products gave 5 stars*!
(*Based on 356 reviews, data collated 8th June 2021)


What are researchers saying about Hello Bio?
We pride ourselves on our product quality, very low prices and customer service - and here's just a selection of some of our customers' comments...
4-Hydroxytamoxifen ≥70% Z worked well. We were using Sigma but went to you for availability and pricing. It works the same and we will be using your products for now on. This is used in the lab frequently and our concern was the quality but you do a fine job with this. Verified customer, Washington University in St Louis, USA
Came in quickly, works great. We appreciate the very fast delivery time from Hello Bio, as well as the competitive pricing. Cmpd101 works very well in our system, and we already need to order more. Verified customer, OHSU, USA
It does what it should :). Nicely soluble in water, CNO dihydrochloride attenuated resting membrane potential and action potential firing frequency in developing striatal MSNs expressing hM4D(Gi)... we are looking forward to exciting results! Verified customer, University of Helsinki, Finland
We've ordered SalB from HelloBio a few times and have been impressed with the product and company. Product works great and the sales reps have always been a pleasure to work with. Thank you! Verified customer, Weill Cornell Medicine, USA
Excellent!!!!!!!!! ...After months of failures using kainic acid from a different vendor - who would not tell us who produced the compound, not share verification data, only performed the most rudimentary verification tests, and had significant lot to lot variability - we decided to explore other options. Hello Bio answered all of our questions, confirmed that they produced the compound themselves, ran significantly more, better, verification tests, and shared verification test results with us. The kainic acid has so far worked exactly as expected, at only about 25% of the cost from our previous vendor. So far we have only tested a single lot, so we don't know anything about lot to lot variability, but we have received multiple vials from the same lot number and all worked identically. As a researcher there are few greater setbacks than faulty reagents, especially something as niche as kainic acid, which has only a few vendors to pick from. It is refreshing to find a reagent vendor who 1) understands quality and 2) acts as both supplier and vendor. Verified customer, Indiana, USA
Timely arrival - responsive staff. Even in the midst of COVID, arrival was timely and staff were rapidly responsive to questions about availability/pricing. Great service. Verified customer, Washington University in St. Louis
DL-AP5: can't get a better deal than this! We love Hello Bio's DL-AP5!! This is one of the most heavily used inhibitors in our electrophysiology lab and with three rigs running daily we go through a LOT of it. We switched from another supplier to Hello Bio's DL-AP5 two years ago and the 50% price difference has saved us thousands of dollars so far without sacrificing an iota of quality! All those savings are used on other aspects of our research program rather than lining the pockets of industry executives and I call that a win for the taxpayers that fund our research!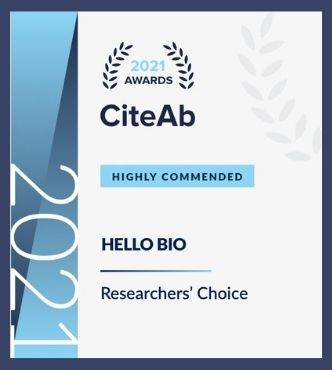 Verified customer, University of Toronto, Canda
Absolute satisfaction not only with item received, but especially with communication. This product (CNQX) meets our expectation and description as declared on websites. Communication was immediate and fast. Item came second day after purchase has been done, firmly packed. Unrivaled prices, friendly approach! Verified customer, National Institute of Mental Health Czech Republic
Great product. Great company and product. Better pricing & similar quality compared to the most of the other companies. We used CNO dihydrochloride for both i.p. and drinking water delivery, and it worked fine. Nice service. Verified customer, University of Minnesota
We mostly like the price – we use a lot in our experiments, so price is really important for us. All compounds we purchased so far from you worked really well – no surprises. So we are very happy we found you – because with your compounds we can significantly cut the cost of our experiments. Verified customer
Very excellent! I recently switched to Hello Bio to purchase compound for my electrophysiology experiments. The compounds work great and it saves the lab a lot of money! I now recommend Hello Bio to my colleagues. Verified customer, INSERM, France
It (AM 251) works - bang for your buck! Works as described! Great technical support. Verified customer, UC Denver
Trusted brand. Purchasing the item online is so convenient and much cheaper than through a middle agent. Verified customer, University of Malaya, Malaysia
Hello Bio's great pricing for CNO has enabled our small lab to greatly expand our DREADD experiments beyond what we initially thought we could afford...Great products, great staff and support! Verified customer, Macquarie University, Australia
Better and cheaper - we switched to Hello Bio's DNQX for all of our electrophysiology experiments over a year ago and have been thrilled with the results (and the savings) compared with other suppliers. Since this is a staple in our lab, and we go through a LOT of it, Hello Bio has saved us thousands of dollars in the last year without compromising our results at all. Definitely recommend! Verified customer, University of Toronto, Canada
My end users have come to me, to let me know that your company is great. The delivery was extremely quick (next day) and the information provided with the product has exceeded their expectations, and have now asked me to send out an email recommending your company to the rest of the Lab users – they also loved their mini white board!! Verified customer, University of Cardiff, UK
Thanks for your great products in general! Verified customer, The University of Montana, US
Just want to say your price is very reasonable in comparison to other companies I've looked at! Communication was great and delivery was quick! Verified customer, The University of Bristol, UK
I made the discovery that the NMDA receptor is the trigger for the induction of LTP using D-AP5 synthesized by Jeff Watkins, the discoverer of the NMDA receptor. At that time it was not commercially available but Jeff kindly gave me a sample of his new antagonist. I now obtain my D-AP5 from Hello Bio. I love their products and ethos and that is why I accepted a position on their Scientific Advisory Board.
Professor Graham Collingridge, winner of The Brain Prize, 2016
Received first thing this morning. Thanks again for your outstanding customer service. Daniel English, Sheffield Hallam University, UK
My lab is very satisfied with your D-AP5 quality and price. It has been a pleasant experience and many compliments for your speedy shipping times and many thanks for my welcome pack with the "21 ways to say hello!" poster and for the little memo-board Guglielmo Barberini, European Brain Research Institute, Italy
Thanks again, in my experience, it is not always nice to interact with small companies, but Hello Bio is one of the good examples and really close to its customers!Dr. Dagmar Schuetz, Jena University Hospital, Institute for Pharmacology/Toxicology, Germany
Tetrodotoxin citrate from Hello Bio worked perfectly as expected and blocked action potential firing at concentrations of 100 nM and above. I would recommend the use of Tetrodotoxin citrate from Hello Bio for use in electrophysiology recordings. Matt Udakis, PhD student, University of Bath, UK
Your Cmpd101 – worked great! Dr Steven Gee, Pfizer Neuroscience, USA
We would recommend Cmpd 101 from Hello Bio – it performs exactly as expected in assays looking at MOPr desensitisation, phosphorylation and internalisation. Dr Chris Bailey, University of Bath, UK and author on Mol Pharmacol paper, PubMed ID 26013542
Getting on well with DHPG & picrotoxin – they do what they're supposed to! Professor Bruno Frenguelli, University of Warwick, UK
I am currently working with forskolin. The quality of product and service is very satisfying. I am very happy to have access to your high quality products. Pojeong Park, PhD student, University of Bristol, UK
Your prompt delivery and communication is much appreciated. You've been great to deal with and we will be looking to order from you wherever possible going forward. Well priced NBQX and QX 314, combined with great customer service makes for an easy decision as to who to order from. Dr Sarah Hulme, Research Assistant, University of Bristol, UK
Thank you very much - I'm sure I'll be placing another order soon! Just wanted to say that the DHPG works perfectly in my experiments - thanks again for a great customer service! Dr Ellen Braksator, Research Assistant, University of Bristol, UK
It is really reasuring to hear that you take your customer's ease so seriously, and you and your company have been an absolute pleasure to work with thus far. Again, thank you so much for making the effort and we will most certainly continue ordering with your team. Alicia Lauren Leibowitz, University of New Mexico, USA
My lab used D-AP5 from Hello Bio and were very happy with it. It behaved exactly as expected! Professor Kei Cho, Chair of Neuroscience, University of Bristol, UK (Hello Bio Scientific Advisory Board Member)
I am most thankful to have been provided with my travel award by the friendly company Hello Bio Dr Jonas Bystrom, Bone and Joint Research Unit, William Harvey Research Institute , UK, Hello Bio travel award winner
I am very happy with the fast turnaround you provided Professor Robert Duvoisin, Oregon Health & Science University, USA
Were we happy with the customer service? Yes! Were we happy with the products? Yes! Would we recommend Hello Bio to others? Yes! Professor Annalisa Scimemi, University at Albany, State University of New York, USA
Great products, great staff and support! Verified customer, Macquarie University
High quality and affordable! We use this compound routinely in the lab for neuronal recordings. Verified customer, The University of Montana
Worked just as it should, results indistinguishable from our previous product but at a significant cost reduction! Verified customer, The University of Toronto
We have tried the IMQ compound and it worked as expected and happy with the prompt delivery time. So overall, I am very happy with the product and the service and would consider purchasing from Hello Bio in the future. Verified customer, King's College London, UK
I am very satisfied by the support I received. Verified customer, Pierre-and-Marie-Curie University, France
Very excellent! Very quick shipment! Verified customer, Seoul National University, South Korea
I am thanking you for your team. I received my parcel today and am satisfied by your overall service. If i need further chemicals I can again contact Hello Bio! Verified customer, Hamdard University