The Hello BioPromise - quality guaranteed
We have a wealth of of experience working in the synthetic chemistry field – including commercial settings (such as Tocris Bioscience, Abcam, Ascent Scientific and GE Healthcare), the pharmaceutical industry and academia. Together with our own chemical and scientific knowledge, we are also privileged to have access to the expertise of a team of eminent and award winning scientists: our Scientific Advisory Board.
As such, you can trust that we will always offer the best quality products – our products are tested rigorously, both in house and by external suppliers and customers, using a whole host of chemical and biological techniques. These include HPLC, chiral HPLC, NMR, microanalysis, optical rotation, electrophysiological assays, Western blots and more. Learn more about these techniques in our mini-review: Understanding Purity and Quality: a Guide for Life Scientists and our antibody validation.
Great prices and high quality - how do we do it?
As scientists ourselves, we appreciate that it's tough obtaining research grants and funding. We want to support your research in every way we can, and so work hard to offer highly competitive prices for our products.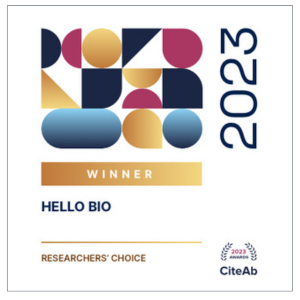 How do we do this? Lots of ways really – firstly, we try to reduce our costs to bring the price down for you – perhaps by changing packaging, formulation, pack sizes, suppliers or the manufacturing process. Or, it may mean reduced margins – and that's fine by us too (up to a point!). But, we will not compromise on quality – ever. We are proud of our reputation of low prices coupled with high quality - you can read our price pledge, and find out what customers are saying about Hello Bio.
We have also been named Researchers' Choice in the CiteAb 2023 awards - a prestigious award, voted for by researchers themselves.

The Hello BioPromise quality guarantee
If you are not completely happy with the quality of your product, we will offer a replacement or full refund, including delivery charges. The process is straight-forward and hassle free – simply visit our Returns & Refunds page to find out how.
Perhaps you've made a mistake – and ordered too many, or even the wrong product? It does happen! If it's a biochemical – we will be happy to refund you the cost of the product(s). However, in these situations, we are unable to refund the delivery charge – we are nice, but not that nice! You do also need to make sure that your product is unopened, and has been stored correctly. Just contact our Customer Care Team, and we will talk you through the process. Sadly, we are unable to accept the return of antibody products that you may have ordered in error – this is because they require careful handling to ensure optimal shelf life.