Product overview
| | |
| --- | --- |
| Alternative names | CHIR99021 |
| | |
| --- | --- |
| Description | Potent, selective GSK3 inhibitor and Wnt signaling activator. Commonly used in organoid production and involved in reprogramming MEFs to IPSCs and fibroblasts to mature neurons. |
Images
CHIR 99021 product vial image | Hello Bio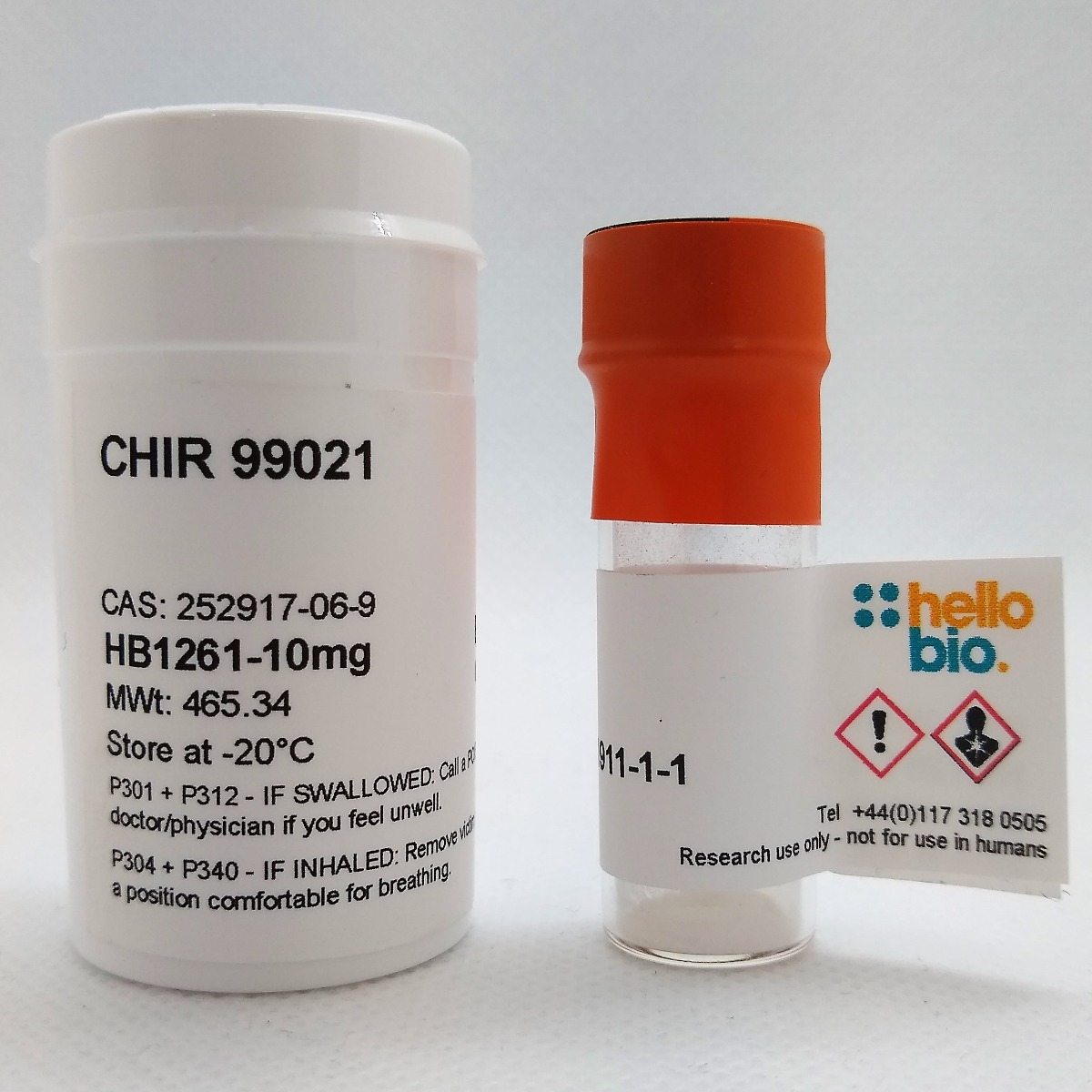 CHIR 99021 product vial image | Hello Bio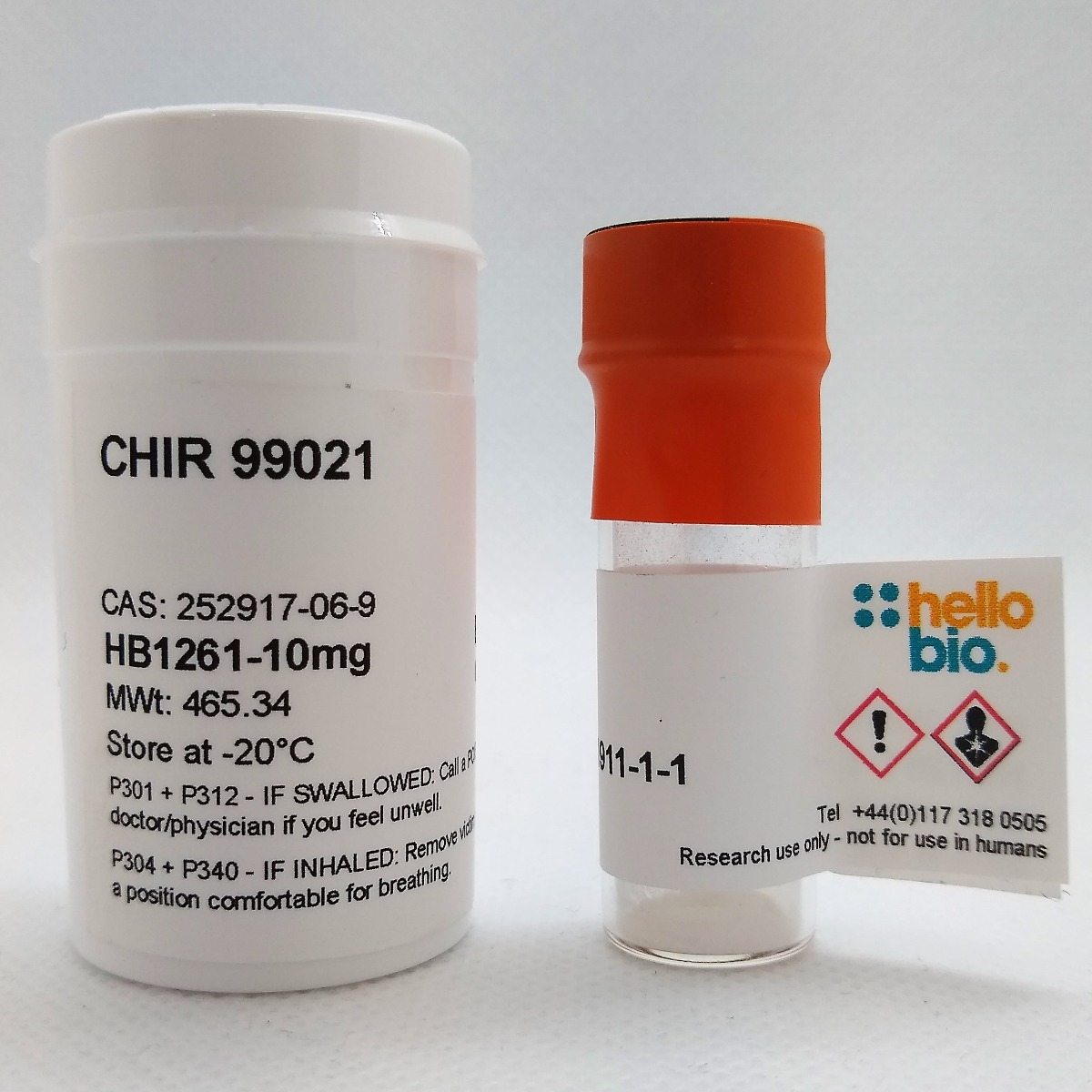 Biological Data
Biological description

Potent, selective and ATP-competitive GSK-3 inhibitor (IC50 values are 6.7 and 10 nM for GSK-3β and GSK-3α respectively).


Wnt signaling activator which is commonly used with PD 032501 as part of the 2i inhibitor combination.


Exhibits no cross reactivity against CDKs and exhibits >500-fold selectivity for GSK3 over other protein kinases and >800-fold selectivity over >20 other enzymes and receptors.


Promotes self-renewal of embryonic stem cells and enables mouse embryonic fibroblast (MEF) reprogramming into iPSCs.

Commonly used in organoid production and also involved in reprogramming of fibroblasts to mature neurons.


Water soluble CHIR 99021 trihydrochloride also available.
Solubility & Handling
| | |
| --- | --- |
| Storage instructions | -20°C |
| | |
| --- | --- |
| Solubility overview | Soluble in DMSO (20mM) |
| | |
| --- | --- |
| Important | This product is for RESEARCH USE ONLY and is not intended for therapeutic or diagnostic use. Not for human or veterinary use. |
Chemical Data
| | |
| --- | --- |
| Chemical name | 6-[[2-[[4-(2,4-Dichlorophenyl)-5-(5 -methyl-1H-imidazol-2-yl)-2-pyrimidinyl]amino]ethyl]amino]-3-pyridinecarbonitrile |
| | |
| --- | --- |
| Chemical structure | |
| | |
| --- | --- |
| Molecular Formula | C22H18Cl2N8 |
| | |
| --- | --- |
| PubChem identifier | 9956119 |
| | |
| --- | --- |
| SMILES | CC1=CN=C(N1)C2=CN=C(N=C2C3=C(C=C(C=C3)Cl)Cl)NCCNC4=NC=C(C=C4)C#N |
| | |
| --- | --- |
| InChi | InChI=1S/C22H18Cl2N8/c1-13-10-29-21(31-13)17-12-30-22(32-20(17)16-4-3-15(23)8-18(16)24)27-7-6-26-19-5-2-14(9-25)11-28-19/h2-5,8,10-12H,6-7H2,1H3,(H,26,28)(H,29,31)(H,27,30,32) |
| | |
| --- | --- |
| InChiKey | AQGNHMOJWBZFQQ-UHFFFAOYSA-N |
References for CHIR 99021
References are publications that support the biological activity of the product
The roles of Notch3 on the cell proliferation and apoptosis induced by CHIR99021 in NSCLC cell lines: a functional link between Wnt and Notch signaling pathways.

Li C et al (2013) PLoS One 8(12) : e84659.

Pleiotropy of glycogen synthase kinase-3 inhibition by CHIR99021 promotes self-renewal of embryonic stem cells from refractory mouse strains.

Ye S et al (2012) PLoS One 7(4) : e35892.

Generation of human-induced pluripotent stem cells in the absence of exogenous Sox2.

Li W et al (2009) Stem cells 27(12) : 2992-3000
Publications
These publications cite the use of CHIR 99021 purchased from Hello Bio:
CRISPR activation of endogenous genes reprograms fibroblasts into cardiovascular progenitor cells for myocardial infarction therapy

Jiang L et al (2022) Mol Ther 30(1) : 54-74