JHU37160 dihydrochloride (DREADD ligand) (water soluble)
Product overview
| | |
| --- | --- |
| Name | JHU37160 dihydrochloride (DREADD ligand) (water soluble) |
| | |
| --- | --- |
| Description | Novel DREADD agonist with high affinity and potency for hM3Dq and hM4Di. Active in vivo. Water soluble. |
| | |
| --- | --- |
| Alternative names | J60 dihydrochloride |
Images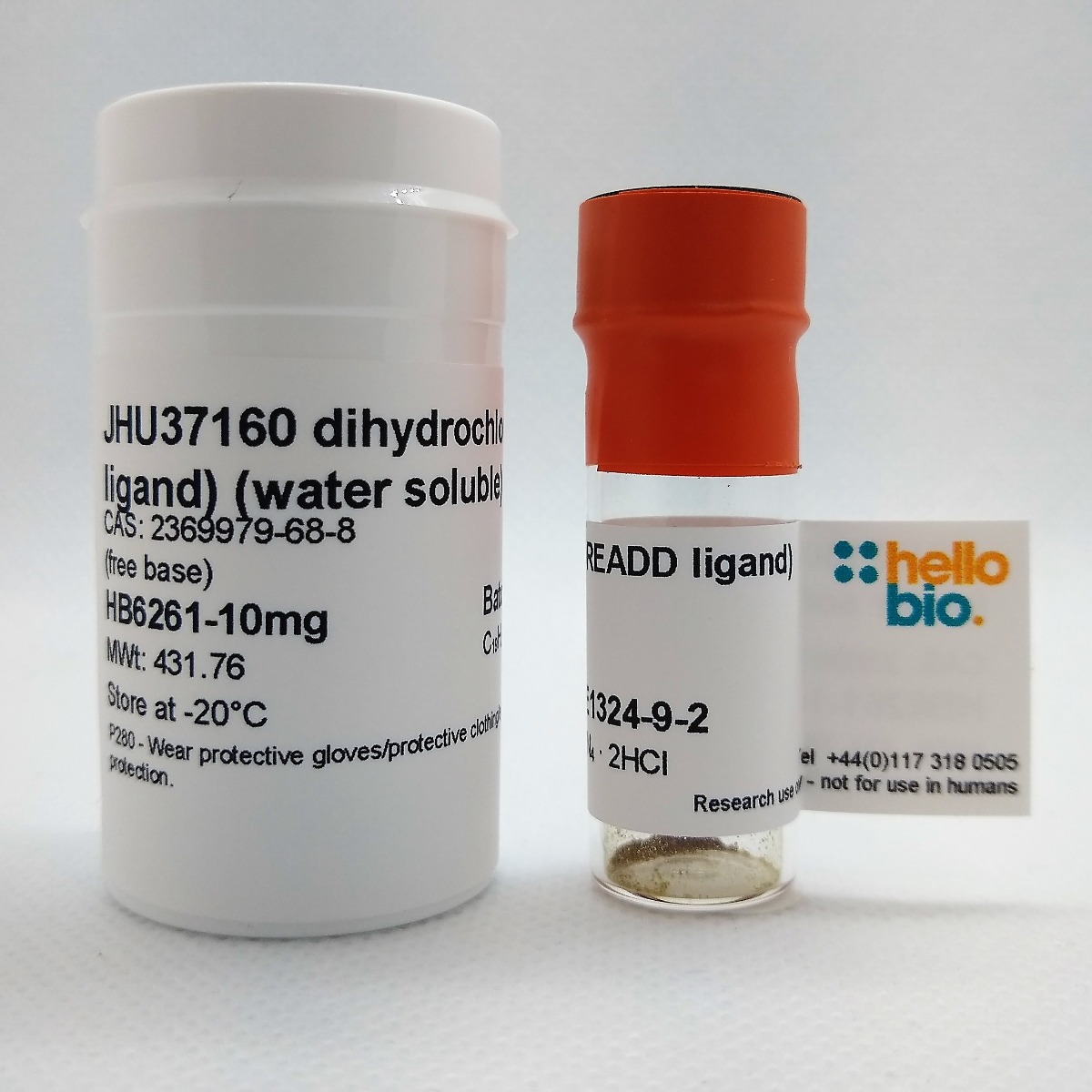 Biological Data
Biological description

Overview

JHU37160 is reported to be a novel DREADD agonist with high in vivo DREADD potency for CNS applications.

It has high affinity in vitro for hM3Dq and hM4Di (Ki values are 1.9 nM (hM3Dq) and 3.6 nM (hM4Di).

It selectively displaces [3H]clozapine from DREADDs and not from other clozapine-binding sites at concentrations up to 10 nM when tested for in situ [3H]clozapine displacement in brain tissue from WT and D1-DREADD mice.

JHU37160 activates hM3Dq and hM4Di with high potency and efficacy in fluorescent and BRET-based assays in HEK-293 cells (EC50 values are 18.5 and 0.2 nM at hM3Dq and hM4Di respectively.

Occupancy

JHU37160 exhibits high in vivo DREADD occupancy and was not reported to be a P-gp substrate.

In vivo application

JHU37160 is reported to be a potent in vivo DREADD agonist, which selectively inhibits locomotor activity in D1-hM3Dq and D1-hM4Di mice without any significant locomotor effects observed in wild type (WT) mice (at doses ranging 0.01 - 1 mg/kg).

It also produces robust and selective increases in hM3Dq-stimulated locomotion in rats expressing hM3Dq in tyrosine hydroxylase expressing neurons (at doses ranging 0.01 – 0.3 mg/kg).

In in vivo electrophysiology experiments in mice, JHU37160 produces rapid and potent hM4Di-driven inhibition of light-evoked neuronal activation (at a dose of 0.1 mg/kg).

While its selectivity is not ideal (i.e. comparable to clozapine), its high in vivo potency allows for dose adjustments with minimal off-target effects. The compound exhibits promising characteristics for DREADD use in monkeys.

Freebase also available.

Sold under license from the NIH, US patent pending 62/627,527
Solubility & Handling
| | |
| --- | --- |
| Storage instructions | -20°C |
| | |
| --- | --- |
| Solubility overview | Soluble in water (100mM). Always store solutions at -20°C. |
Handling

Storage of solid

Store at -20°C.
Please note that the compound is a hydroscopic solid and contact with air may cause material to become sticky. Product performance should not be affected but we recommend storing the material in a sealed jar.

Storage of solutions

Make up solutions and use immediately.
If storage of solutions is required, you should aliquot out the solution into tightly sealed vials and store at -20°C and store these for up to one month.
Allow the product to equilibrate to RT for at least one hour before opening and using.
Handling continued..


Storage of solutions at room temperature

We have found that this compound precipitates in aqueous solution at RT (˜25°C)
We therefore recommend that you make up solutions and use immediately.
Always check that your product is completely dissolved before use.
| | |
| --- | --- |
| Important | This product is for RESEARCH USE ONLY and is not intended for therapeutic or diagnostic use. Not for human or veterinary use |
Chemical Data
| | |
| --- | --- |
| Chemical name | 8-chloro-11-(4-ethylpiperazin-1-yl)-4-fluoro-5H-dibenzo[b,e][1,4]diazepine dihydrochloride |
| | |
| --- | --- |
| Chemical structure | |
| | |
| --- | --- |
| Molecular Formula | C19H20ClFN4 · 2HCl |
| | |
| --- | --- |
| CAS Number | 2369979-68-8 (free base) |
| | |
| --- | --- |
| SMILES | Cl.Cl.CCN1CCN(CC1)C3=Nc4cc(Cl)ccc4Nc2c3cccc2F |
| | |
| --- | --- |
| InChi | InChI=1S/C19H20ClFN4.2ClH/c1-2-24-8-10-25(11-9-24)19-14-4-3-5-15(21)18(14)22-16-7-6-13(20)12-17(16)23-19;;/h3-7,12,22H,2,8-11H2,1H3;2*1H |
| | |
| --- | --- |
| InChiKey | DHICOGMHOCAKOF-UHFFFAOYSA-N |
| | |
| --- | --- |
| Licensing details | Sold under license from the NIH, US patent pending 62/627,527 |
References for JHU37160 dihydrochloride (DREADD ligand) (water soluble)
References are publications that support the biological activity of the product
High-potency ligands for DREADD imaging and activation in rodents and monkeys.

Bonaventura et al (2019) Nat Commun. 10(1) : 4627

0067 Humanized Chemogenetic Approach to Treat Sleep Apnea

Curado et al (2019) Sleep (42) : A28

OP-01-02 Graft-host synaptic connectivity can be chemogenetically inhibited with clinically relevant activators to eliminate graft-induced dyskinesias (GID) without loosing anti-parkinsonian benefits of dopaminergic grafts

Subramanian et al (2019) World Congress On Parkinson's Disease And Related Disorders 2019 : Poster Abstract

DREADDs: The Power of the Lock, the Weakness of the Key. Favoring the Pursuit of Specific Conditions Rather than Specific Ligands.

Goutaudier et al (2019) eNeuro 6 : (5)

Chemogenetic ligands for translational neurotheranostics

Bonaventura et al (2018) bioRxiv : doi: https://doi.org/10.1101/487
Publications
These publications cite the use of JHU37160 dihydrochloride (DREADD ligand) (water soluble) purchased from Hello Bio:
Striosomes constrain locomotor vigor with respect to an innate valence differential

Cai et al (2022) Biorxiv : https://doi.org/10.1101/2022.05.17.492302

Isoforms, Clocks, and Acetylcholine: Regulation of Cocaine's Effects by Dopamine D2 Receptors

Lewis et al (2022) Thesis : https://escholarship.org/uc/item/5jq168tc

Basal forebrain cholinergic neurons selectively drive coordinated motor learning in mice

Hollis II et al (2021) bioRxiv https://doi.org/10.1101/2021.04.24.441273 : doi

Chemogenetic Seizure Control with Clozapine and the Novel Ligand JHU37160 Outperforms the Effects of Levetiracetam in the Intrahippocampal Kainic Acid Mouse Model

Desloovere et al (2021) Neurotherapeutics. : doi: 10.1007/s13311-021-01160-0

Tissue-specific modification of cellular bioelectrical activities using the chemogenetic tool, DREADD, in zebrafish

Zhang et al (2021) bioRxiv https://doi.org/10.1101/2021.06.22.449481 : doi