DREADD agonist 21 (Compound 21) dihydrochloride (water soluble)
Product overview
| | |
| --- | --- |
| Name | DREADD agonist 21 (Compound 21) dihydrochloride (water soluble) |
| | |
| --- | --- |
| Description | Effective agonist for muscarinic-based DREADDs in vitro and in vivo. Non-CNO chemogenetic actuator. Brain penetrant. Water soluble. |
Customer comments

We used Compound 21 (DREADD agonist 21) dihydrochloride (water soluble) (1mg/kg) and CNO in rats (1mg/kg) and we found a great effect on cells infected with dreadds-Gs. Both products are really easy to dissolve in saline! Verified customer, Universite de Bordeaux

Great Product!, Product was delivered promptly. Very easy to work with. No problems keeping it in solution. Verified customer, Florida Atlantic University
Images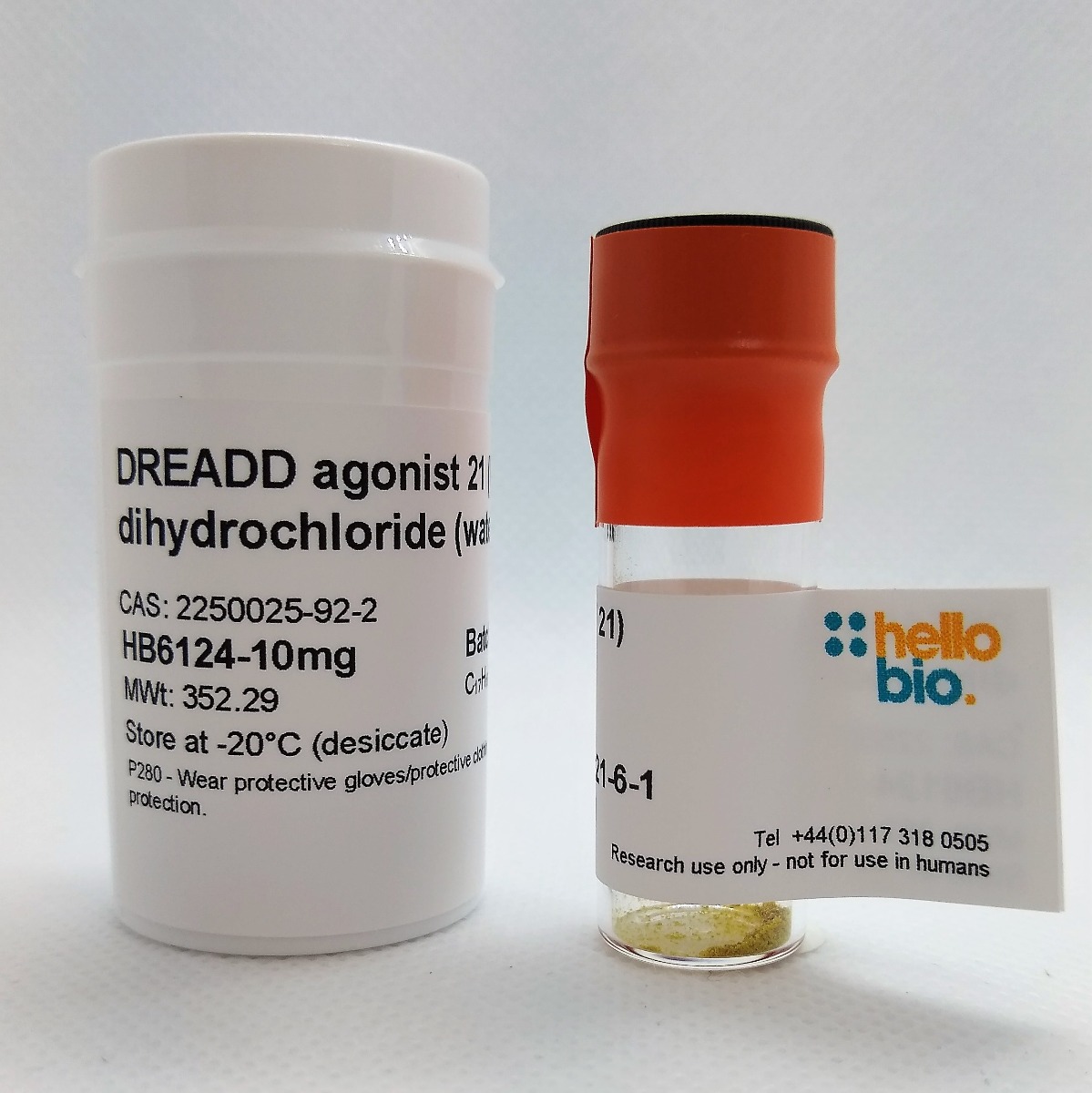 Biological Data
Biological description

Overview

DREADD agonist 21 (Compound 21) hydrochloride is a water soluble salt of DREADD agonist 21 (Compound 21) which represents an alternative chemogenetic actuator for muscarinic -based DREADDs and an alternative to CNO for in vivo studies in which metabolic conversion of CNO to clozapine is an issue.


DREADD agonist 21 (Compound 21) has excellent bioavailability, pharmacokinetic properties and brain penetrability. It has been reported that the compound does not undergo back metabolism to clozapine.


DREADD agonist 21 is a potent and selective agonist at muscarinic based DREADDs such as the excitatory hM3Dq, hM1Dq and inhibitory hM4Di DREADDs (pEC50 values are 8.48, 8.91 and 7.77 at hM3Dq, hM1Dq and hM4Di respectively). The compound exhibits >10-fold higher affinity at hM1Dq and hM4Di DREADDs compared to wild type receptors and also lacks agonist activity at wild type receptors.


In vivo use

DREADD agonist 21 from Hello Bio has recently been cited in a pharmacokinetic profile of the compound in mice by Jendryka et al (2019) which suggests that DREADD agonist 21 shows superior brain penetration and long-lasting presence. They suggest that the compound is a suitable DREADD agonist (0.4-1 mg/kg) which is effective at latest 15 min after i.p injection, but requires between-subject controls for unspecific effects.

Figure: In vivo pharmacokinetic profile of DREADD agonist 21 (Cmpd-21). DREADD agonist 21 was from Hello Bio.

(j–l): Concentration (nM) of Cmpd-21 (blue) at 15, 30 and 60 min after i.p. injection of 3.0 mg/kg Cmpd-21 in (j) plasma, (k) CSF, and (l) cortical brain tissue. Reproduced from Jendryka et al Sci Rep. 2019;9(1):4522


DREADD agonist 21 (Compound 21)-induced activation of hM3Dq and hM4Di can modulate bi-directional feeding in defined circuits in mice. Concentrations of DREADD agonist 21 that resulted in changes in feeding behavior in animals expressing muscarinic DREADDs had no off-target effects in control animals (where musarinic DREADDs were not expressed).

Bonavenutra (2018) suggest that the compound exhibits lower in vivo DREADD potency than clozapine and is not efficient in nonhuman primate (NH) applications.


Off target binding / effects

Bonavenutra (2018) reported DREADD ligands while efficacious in certain applications may not display sufficient potency or selectivity in others.


DREADD agonist 21 shows weak to moderate binding affinity at a range of wild type GPCRs which may translate to functional antagonism in vivo.

Care should therefore be taken with in vivo dosing of DREADD agonist 21 to ensure the free concentration of the compound remains in a range that activates muscarinic DREADDs but is sufficiently low to avoid antagonism at wild type GPCRs.


Strong competitive binding of DREADD agonist 21 (Cmpd-21) to receptor sites of dopamine, 5-HT, opioid, muscarinic, histamine and adrenoceptors in mice has been shown. Only very subtle, if any behavioural alterations using the 5-CSRTT assessment were found Jendryka et al (2019).


In vivo experiments should be conducted with the appropriate controls where DREADD agonist 21 is administered to animals that do not express the muscarinic-DREADDs.


Bonavenutra (2018) reported that doses higher than 1mg/kg produced off-target effects in mice without DREADDs and that the compound displays off-target effects in monkeys at the minimal hM4Di-effective doses.


Goutaudier (2020) reported off-target effects in the TH-Cre rat model using hM4Di DREADDs (strong increase in nigral neuron activity in control animals at 1mg/kg in males) and a transient and residual off-target effect at 0.5 mg/kg in females). In males, 0.5 mg/kg circumvented this effect to potently activate hM4Di without off-target effects
Solubility & Handling
| | |
| --- | --- |
| Storage instructions | -20°C (desiccate) |
| | |
| --- | --- |
| Solubility overview | Soluble in water (100mM). Always store solutions at -20°C. |
Handling

Storage of solid

Store at -20°C.
Please note that the compound is a hydroscopic solid and contact with air may cause material to become sticky. Product performance should not be affected but we recommend storing the material in a sealed jar.

Storage of solutions

Make up solutions and use immediately.
If storage of solutions is required, you should aliquot out the solution into tightly sealed vials and store at -20°C and store these for up to one month.
Allow the product to equilibrate to RT for at least one hour before opening and using.
Handling continued..


Storage of solutions at room temperature

We recommend only keeping solutions at room temperature (25°C) for a few days as our studies have shown that after 96 hours the purity of the compound in solution drops to ~95% and will continue to drop over time.
| | |
| --- | --- |
| Important | This product is for RESEARCH USE ONLY and is not intended for therapeutic or diagnostic use. Not for human or veterinary use |
Chemical Data
| | |
| --- | --- |
| Chemical name | 11-(1-Piperazinyl)-5H-dibenzo[b,e][1,4]diazepine dihydrochloride |
| | |
| --- | --- |
| Chemical structure | |
| | |
| --- | --- |
| Molecular Formula | C17H18N4.2HCl |
| | |
| --- | --- |
| SMILES | C1CN(CCN1)C2=NC3=CC=CC=C3NC4=CC=CC=C42.Cl.Cl |
| | |
| --- | --- |
| InChi | InChI=1S/C17H18N4.2ClH/c1-2-6-14-13(5-1)17(21-11-9-18-10-12-21)20-16-8-4-3-7-15(16)19-14;;/h1-8,18-19H,9-12H2;2*1H |
| | |
| --- | --- |
| InChiKey | SETCOPAXYQJWKI-UHFFFAOYSA-N |
References for DREADD agonist 21 (Compound 21) dihydrochloride (water soluble)
References are publications that support the biological activity of the product
Compound 21, a two-edged sword with both DREADD-selective and off-target outcomes in rats

Goutaudier et al (2020) PLOS ONE 15(9): : e0238156

Pharmacokinetic and pharmacodynamic actions of clozapine-N-oxide, clozapine, and compound 21 in DREADD-based chemogenetics in mice.

Jendryka et al (2019) Sci Rep. 9(1) : 4522

High-potency ligands for DREADD imaging and activation in rodents and monkeys

Bonaventura et al (2019) Nat Commun . 4627 : 10(1)

PubMedID: https://pubmed.ncbi.nlm.nih.gov/

DREADDs: The Power of the Lock, the Weakness of the Key. Favoring the Pursuit of Specific Conditions Rather than Specific Ligands.

Goutaudier et al (2019) eNeuro 6 : (5)

DREADD Agonist 21 Is an Effective Agonist for Muscarinic-Based DREADDs in Vitro and in Vivo

Thompson et al (2018) ACS Pharmacol. Transl. Sci. 10.1021 : /acsptsci.8b00012
Publications
These publications cite the use of DREADD agonist 21 (Compound 21) dihydrochloride (water soluble) purchased from Hello Bio:
Improvement of sensory deficits in Fragile X mice by increasing cortical interneuron activity after the critical period

Portera-Cailliau et al (2022) Biorxiv : https://doi.org/10.1101/2022.05.17.492368

Chemogenetic dissection of prefrontal signalling underlying attention and impulsivity

van der Veen et al (2022) Universität Ulm : Thesis

Chemogenetic activation of midline thalamic nuclei fails to ameliorate memory deficits in two mouse models of Alzheimer's disease

T Craig et al (2022) bioRxiv https://doi.org/10.1101/2021.06.30.450500 : doi

Microglia modulate blood flow, neurovascular coupling, and hypoperfusion via purinergic actions

Csaszar et al (2022) J Exp Med 219 : 3

PubMedID: 35201268

Activation of the Lateral Habenula-Ventral Tegmental Area Neural Circuit Contributes to Postoperative Cognitive Dysfunction in Mice

Xin J et al (2022) Adv Sci (Weinh) 9(22) : e2202228