Product overview
| | |
| --- | --- |
| Description | γ-secretase inhibitor and classical notch inhibitor. Induces neuronal differentiation. 3D Growth matrix component and used in cerebral organoid differentiation media. |
Images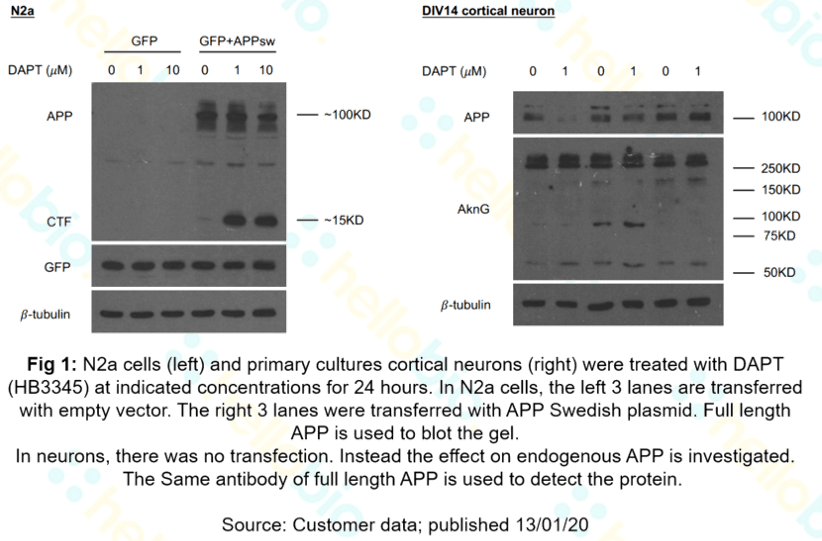 Biological Data
Biological description

Overview

DAPT is a γ-secretase inhibitor which blocks notch signaling. It is a classical notch inhibitor.

It has been reported to inhibit amyloid beta (Aβ) in a dose-dependent manner although at low doses, an increase in Aβ production in cell culture and animal models has also been reported.

Uses & applications

DAPT is used in a variety of stem cell applications.

It has been shown that in combination with other small molecules that inhibit SMAD (SB 431542, LDN193189), activate WNT (CHIR99021) and inhibit FGF-signaling (SU5402), DAPT yields 75% post-mitotic neurons in 11 days of differentiation. These are defined as peripheral sensory neurons.

Recently, DAPT in combination with LDN193189, SB431542, XAV939, PD0325901 and SU5402 has been shown to accelerate induction of early-born cortical neurons that have mature electrophysiological properties by day 16 of differentiation.

DAPT also enhances neuronal differentiation in ESC-derived embryoid bodies independent of Hh-signaling.

Additionally, the compound promotes cardiac differentiation of murine pluripotent stem cells and enhances the reprogramming of mouse fibroblasts to iCLMs (induced cardiac-like myocytes).

It is also used as a 3D Growth matrix component and used in cerebral organoid differentiation media.
Solubility & Handling
| | |
| --- | --- |
| Storage instructions | +4°C |
| | |
| --- | --- |
| Solubility overview | Soluble in DMSO (100mM) |
| | |
| --- | --- |
| Important | This product is for RESEARCH USE ONLY and is not intended for therapeutic or diagnostic use. Not for human or veterinary use. |
Chemical Data
| | |
| --- | --- |
| Chemical name | N-[N-(3,5-Difluorophenacetyl-L-alanyl)]-S-phenylglycine tbutyl ester |
| | |
| --- | --- |
| Chemical structure | |
| | |
| --- | --- |
| Molecular Formula | C23H26F2N2O4 |
| | |
| --- | --- |
| PubChem identifier | 5311272 |
| | |
| --- | --- |
| SMILES | C[C@@H](C(=O)N[C@@H](C1=CC=CC=C1)C(=O)OC(C)(C)C)NC(=O)CC2=CC(=CC(=C2)F)F |
| | |
| --- | --- |
| InChi | InChI=1S/C23H26F2N2O4/c1-14(26-19(28)12-15-10-17(24)13-18(25)11-15)21(29)27-20(16-8-6-5-7-9-16)22(30)31-23(2,3)4/h5-11,13-14,20H,12H2,1-4H3,(H,26,28)(H,27,29)/t14-,20-/m0/s1 |
| | |
| --- | --- |
| InChiKey | DWJXYEABWRJFSP-XOBRGWDASA-N |
| | |
| --- | --- |
| Appearance | White to off-white solid |
References for DAPT
References are publications that support the biological activity of the product
Lingo-1 shRNA and Notch signaling inhibitor DAPT promote differentiation of neural stem/progenitor cells into neurons.

Wang et al (2015) Brain Res 8993(15) : 873-2

The Notch signaling inhibitor DAPT down-regulates cdk5 activity and modulates the distribution of neuronal cytoskeletal proteins.

Kanungo et al (2008) J Neurochem 106(5) : 2236-48

The notch response inhibitor DAPT enhances neuronal differentiation in embryonic stem cell-derived embryoid bodies independently of sonic hedgehog signaling.

Crawford and Roelink (2007) Dev Dyn 236(3) : 886-92

Functional gamma-secretase inhibitors reduce beta-amyloid peptide levels in brain.

Dovey et al (2001) J Neurochem 76(1) : 173-81
Publications
These publications cite the use of DAPT purchased from Hello Bio:
In vitro modelling of human microglial alterations associated with Alzheimer's disease and polygenic risk

Salis et al (2022) Cardiff University : Thesis