Product overview
| | |
| --- | --- |
| Alternative names | (R,S)-2-Amino-2-(2-chloro-5-hydroxyphenyl)acetic acid |
| | |
| --- | --- |
| Description | Selective mGlu5 agonist |
Images
(R,S)-CHPG product vial image | Hello Bio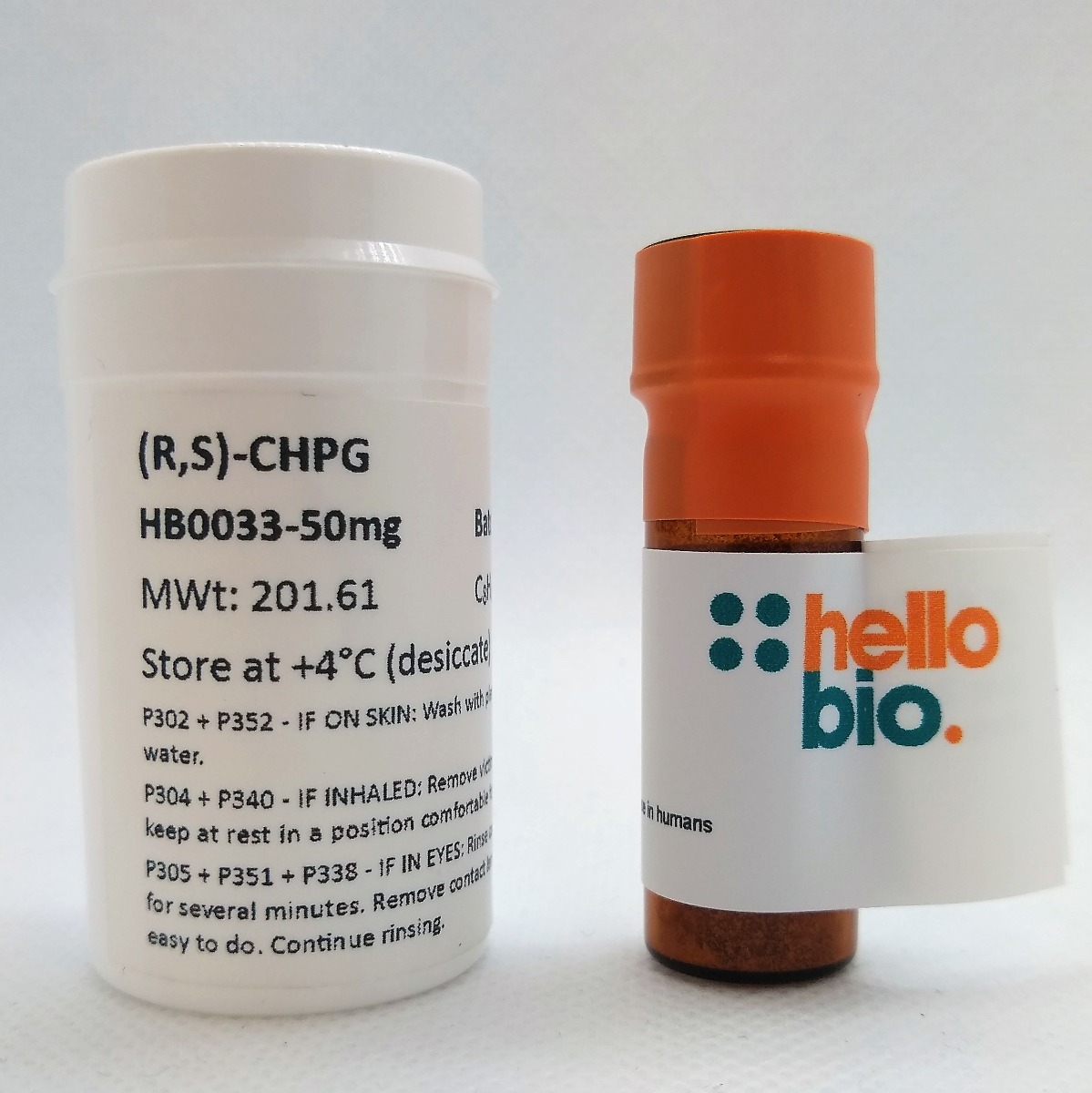 (R,S)-CHPG product vial image | Hello Bio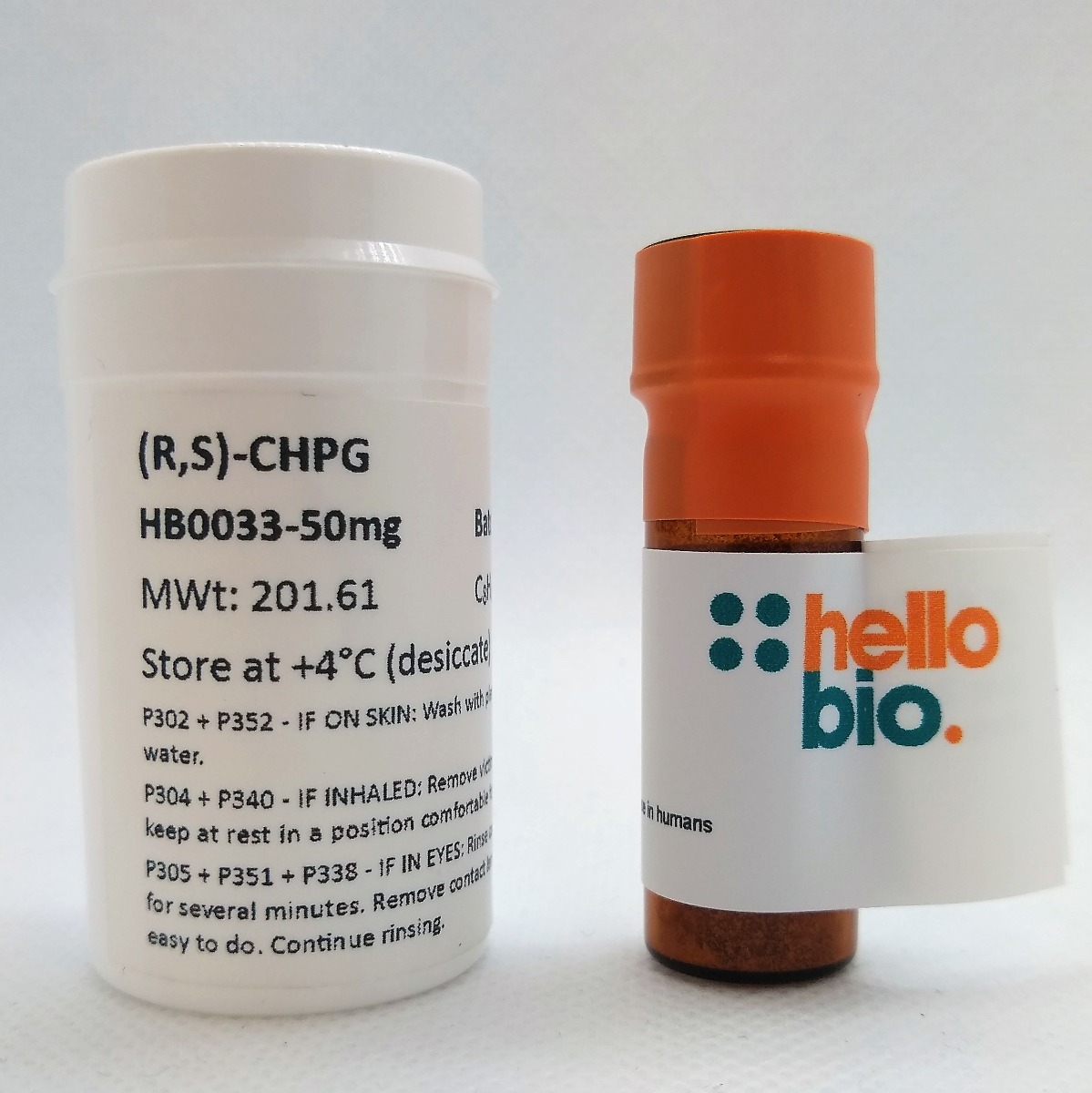 Biological Data
| | |
| --- | --- |
| Biological description | Selective mGlu5 receptor agonist which shows no activity at mGlu1. Potentiates NMDA-induced depolarizations in rat hippocampal slices. Active in vivo. Water soluble CHPG sodium salt also available. |
Solubility & Handling
| | |
| --- | --- |
| Storage instructions | +4°C (desiccate) |
| | |
| --- | --- |
| Solubility overview | Soluble in 0.1M NaOH (100 mM) |
| | |
| --- | --- |
| Important | This product is for RESEARCH USE ONLY and is not intended for therapeutic or diagnostic use. Not for human or veterinary use. |
Chemical Data
| | |
| --- | --- |
| Chemical name | (R,S)-2-Amino-2-(2-chloro-5-hydroxyphenyl)acetic acid |
| | |
| --- | --- |
| Chemical structure | |
| | |
| --- | --- |
| Molecular Formula | C8H8NO3Cl |
| | |
| --- | --- |
| PubChem identifier | 3645780 |
| | |
| --- | --- |
| SMILES | C1=CC(=C(C=C1O)C(C(=O)O)N)Cl |
| | |
| --- | --- |
| InChi | InChI=1S/C8H8ClNO3/c9-6-2-1-4(11)3-5(6)7(10)8(12)13/h1-3,7,11H,10H2,(H,12,13) |
| | |
| --- | --- |
| InChiKey | UNIDAFCQFPGYJJ-UHFFFAOYSA-N |
| | |
| --- | --- |
| Appearance | Off-white solid |
References for (R,S)-CHPG
References are publications that support the biological activity of the product
Activation of mGluR5 attenuates NMDA-induced neurotoxicity through disruption of the NMDAR-PSD-95 complex and preservation of mitochondrial function in differentiated PC12 cells.

Dai SH et al (2014) Int J Mol Sci 15(6) : 10892-907.

The selective mGluR5 agonist CHPG protects against traumatic brain injury in vitro and in vivo via ERK and Akt pathway.

Chen T et al (2012) Int J Mol Med 29(4) : 630-6.

Characterisation of the actions of group I metabotropic glutamate receptor subtype selective ligands on excitatory amino acid release and sodium-dependent re-uptake in rat cerebrocortical minislices.

Fazal A et al (2003) J Neurochem 86(6) : 1346-58.

(RS)-2-chloro-5-hydroxyphenylglycine (CHPG) activates mGlu5, but no mGlu1, receptors expressed in CHO cells and potentiates NMDA responses in the hippocampus.

Doherty AJ et al (1997) Neuropharmacology 36(2) : 265-7.