Product overview
| | |
| --- | --- |
| Name | Riluzole hydrochloride |
| | |
| --- | --- |
| Description | Na+ channel blocker / glutamate inhibitor |
| | |
| --- | --- |
| Alternative names | PK 26124 |
Images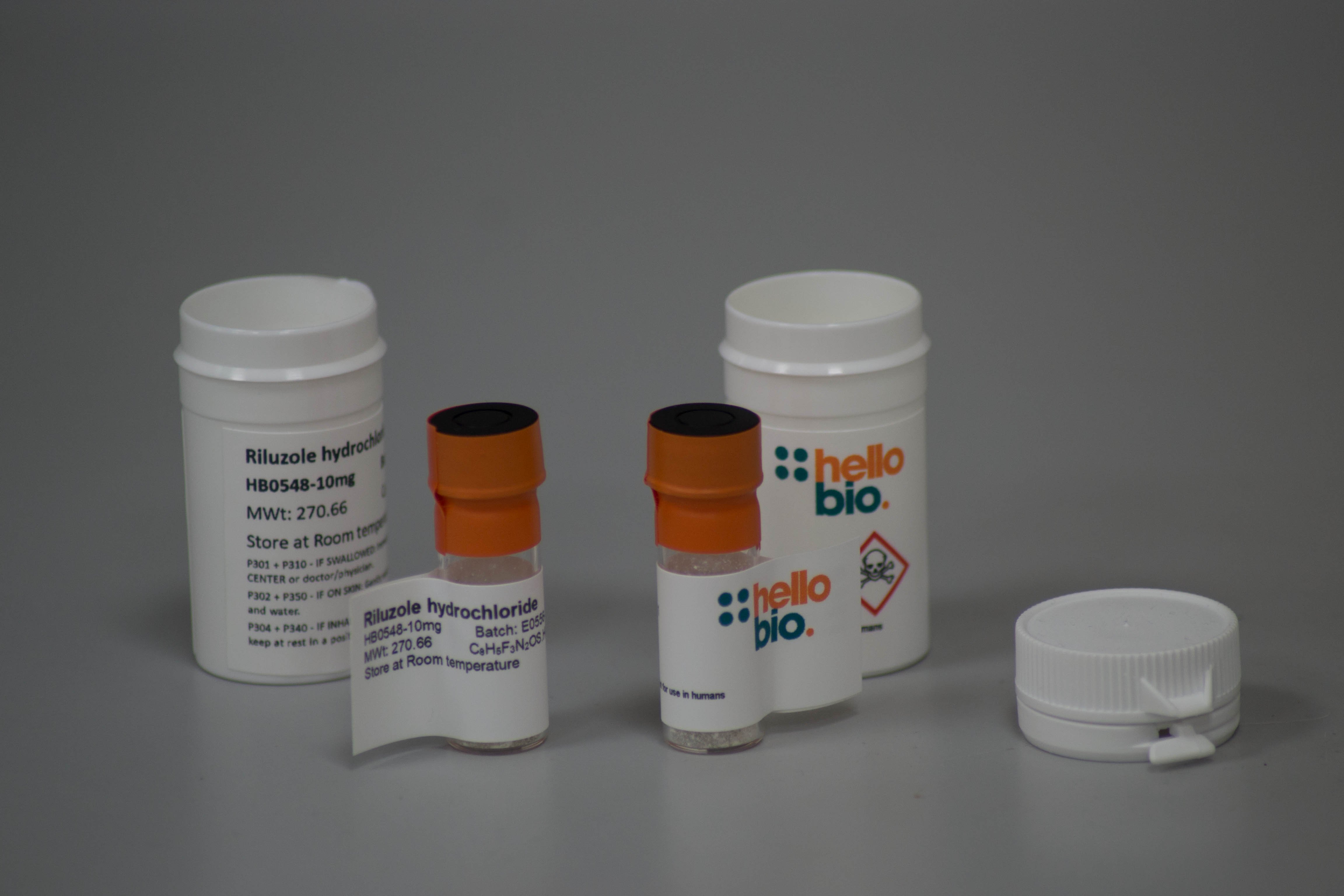 Biological Data
| | |
| --- | --- |
| Biological description | Na+ channel blocker. Increases glutamate uptake and inhibits glutamate release. Also inhibits GABA uptake. Non-competitive NMDA receptor and Protein kinase C (PKC) inhibitor. Shows neuroprotective, anxiolytic, anticonvulsant and anesthetic actions. Shows actions against motorneuron disease. |
Solubility & Handling
| | |
| --- | --- |
| Storage instructions | Room temperature |
| | |
| --- | --- |
| Solubility overview | Soluble in DMSO (100mM, gentle warming) and in water (10mM, gentle warming) |
| | |
| --- | --- |
| Important | This product is for RESEARCH USE ONLY and is not intended for therapeutic or diagnostic use. Not for human or veterinary use. |
Chemical Data
| | |
| --- | --- |
| Chemical name | 2-Amino-6-trifluoromethoxybenzothiazole hydrochloride |
| | |
| --- | --- |
| Chemical structure | |
| | |
| --- | --- |
| Molecular Formula | C8H5F3N2OS.HCl |
| | |
| --- | --- |
| PubChem identifier | 6419992 |
| | |
| --- | --- |
| SMILES | C1=CC2=C(C=C1OC(F)(F)F)SC(=N2)N.Cl |
| | |
| --- | --- |
| InChi | InChI=1S/C8H5F3N2OS.ClH/c9-8(10,11)14-4-1-2-5-6(3-4)15-7(12)13-5;/h1-3H,(H2,12,13);1H |
| | |
| --- | --- |
| InChiKey | QEAOELIJQRYJJS-UHFFFAOYSA-N |
References for Riluzole hydrochloride
References are publications that support the biological activity of the product
Riluzole improves outcome following ischemia-reperfusion injury to the spinal cord by preventing delayed paraplegia.

Wu Y et al (2014) Neuroscience 265 : 302-12.

Riluzole produces distinct anxiolytic-like effects in rats without the adverse effects associated with benzodiazepines.

Sugiyama A et al (2012) Neuropharmacology 62(8) : 2489-98.

Riluzole blocks persistent Na+ and Ca2+ currents and modulates release of glutamate via presynaptic NMDA receptors on neonatal rat hypoglossal motoneurons in vitro.

Lamanauskas N et al (2008) Eur J Neurosci 27(10) : 2501-14.

Riluzole enhances the activity of glutamate transporters GLAST, GLT1 and EAAC1.

Fumagalli E et al (2008) Eur J Pharmacol 578(2-3) : 171-6.