Product overview
| | |
| --- | --- |
| Alternative names | NSC291840 |
| | |
| --- | --- |
| Description | Effective agonist for muscarinic-based DREADDs in vitro and in vivo. Non-CNO chemogenetic actuator |
Images
Perlapine product vial image | Hello Bio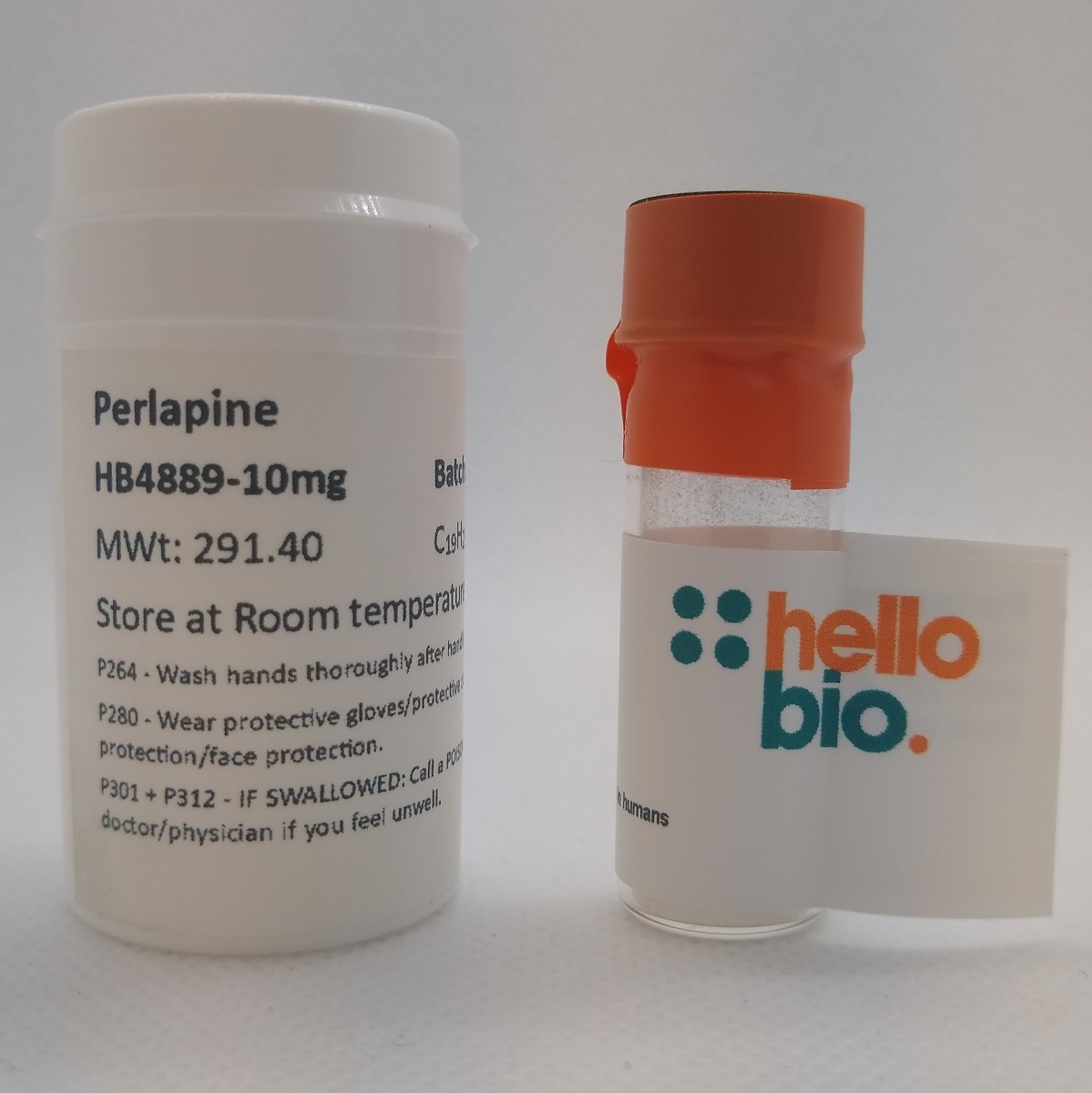 Perlapine product vial image | Hello Bio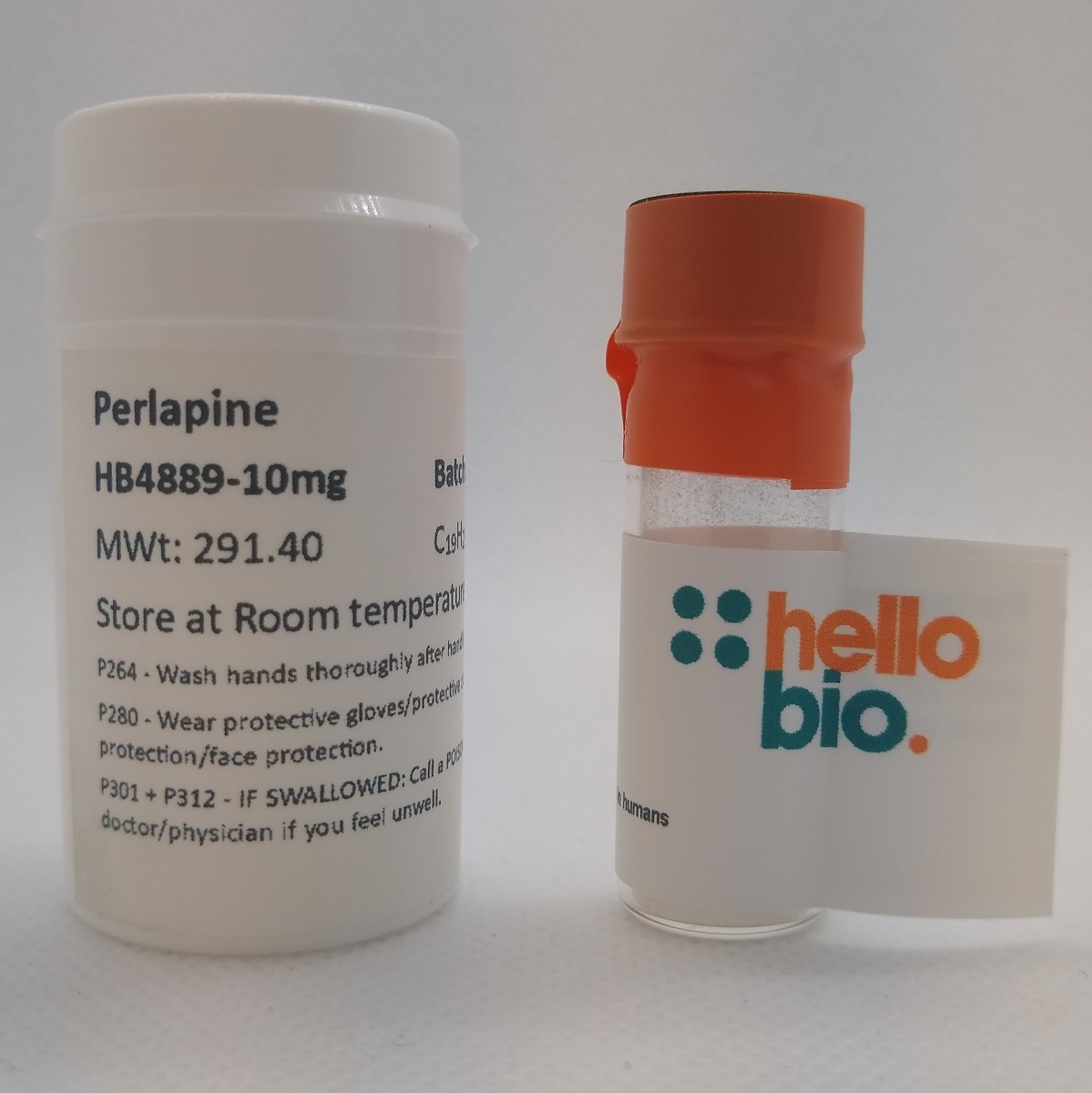 Biological Data
Biological description

Perlapine is a potent agonist at muscarinic based DREADDs such as the excitatory hM3Dq, hM1Dq and inhibitory hM4Di DREADDs (pEC50 values are 8.08, 8.38 and 7.27 at hM3Dq, hM1Dq and hM4Di respectively). Water soluble form also available.


Perlapine exhibits >10,000-fold selectivity for hM3Dq over wildtype hM3 and interacts with wildtype hM1 and hM4 receptors with relatively low affinity. Perlapine lacks agonist activity at wild type receptors.


It has been reported that perlapine does not undergo back metabolism to clozapine.


Perlapine also acts as a sleep inducing, hypnotic agent.


CNO dihydrochloride (water soluble), Clozapine N-oxide (CNO) freebase, Compound 21, Salvinorin B (SalB) and perlapine freebase also available.
Solubility & Handling
| | |
| --- | --- |
| Storage instructions | Room temperature |
| | |
| --- | --- |
| Solubility overview | Soluble in DMSO (50 mM) |
| | |
| --- | --- |
| Important | This product is for RESEARCH USE ONLY and is not intended for therapeutic or diagnostic use. Not for human or veterinary use. |
Chemical Data
| | |
| --- | --- |
| Chemical name | 6-(4-Methyl-1-piperazinyl)-11H-dibenz[b,e]azepine |
| | |
| --- | --- |
| Chemical structure | |
| | |
| --- | --- |
| Molecular Formula | C19H21N3 |
| | |
| --- | --- |
| SMILES | CN1CCN(CC1)C2=NC3=CC=CC=C3CC4=CC=CC=C42 |
| | |
| --- | --- |
| InChi | InChI=1S/C19H21N3/c1-21-10-12-22(13-11-21)19-17-8-4-2-6-15(17)14-16-7-3-5-9-18(16)20-19/h2-9H,10-14H2,1H3 |
| | |
| --- | --- |
| InChiKey | PWRPUAKXMQAFCJ-UHFFFAOYSA-N |
References for Perlapine
References are publications that support the biological activity of the product
DREADDs: The Power of the Lock, the Weakness of the Key. Favoring the Pursuit of Specific Conditions Rather than Specific Ligands.

Goutaudier et al (2019) eNeuro 6 : (5)

DREADD Agonist 21 Is an Effective Agonist for Muscarinic-Based DREADDs in Vitro and in Vivo

Thompson et al (2018) ACS Pharmacol. Transl. Sci. 10.1021 : /acsptsci.8b00012

DREADDs for Neuroscientists.

Roth Bl (2016) Neuron 89(4) : 683-94

The first structure-activity relationship studies for designer receptors exclusively activated by designer drugs.

Chen et al (2015) ACS Chem Neurosci 6(3) : 476-84

6-(4-Methyl-1-piperazinyl)morphanthridine (Perlapine), a new tricyclic compound with sedative and sleep-promoting properties. A pharmacological study.

Stille et al (1973) Psychopharmacologia 24(4) : 325-37