Product overview
| | |
| --- | --- |
| Description | Endogenous ionotropic glutamate / nicotinic antagonist. |
| | |
| --- | --- |
| Alternative names | Kynurenate; KYNA |
Images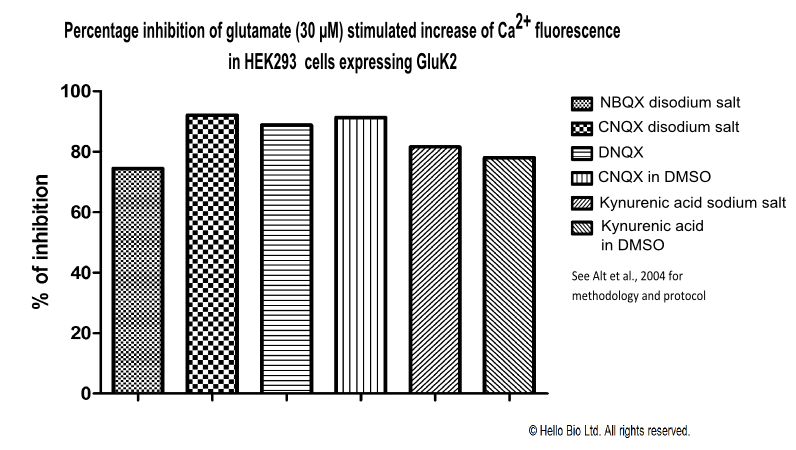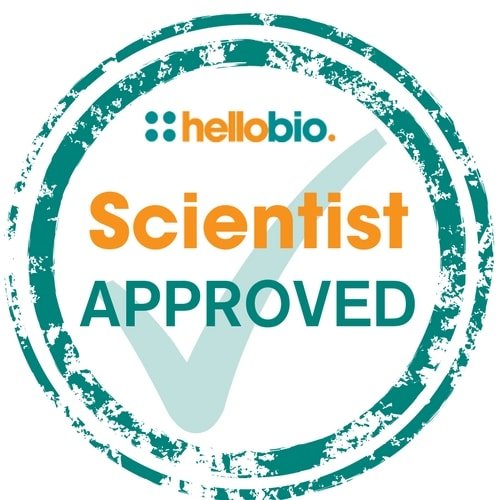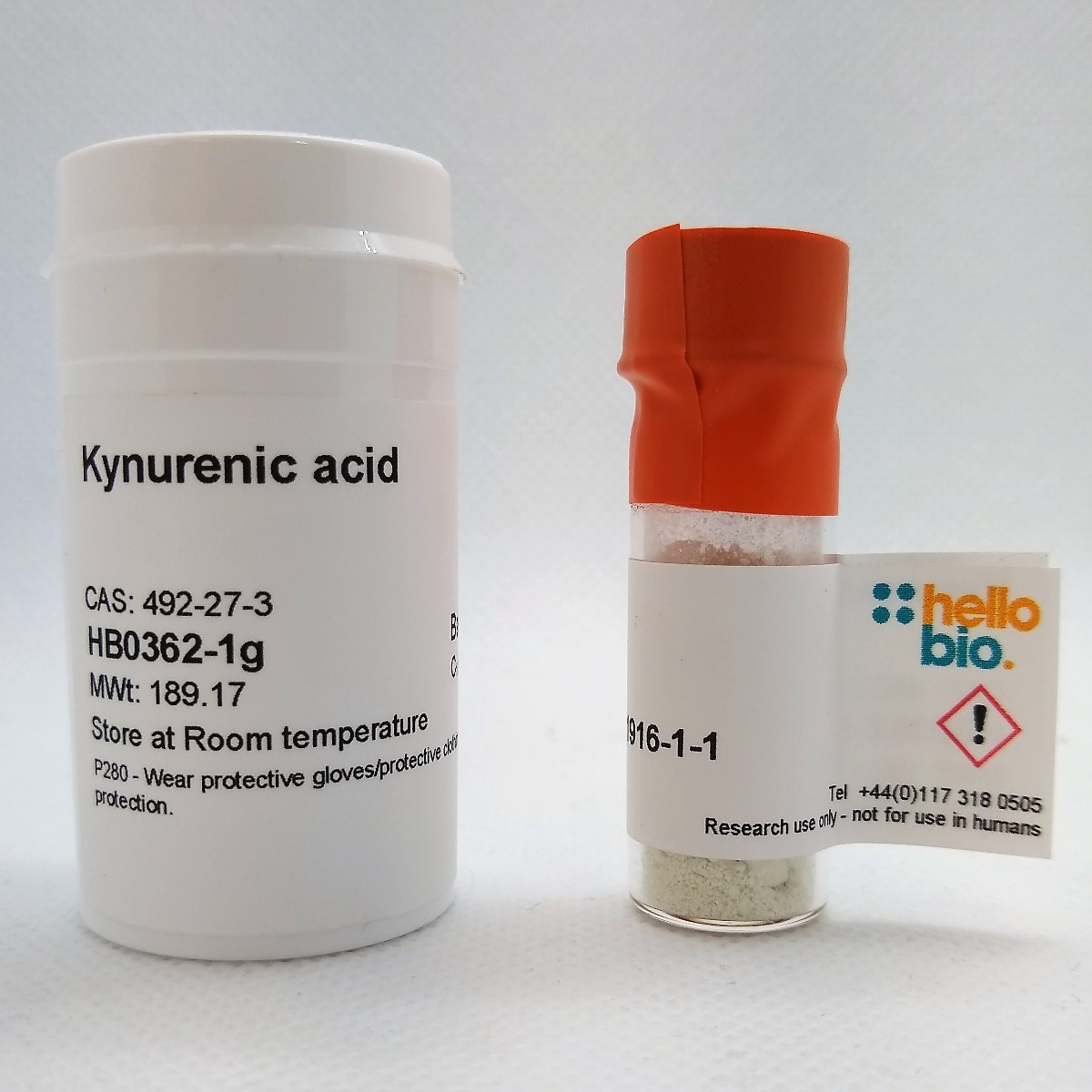 Biological Data
| | |
| --- | --- |
| Biological description | Endogenous, non-selective ionotropic glutamate receptor antagonist which acts as a non-competitive glycine site NMDAR antagonist. Also an α7 nicotinic receptor antagonist and GPR35 ligand. Blocks kainic acid neurotoxicity and displays neuroprotective, antiproliferative and antimigrative properties. |
Solubility & Handling
| | |
| --- | --- |
| Storage instructions | Room temperature |
| | |
| --- | --- |
| Solubility overview | Soluble in DMSO (75mM) and in 0.1M NaOH (100mM) |
| | |
| --- | --- |
| Important | This product is for RESEARCH USE ONLY and is not intended for therapeutic or diagnostic use. Not for human or veterinary use. |
Chemical Data
| | |
| --- | --- |
| Chemical name | 4-Hydroxyquinoline-2-carboxylic acid |
| | |
| --- | --- |
| Chemical structure | |
| | |
| --- | --- |
| Molecular Formula | C10H7NO3 |
| | |
| --- | --- |
| SMILES | C1=CC=C2C(=C1)C(=O)C=C(N2)C(=O)O |
| | |
| --- | --- |
| InChi | InChI=1S/C10H7NO3/c12-9-5-8(10(13)14)11-7-4-2-1-3-6(7)9/h1-5H,(H,11,12)(H,13,14) |
| | |
| --- | --- |
| InChiKey | HCZHHEIFKROPDY-UHFFFAOYSA-N |
References for Kynurenic acid
References are publications that support the biological activity of the product
Kynurenic acid inhibits proliferation and migration of human glioblastoma T98G cells.

Walczak K et al (2014) Pharmacol Rep 66(1) : 130-6.

Pharmacological characterization of glutamatergic agonists and antagonists at recombinant human homomeric and heteromeric kainate receptors in vitro.

Alt et al (2004) Neuropharmacology 46(6) : 793-806

6-Hydroxykynurenic acid and kynurenic acid differently antagonise AMPA and NMDA receptors in hippocampal neurones.

Weber M et al (2001) J Neurochem 77(4) : 1108-15.

Kynurenate is neuroprotective following experimental brain injury in the rat.

Hicks RR et al (1994) Brain Res 655(1-2) : 91-6.
Publications
These publications cite the use of Kynurenic acid purchased from Hello Bio:
Relocation of an Extrasynaptic GABAA Receptor to Inhibitory Synapses Freezes Excitatory Synaptic Strength and Preserves Memory

Davenport CM et al (2021) Neuron 109(1) : 123-134.e4