Product overview
| | |
| --- | --- |
| Description | Selective, competitive AMPA / kainate receptor antagonist. Sodium salt. |
| | |
| --- | --- |
| Customer comments | DNQX disodium salt is a good product Verified customer, Research University Paris |
Images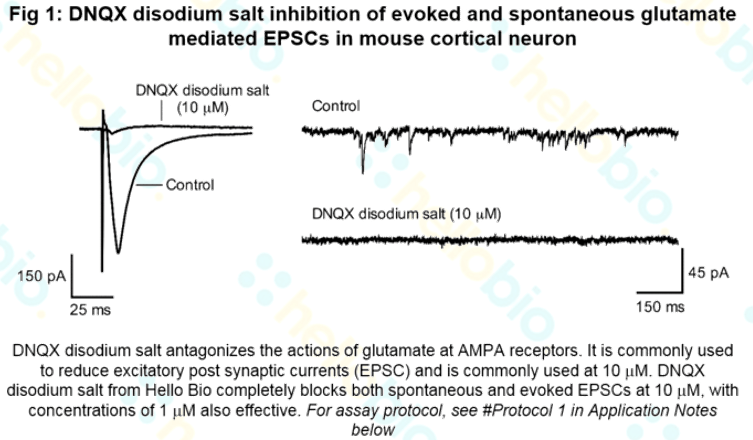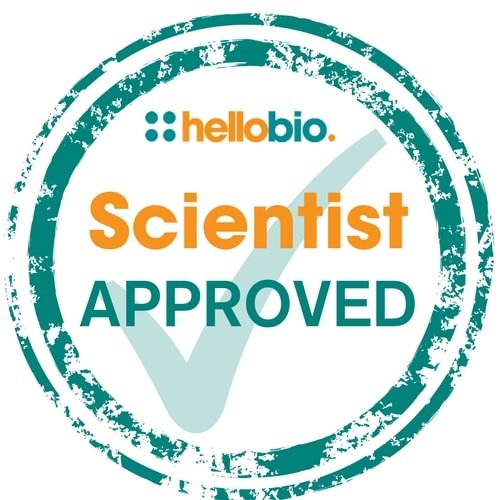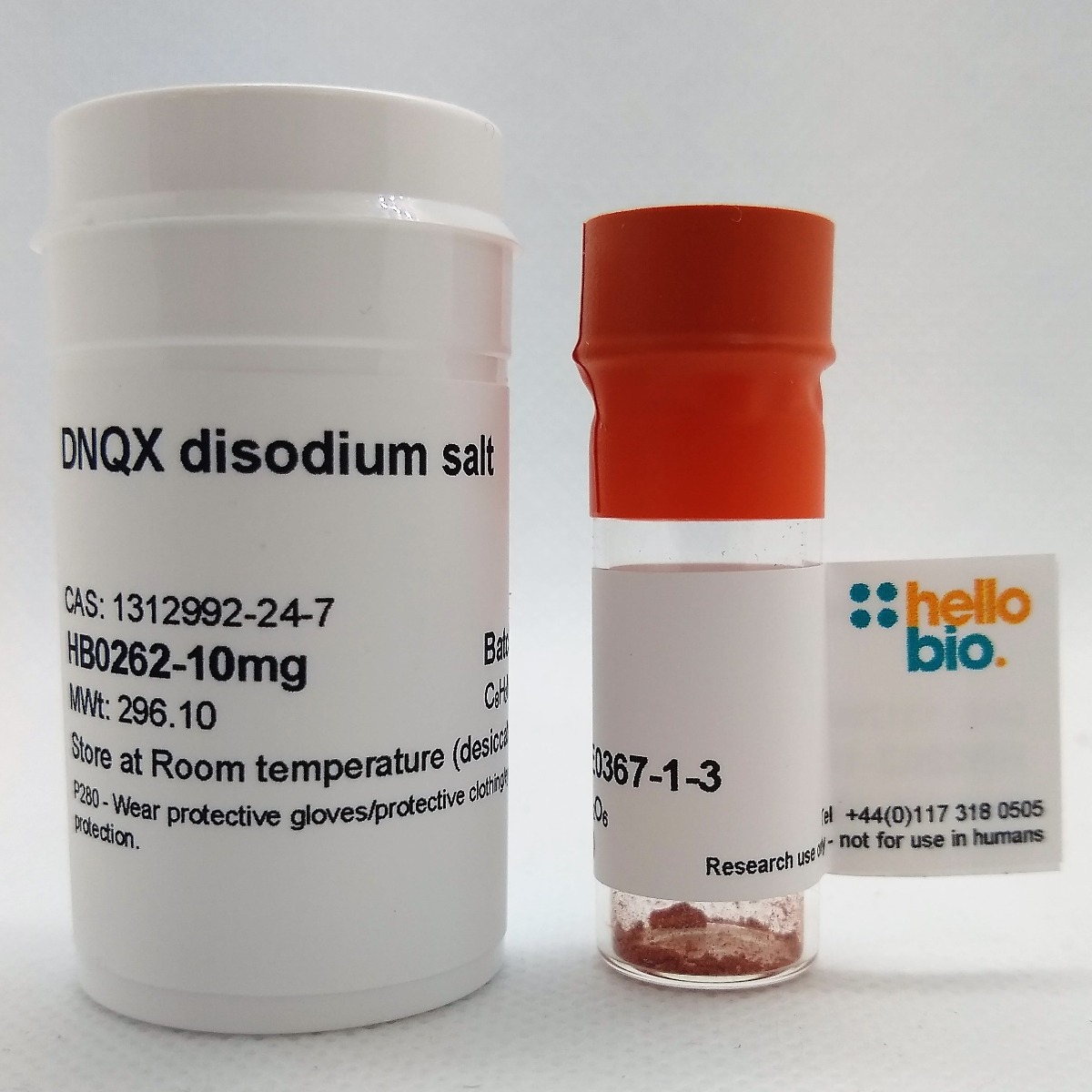 Biological Data
Biological description

DNQX disodium salt is a water soluble, selective and competitive AMPA and kainate receptor antagonist. It also acts as partial AMPA agonist in the presence of γ2 transmembrane AMPA receptor regulatory proteins (TARP) subunit.

DNQX is also a neuroleptic agent that displays pro-oxidant activity.

DNQX freebase is also available.
Application notes

DNQX disodium salt antagonizes the actions of glutamate at AMPA receptors. It is commonly used to reduce excitatory post synaptic currents (EPSC) and is commonly used at 10 μM. DNQX disodium salt from Hello Bio completely blocks both spontaneous and evoked EPSCs at 10 μM, with concentrations of 1 μM also effective (see Fig 1 above).

#Protocol 1: Evoked and spontaneous excitatory post synaptic currents (EPSCs)

Whole cell voltage clamp recordings were obtained from layer V neurons of the mouse prelimbic cortex brain slice.

EPSCs were evoked via a stimulating electrode placed in layers II/III delivering a single square (150 μs) pulse every 10 sec at an intensity that gave a reliable EPSC.

Neurons were held at -70 to -60 mV (the reversal potential of GABA currents). EPSCs were continuously stimulated and recorded in response to 5 min applications of varying concentrations of DNQX disodium salt until complete receptor inhibition.

Spontaneous EPSCs were recorded before and after addition of DNQX disodium salt by holding the neuron at -70 mV and recording for 10 sec.

Recordings for EPSCs were made in the absence of GABA

A

-R antagonists.
Solubility & Handling
| | |
| --- | --- |
| Storage instructions | Room temperature (desiccate) |
| | |
| --- | --- |
| Solubility overview | Soluble in water (100mM) |
| | |
| --- | --- |
| Important | This product is for RESEARCH USE ONLY and is not intended for therapeutic or diagnostic use. Not for human or veterinary use. |
Chemical Data
| | |
| --- | --- |
| Chemical name | 6,7-Dinitroquinoxaline-2,3-dione disodium salt |
| | |
| --- | --- |
| Chemical structure | |
| | |
| --- | --- |
| Molecular Formula | C8H2N4Na2O6 |
| | |
| --- | --- |
| PubChem identifier | 45073428 |
| | |
| --- | --- |
| SMILES | C1=C2C(=CC(=C1[N+](=O)[O-])[N+](=O)[O-])N=C(C(=N2)[O-])[O-].[Na+].[Na+] |
| | |
| --- | --- |
| InChi | InChI=1S/C8H4N4O6.2Na/c13-7-8(14)10-4-2-6(12(17)18)5(11(15)16)1-3(4)9-7;;/h1-2H,(H,9,13)(H,10,14);;/q;2*+1/p-2 |
| | |
| --- | --- |
| InChiKey | GPSBSOYURFUVKJ-UHFFFAOYSA-L |
References for DNQX disodium salt
References are publications that support the biological activity of the product
Redox properties and prooxidant cytotoxicity of a neuroleptic agent 6,7-dinitrodihydroquinoxaline-2,3-dione (DNQX).

Šarlauskas J et al (2013) Acta Biochim Pol 60(2) : 227-31.

Selective excitatory actions of DNQX and CNQX in rat thalamic neurons.

Lee SH et al (2010) J Neurophysiol 103(4) : 1728-34.

TARP auxiliary subunits switch AMPA receptor antagonists into partial agonists.

Menuz K et al (2007) Science 318(5851) : 815-7.

Pharmacological characterization of glutamatergic agonists and antagonists at recombinant human homomeric and heteromeric kainate receptors in vitro.

Alt et al (2004) Neuropharmacology 46(6) : 793-806
Publications
These publications cite the use of DNQX disodium salt purchased from Hello Bio:
The selective dopamine D1 receptor agonist SKF81297 modulates NMDA receptor currents independently of D1 receptors

Nesbit MO et al (2022) Neuropharmacology 207 : 108967

Edinger-Westphal peptidergic neurons enable maternal preparatory nesting

Topilko T et al (2022) Neuron

Dysregulation of the Basal Ganglia Indirect Pathway in Early Symptomatic Q175 Huntington's Disease Mice

Callahan JW et al (2022) J Neurosci 42(10) : 2080-2102

Enhanced GABAergic Inhibition of Cholinergic Interneurons in the zQ175 +/- Mouse Model of Huntington's Disease

Lim and Surmeier (2021) Front Syst Neurosci . 14: : 626412

Non-uniform distribution of dendritic nonlinearities differentially engages thalamostriatal and corticostriatal inputs onto cholinergic interneurons

Goldberg et al (2021) bioRxiv https://doi.org/10.1101/2021.11.29.470423 : doi