Product overview
| | |
| --- | --- |
| Name | Deschloroclozapine (DCZ) |
| | |
| --- | --- |
| Description | Potent, selective and metabolically stable hM3Dq and hM4Di muscarinic DREADD actuator. |
Images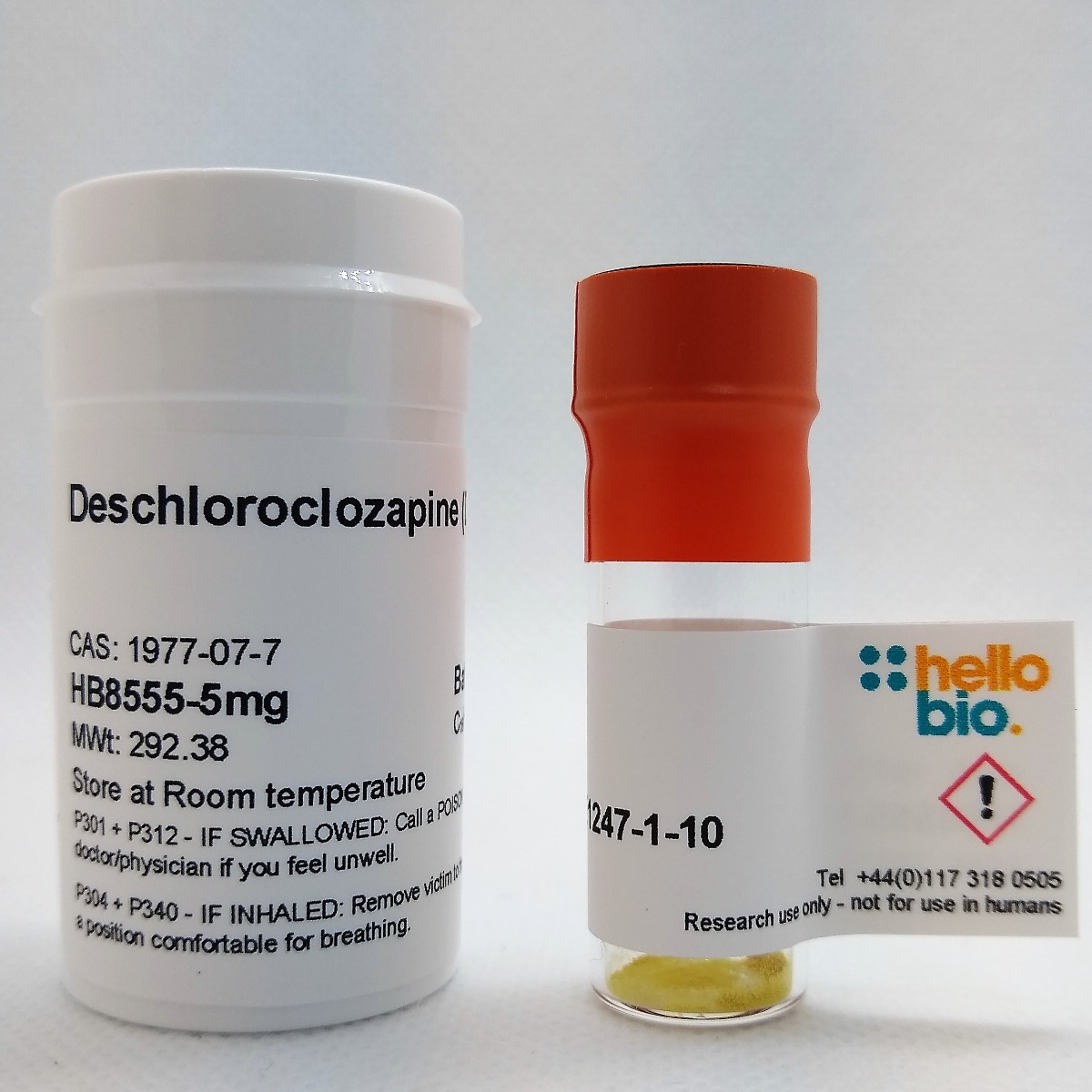 Biological Data
Biological description

Overview

Deschloroclozapine (DCZ) is reported to be a potent, selective and highly brain-penetrable muscarinic hM3Dq and hM4Di DREADD actuator with minimal off-target actions (Ki = 6.3 and 4.2 nM at hM3Dq and hM4Di respectively) and (EC50 values are 0.13 and 0.081 nM at hM3Dq and hM4Di respectively in a BRET-based assay.

It represents a potent, selective, metabolically stable and fast acting DREADD agonist with utility in both mice and non-human primates for a variety of applications.

It shows 100-fold improved affinity and greater agonist potency for hM3Dq and hM4Di compared to Clozapine n-Oxide (CNO) or DREADD agonist 21 (C21) with reduced off-target binding compared with clozapine in vitro.It has lower affinity at D1, D2 and 5-HT2A and 5-HT2C receptors compared with clozapine.

PET studies demonstrate the compound is rapidly brain penetrable, is apparently selective and doses for DREADD occupancy are 20-fold and 60-fold lower than CNO or DREADD agonist 21 (C21) respectively.

Uses and applications

Systemic delivery of low doses of DCZ (1 or 3 µg/kg) were shown to enhance neuronal activity via hM3Dq in mice and monkeys within minutes.

Intramuscular doses of 100 µg/kg reversibly induced spatial working memory deficits in hM4Di expressing monkeys.

Deschloroclozapine dihydrochloride (water soluble) also available.
Solubility & Handling
| | |
| --- | --- |
| Storage instructions | Room temperature |
| | |
| --- | --- |
| Solubility overview | Soluble in DMSO (100 mM), and in ethanol (50 mM with warming) |
| | |
| --- | --- |
| Important | This product is for RESEARCH USE ONLY and is not intended for therapeutic or diagnostic use. Not for human or veterinary use |
Chemical Data
| | |
| --- | --- |
| Chemical name | 6-(4-methylpiperazin-1-yl)-11H-benzo[b][1,4]benzodiazepine |
| | |
| --- | --- |
| Chemical structure | |
| | |
| --- | --- |
| Molecular Formula | C18H20N4 |
| | |
| --- | --- |
| SMILES | CN1CCN(CC1)C2=NC3=CC=CC=C3NC4=CC=CC=C42 |
| | |
| --- | --- |
| InChi | InChI=1S/C18H20N4/c1-21-10-12-22(13-11-21)18-14-6-2-3-7-15(14)19-16-8-4-5-9-17(16)20-18/h2-9,19H,10-13H2,1H3 |
| | |
| --- | --- |
| InChiKey | VQHITFFJBFOMBG-UHFFFAOYSA-N |
References for Deschloroclozapine (DCZ)
References are publications that support the biological activity of the product
Deschloroclozapine, a potent and selective chemogenetic actuator enables rapid neuronal and behavioral modulations in mice and monkeys

Nagai et al (2020) Nature Neuroscience : 1157-1167

Chemogenetic actuator drugs impair prefrontal cortex-dependent working memory in rhesus monkeys

Upright and Baxter (2019) bioRxiv : https://doi.org/10.1101/864140

Binding of 5H-dibenzo[b,e][1,4]diazepine and chiral 5H-dibenzo[a,d]cycloheptene analogues of clozapine to dopamine and serotonin receptors.

Phillips et al (1994) J Med Chem 37(17) : 2686-96
Publications
These publications cite the use of Deschloroclozapine (DCZ) purchased from Hello Bio:
Defining the Role of Locus Coeruleus Noradrenergic Neurons in the Modulation of Homeostatic Feeding

Paul et al (2022) UCONN : Thesis