Product overview
Biological description

Overview

Biocytin is a conjugate of biotin and lysine which is small and soluble. It is widely used in neuroanatomical research as a neuroanatomical tracer.

Uses and applications

Biocytin is taken up by neurons and rapidly transported in both anterograde and retrograde directions.

It has high affinity for avidin and consequently, can be visualized by various avidin and streptavidin-conjugated markers for light, fluorescence or electron microscope detection.

Biocytin has a short half-life and is degraded by biotinidase a few hours after application.
| | |
| --- | --- |
| Description | Classical neuroanatomical tracer |
Images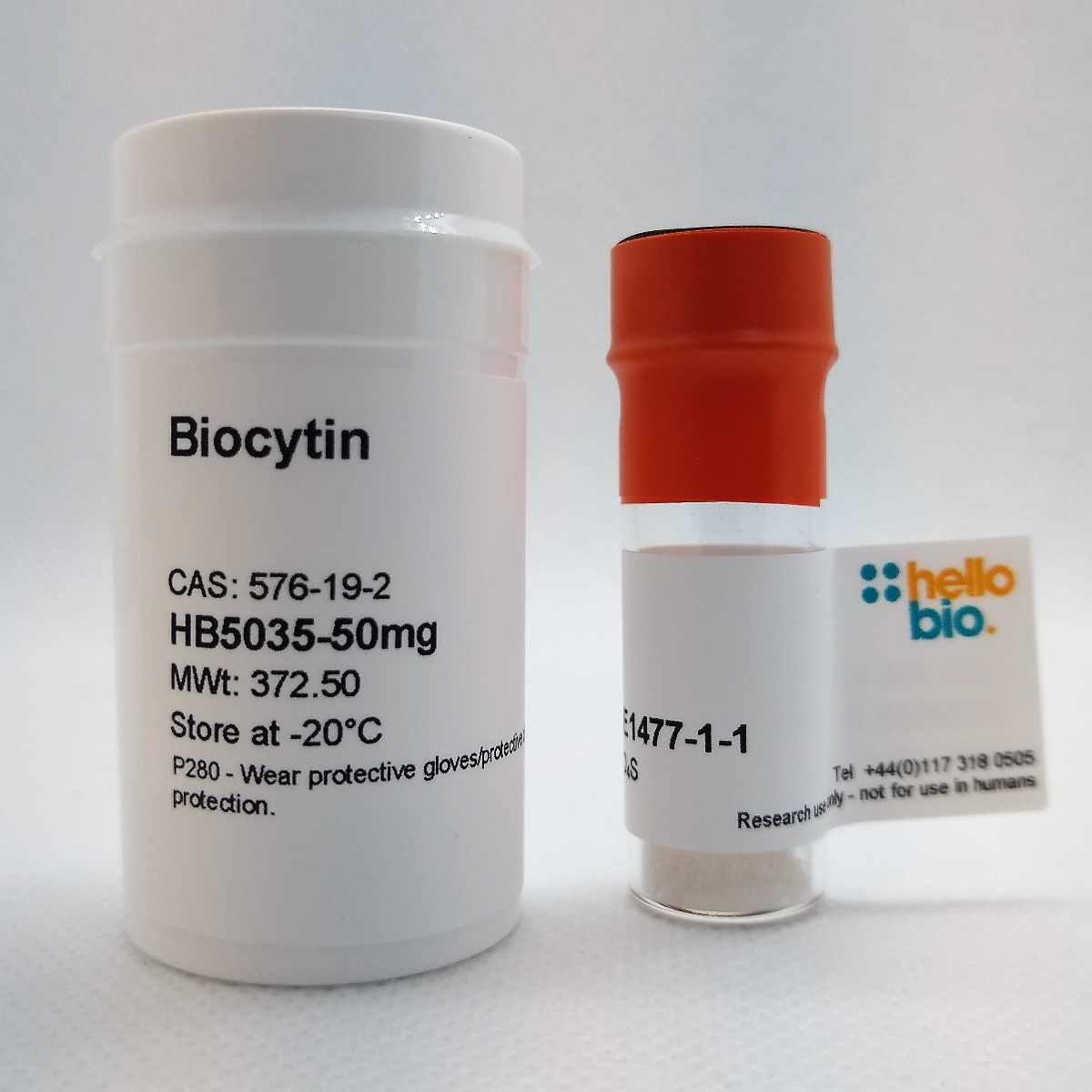 Solubility & Handling
| | |
| --- | --- |
| Storage instructions | -20°C |
| | |
| --- | --- |
| Solubility overview | Soluble in water (50 mM) |
| | |
| --- | --- |
| Important | This product is for RESEARCH USE ONLY and is not intended for therapeutic or diagnostic use. Not for human or veterinary use |
Chemical Data
| | |
| --- | --- |
| Chemical name | N6-[5-[(3aS,4S,6aR)-Hexahydro-2-oxo-1H-thieno[3,4-d]imidazol-4-yl]-1-oxopentyl]-L-lysine |
| | |
| --- | --- |
| Chemical structure | |
| | |
| --- | --- |
| Molecular Formula | C16H28N4O4S |
| | |
| --- | --- |
| SMILES | C1[C@H]2[C@@H]([C@@H](S1)CCCCC(=O)NCCCC[C@@H](C(=O)O)N)NC(=O)N2 |
| | |
| --- | --- |
| InChi | InChI=1S/C16H28N4O4S/c17-10(15(22)23)5-3-4-8-18-13(21)7-2-1-6-12-14-11(9-25-12)19-16(24)20-14/h10-12,14H,1-9,17H2,(H,18,21)(H,22,23)(H2,19,20,24)/t10-,11-,12-,14-/m0/s1 |
| | |
| --- | --- |
| InChiKey | BAQMYDQNMFBZNA-MNXVOIDGSA-N |
References for Biocytin
References are publications that support the biological activity of the product
Immunostaining of Biocytin-filled and Processed Sections for Neurochemical Markers

Swietek B et al (2016) J Vis Exp 31 : 118

Biocytin-labelling and its impact on late 20th century studies of cortical circuitry

Thomson AM et al (2011) Brain Res Rev 66(1-2) : 43-53

Neuroanatomical labeling with biocytin: a review

McDonald AJ (1992) Neuroreport 3(10) : 821-7
Publications
These publications cite the use of Biocytin purchased from Hello Bio:
Local circuit allowing hypothalamic control of hippocampal area CA2 activity and consequences for CA1

Robert V et al (2021) Elife 10