Recombinant human BDNF protein
Product overview
| | |
| --- | --- |
| Name | Recombinant human BDNF protein |
| | |
| --- | --- |
| Description | Member of the neurotrophin growth factor family. Plays an important role in synaptic plasticity and neurogenesis. |
Biological description

BDNF (Brain-derived neurotrophic factor) is a member of the neurotrophin growth factor family and is highly expressed in the brain. BDNF activates the TrkB and p75 (P75NTR) neurotrophin receptors.


BDNF plays an important role in brain development, physiology and pathology. Dysregulation of BDNF signaling is involved in several neurodegenerative disorders and BDNF also exerts effects on appetite, anxiety, cognition, reward and learning and memory.


Synaptic transmission and plasticity
BDNF is involved in the regulation of synaptic transmission and activity-dependent synaptic plasticity by both pre- and post- synaptic mechanisms. BDNF appears to strengthen excitatory (glutamtergic) synapses and weaken inhibitory (GABAergic) synapses.


BDNF contributes to adaptive neuronal responses such as LTP (long-term potentiation), LTD (long-term depression) and certain forms of short-term synaptic plasticity.


Neurogenesis
BDNF is an important regulator of neurogenesis and plays an important role in the developmental processes. BDNF has growth- and survival- promoting actions on various neurons, including dorsal root ganglion (DRG) cells and hippocampal and cortical neurons.


Stem Cells


BDNF, GDNF and other supplements are often used to differentiate hPSC-derived neural progenitor cells into neurons.




BDNF (human) is a recombinant protein expressed in and extracted from E. coli and purified to homogeneity.



| | |
| --- | --- |
| Alternative names | Brain-derived neurotrophic factor, MGC34632 |
Images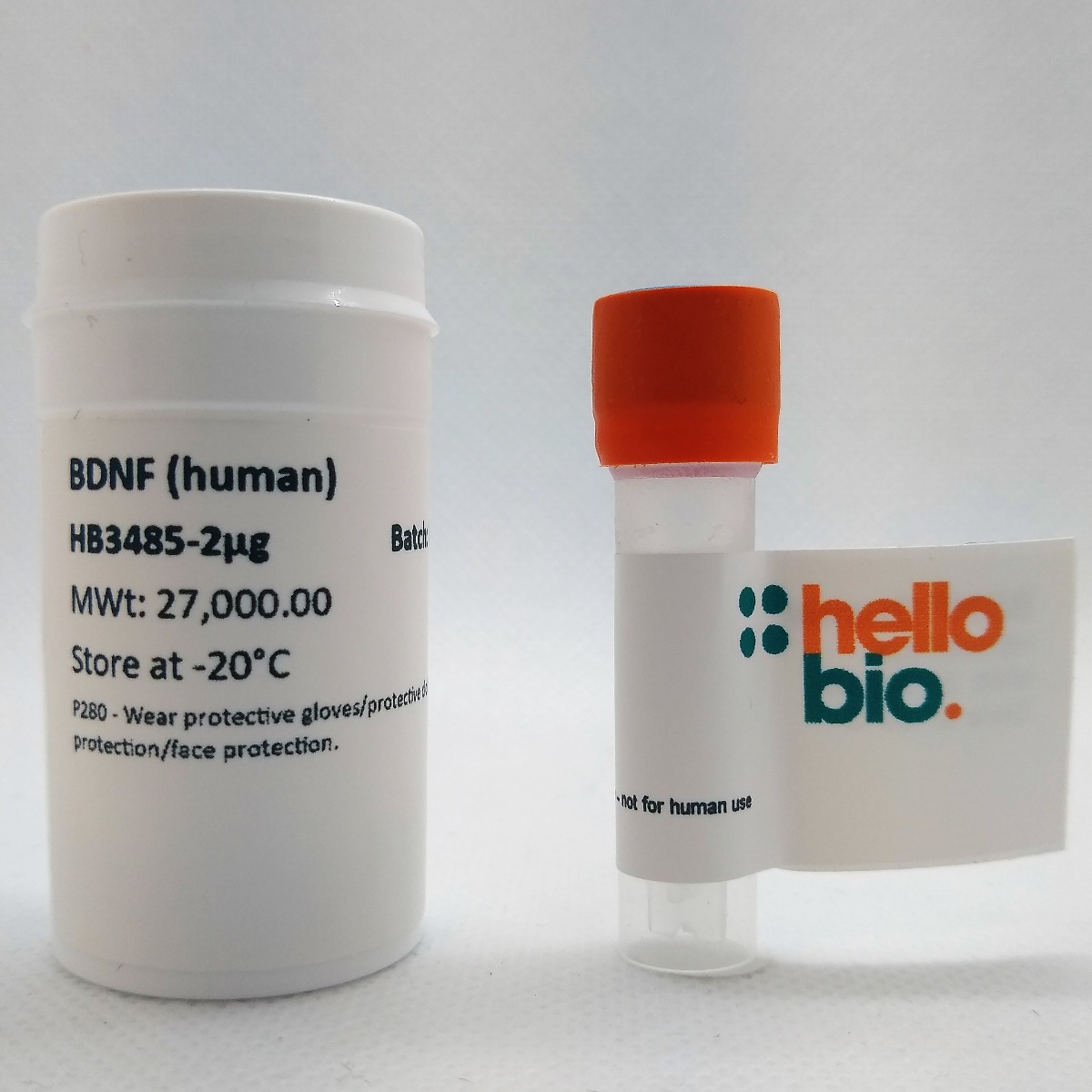 Biological Data
| | |
| --- | --- |
| Application notes | ED50 = 1.3-2 µg/ml (determined by the dose-dependent induction of C6 cells proliferation) |
Solubility & Handling
| | |
| --- | --- |
| Storage instructions | -20°C |
| | |
| --- | --- |
| Solubility overview | Soluble in sterile deionized water (not less than 100 µg/ml) |
Handling

Solutions should be made in sterile deionized water (not less than 100 µg/ml). This solution can then be further diluted with other aqueous solutions.
Following reconstitution, solutions may be stored at 4°C and are useable for around 2-7 days.
For long term storage, a carrier protein (0.1% HSA or BSA) should be added to stock solutions. Solutions should be aliquoted into tightly sealed vials for storage at -20°C. Freeze-thaw cycles should be prevented.
| | |
| --- | --- |
| Important | This product is for RESEARCH USE ONLY and is not intended for therapeutic or diagnostic use. Not for human or veterinary use |
Chemical Data
| | |
| --- | --- |
| Chemical name | Brain-derived neurotropic factor human recombinant produced in E. Coli. Homodimer, non-glycosylated polypeptide containing 2 x 119 amino acids and an N-terminal Met. Total molecular mass ~27000. Purified by proprietary chromatography methods. |
| | |
| --- | --- |
| Sequence (one letter) | MHSDPARRGE LSVCDSISEW VTAADKKTAV DMSGGTVTVL EKVPVSKGQL KQYFYETKCN PMGYTKEGCR GIDKRHWNSQ CRTTQSYVRA LTMDSKKRIG WRFIRIDTSC VCTLTIKRGR |
| | |
| --- | --- |
| Formulation | Sterile filtered, white lyophilized powder (protein lyophilized without any additives) |
| | |
| --- | --- |
| Protein length | 2 x 119 AA |
References for Recombinant human BDNF protein
References are publications that support the biological activity of the product
The ability of BDNF to modify neurogenesis and depressive-like behaviors is dependent upon phosphorylation of tyrosine residues 365/367 in the GABA(A)-receptor γ2 subunit.

Vithlani et al (2013) J Neurosci 33(39) : 15567-77

BDNF function in adult synaptic plasticity: the synaptic consolidation hypothesis.

Bramham and Messaoudi (2005) Prog Neurobiol 76(2) : 99-125

Brain-derived neurotrophic factor.

Binder and Scharfman (2004) Growth Factors 22(3) : 123-31

Neurotrophins: roles in neuronal development and function.

Huang and Reichardt (2001) Annu Rev Neurosci 24 : 677-736

Cultured hippocampal neurons show responses to BDNF, NT-3, and NT-4, but not NGF.

Ip et al (1993) J Neurosci 13(8) : 3394-405
Publications
These publications cite the use of Recombinant human BDNF protein purchased from Hello Bio:
BDNF-induced BDNF release mediates presynaptic LTP and is regulated by cannabinoids

Castillo et al (2021) bioRxiv https://doi.org/10.1101/2021.12.30.474558 : doi

Increasing cellular lifespan with a flow system in organotypic culture of the Laterodorsal Tegmentum (LDT).

Romero-Leguizamón et al (2019) Sci Rep. 6(1) : 1486