Product overview
| | |
| --- | --- |
| Description | Cell permeable Ca2+ chelator |
Images
BAPTA-AM product vial image | Hello Bio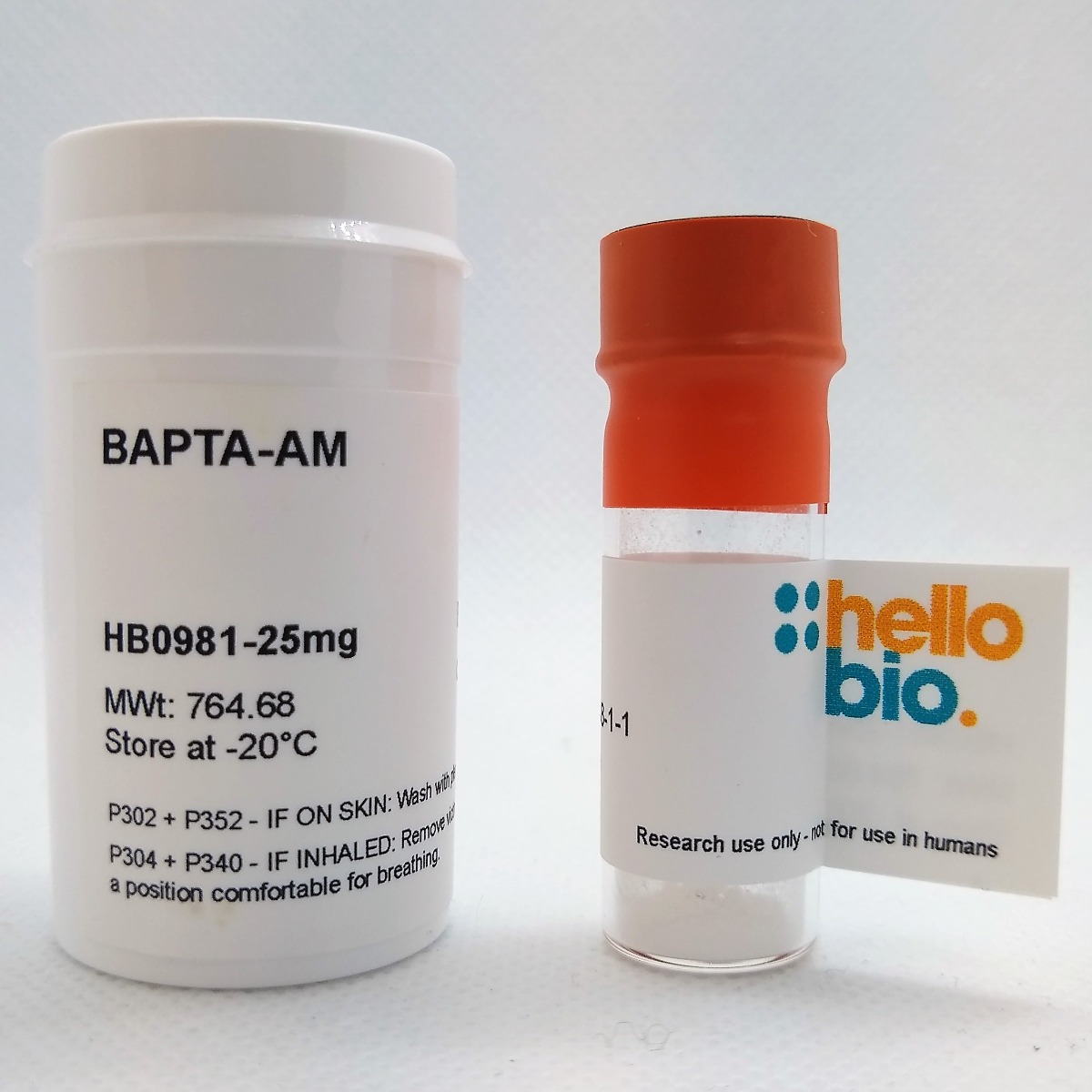 BAPTA-AM product vial image | Hello Bio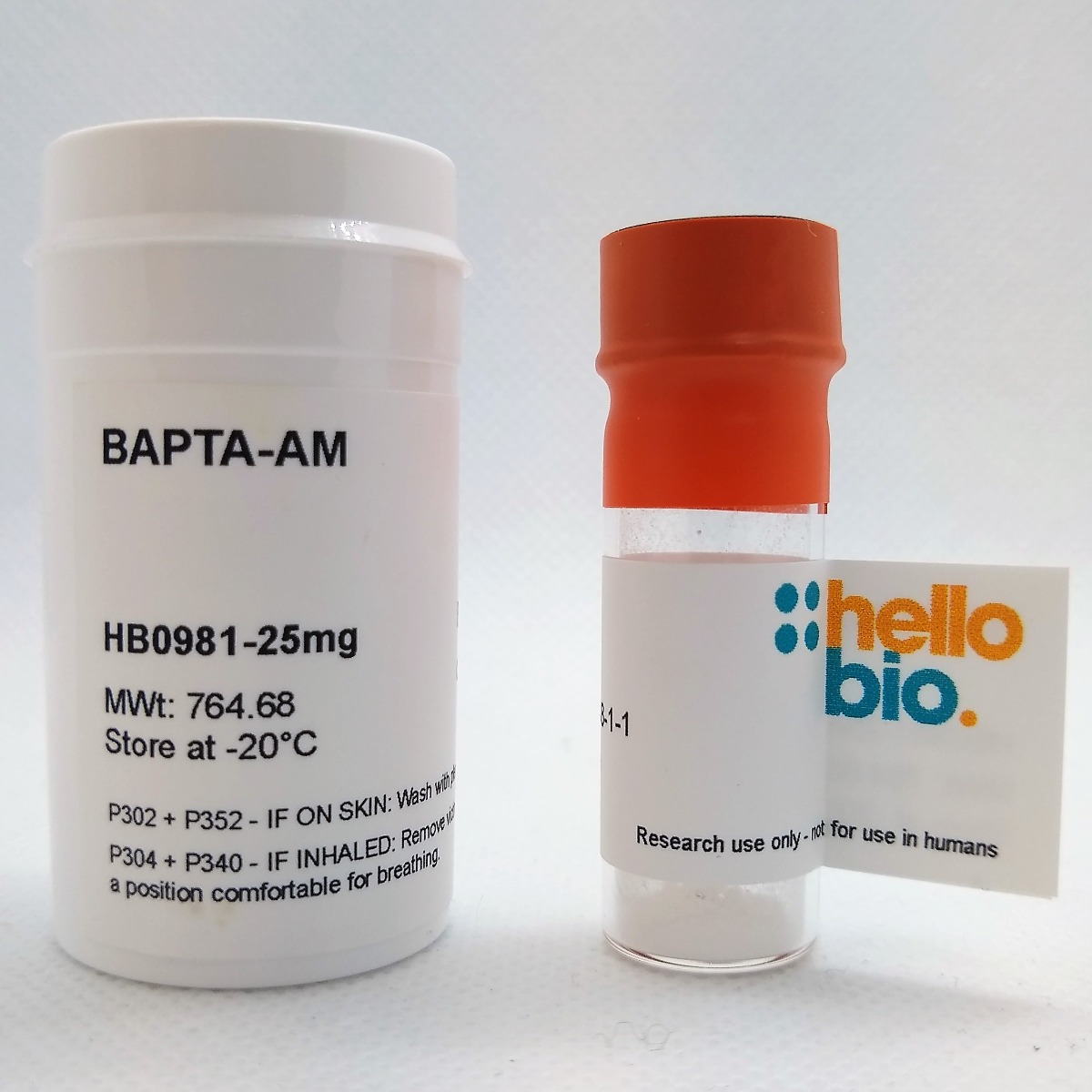 Biological Data
| | |
| --- | --- |
| Biological description | Cell permeable Ca2+ chelator. Hydrolysed by cytosolic esterases. Useful for manipulation of cellular Ca2+ levels. Open channel blocker of Kv channels (IC50 values are 1.3, 1.45 and 1.23 µM for Kv 11.1, hKv 1.3 and hKv 1.5 channels respectively). BAPTA analog. |
Solubility & Handling
| | |
| --- | --- |
| Storage instructions | -20°C |
| | |
| --- | --- |
| Solubility overview | Soluble in DMSO (30mM) |
| | |
| --- | --- |
| Important | This product is for RESEARCH USE ONLY and is not intended for therapeutic or diagnostic use. Not for human or veterinary use. |
Chemical Data
| | |
| --- | --- |
| Chemical name | 1,2-Bis(2-aminophenoxy)ethane-N,N,N ',N'-tetraacetic acid tetrakis(acetoxymethyl ester) |
| | |
| --- | --- |
| Chemical structure | |
| | |
| --- | --- |
| Molecular Formula | C34H40N2O18 |
| | |
| --- | --- |
| SMILES | O=C(OCOC(C)=O)CN(CC(OCOC(C)=O)=O)C1=CC=CC=C1OCCOC2=CC=CC=C2N(CC(OCOC(C)=O)=O)CC(OCOC(C)=O)=O |
| | |
| --- | --- |
| InChiKey | YJIYWYAMZFVECX-UHFFFAOYSA-N |
References for BAPTA-AM
References are publications that support the biological activity of the product
Nonsteroidal anti-inflammatory drug flufenamic acid is a potent activator of AMP-activated protein kinase.

Chi Y et al (2011) J Pharmacol Exp Ther 339(1) : 257-66.

The membrane permeable calcium chelator BAPTA-AM directly blocks human ether a-go-go-related gene potassium channels stably expressed in HEK 293 cells.

Tang Q et al (2007) Biochem Pharmacol 74(11) : 1596-607.

BAPTA/AM, an intracellular calcium chelator, induces delayed necrosis by lipoxygenase-mediated free radicals in mouse cortical cultures.

Wie MB et al (2001) Prog Neuropsychopharmacol Biol Psychiatry 25(8) : 1641-59.
Publications
These publications cite the use of BAPTA-AM purchased from Hello Bio:
Calcium Regulates HCC Proliferation as well as EGFR Recycling/Degradation and Could Be a New Therapeutic Target in HCC.

Modica et al. (2019) Cancers (Basel) 11(10) : E1588