Product overview
| | |
| --- | --- |
| Description | Potent, selective, competitive NMDA receptor antagonist |
Images
(RS)-CPP product vial image | Hello Bio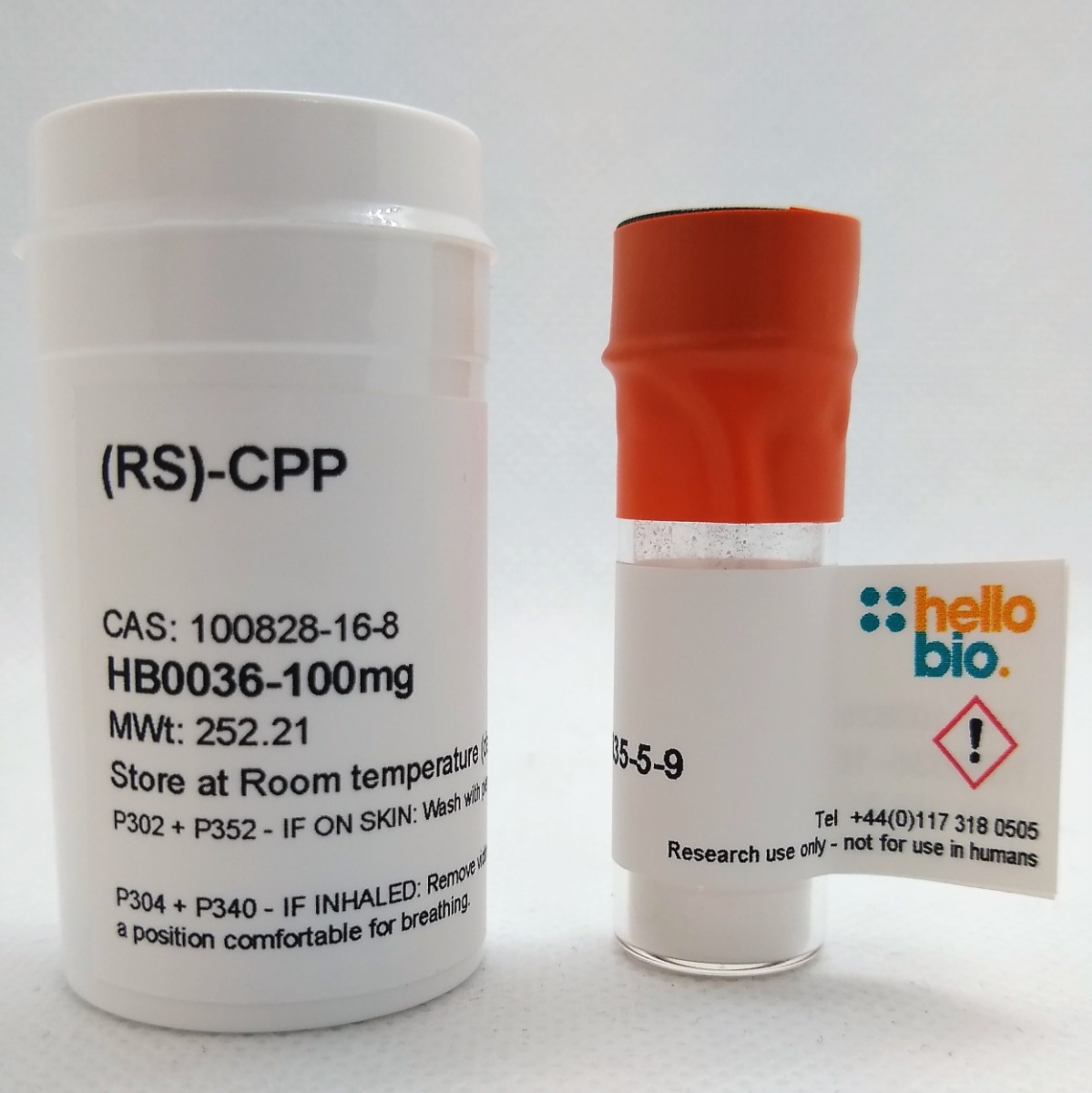 (RS)-CPP product vial image | Hello Bio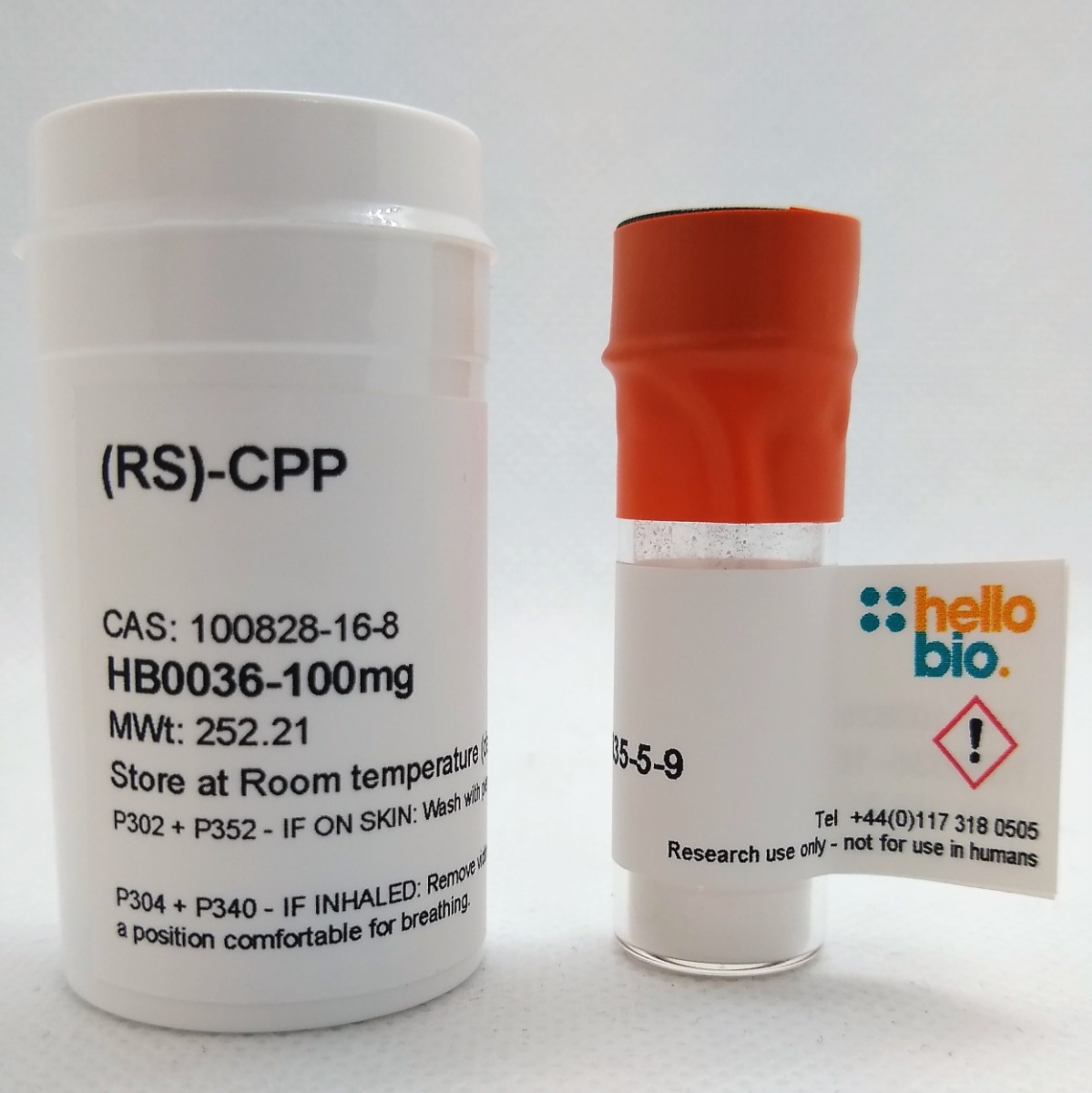 Biological Data
| | |
| --- | --- |
| Biological description | Potent, selective and competitive NMDA receptor antagonist which reversibly binds to the glutamate binding site. Crosses the blood brain barrier and is active in vivo. Shows various effects (e.g. supresses seizure activity, interferes with addiction paradigms, blocks LTP and LTD and impairs learning and memory). (R)-CPP also available. |
Solubility & Handling
| | |
| --- | --- |
| Storage instructions | Room temperature (desiccate) |
| | |
| --- | --- |
| Solubility overview | Soluble in water (100mM) |
| | |
| --- | --- |
| Important | This product is for RESEARCH USE ONLY and is not intended for therapeutic or diagnostic use. Not for human or veterinary use. |
Chemical Data
| | |
| --- | --- |
| Chemical name | (RS)-3-(2-Carboxypiperazin-4-yl)-propyl-1-phosphonic acid |
| | |
| --- | --- |
| Chemical structure | |
| | |
| --- | --- |
| Molecular Formula | C8H17N2O5P |
| | |
| --- | --- |
| SMILES | C1CN(CC(N1)C(=O)O)CCCP(=O)(O)O |
| | |
| --- | --- |
| InChi | InChI=1S/C8H17N2O5P/c11-8(12)7-6-10(4-2-9-7)3-1-5-16(13,14)15/h7,9H,1-6H2,(H,11,12)(H2,13,14,15) |
| | |
| --- | --- |
| InChiKey | CUVGUPIVTLGRGI-UHFFFAOYSA-N |
References for (RS)-CPP
References are publications that support the biological activity of the product
Measurement of NMDA Receptor Antagonist, CPP, in Mouse Plasma and Brain Tissue Following Systematic Administration Using Ion-Pair LCMS/MS.

Gemperline E et al (2014) Analytical methods : advancing methods and applications 6 : 6389-6396

CPP, a selective N-methyl-D-aspartate (NMDA)-type receptor antagonist: characterization in vitro and in vivo.

Lehmann J et al (1987) J Pharmacol Exp Ther 240(3) : 737-46.

Action of 3-((+/-)-2-carboxypiperazin-4-yl)-propyl-1-phosphonic acid (CPP): a new and highly potent antagonist of N-methyl-D-aspartate receptors in the hippocampus.

Harris EW et al (1986) Brain Res 382(1) : 174-7.

CPP, a new potent and selective NMDA antagonist. Depression of central neuron responses, affinity for [3H]D-AP5 binding sites on brain membranes and anticonvulsant activity.

Davies J et al (1986) Brain Res 382(1) : 169-73.
Publications
These publications cite the use of (RS)-CPP purchased from Hello Bio:
Inhibitory inputs to an inhibitory interneuron: Spontaneous postsynaptic currents and GABAA receptors of A17 amacrine cells in the rat retina

Beltran-Matas P et al (2022) Eur J Neurosci 55(6) : 1442-1470

FMRP regulates experience-dependent maturation of callosal synaptic connections and bilateral cortical synchrony

Huber et al (2021) bioRxiv https://doi.org/10.1101/2021.06.25.449490 : doi

Dysregulated clock gene expression and abnormal diurnal regulation of hippocampal inhibitory transmission and spatial memory in amyloid precursor protein transgenic mice

Fusilier AR et al (2021) Neurobiol Dis 158 : 105454

Experience-dependent weakening of callosal synaptic connections in the absence of postsynaptic FMRP

Zhang Z et al (2021) Elife 10

Different glutamate sources and endogenous co-agonists activate extrasynaptic NMDA receptors on amacrine cells of the rod pathway microcircuitBeltran-Matas et al

Beltran-Matas et al (2021) Eur J Neurosci. : 54(2)