Product overview
| | |
| --- | --- |
| Customer comments | Good quality and good price Verified customer, Seoul National University |
| | |
| --- | --- |
| Description | Potent NMDA receptor antagonist |
Images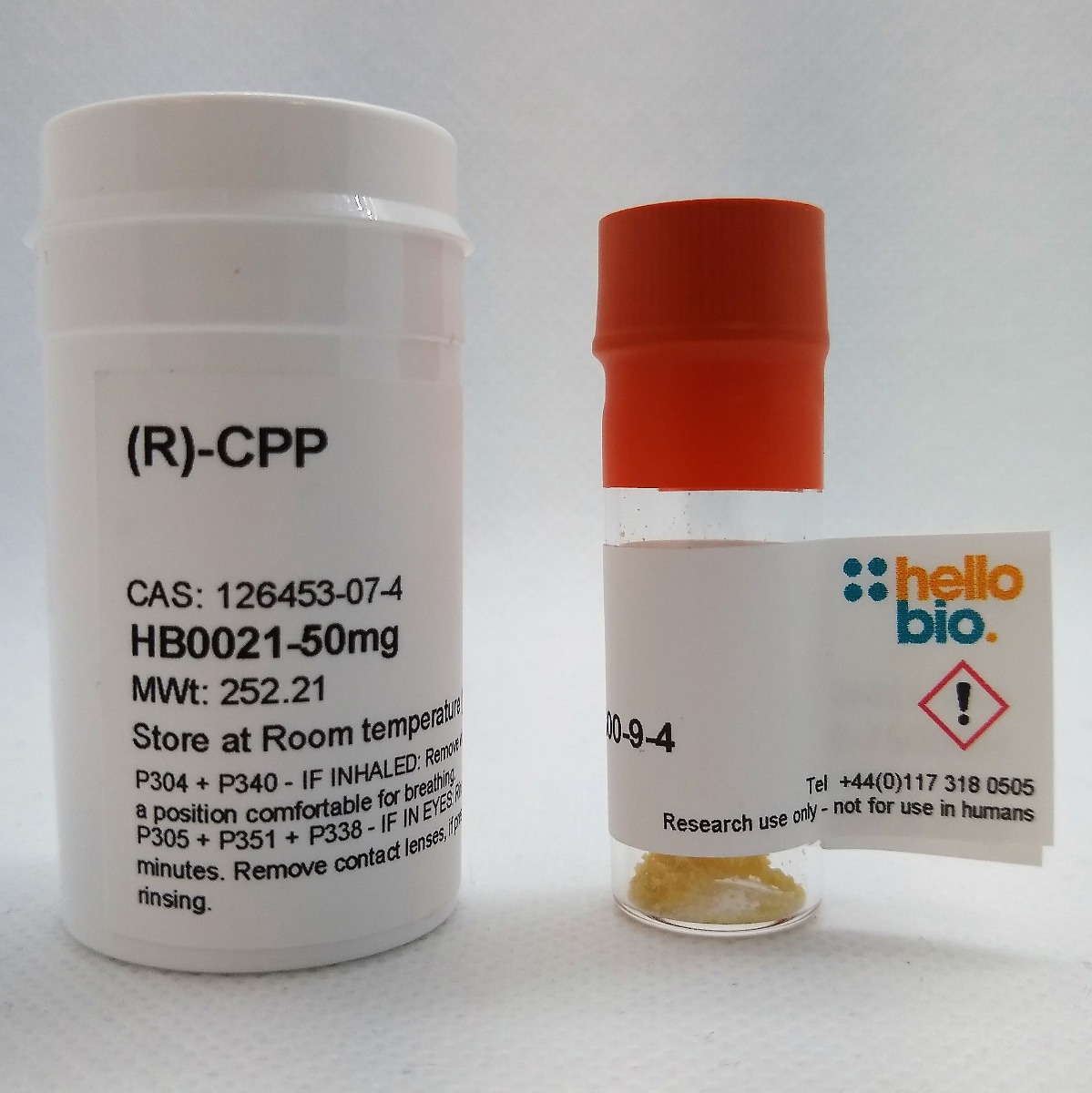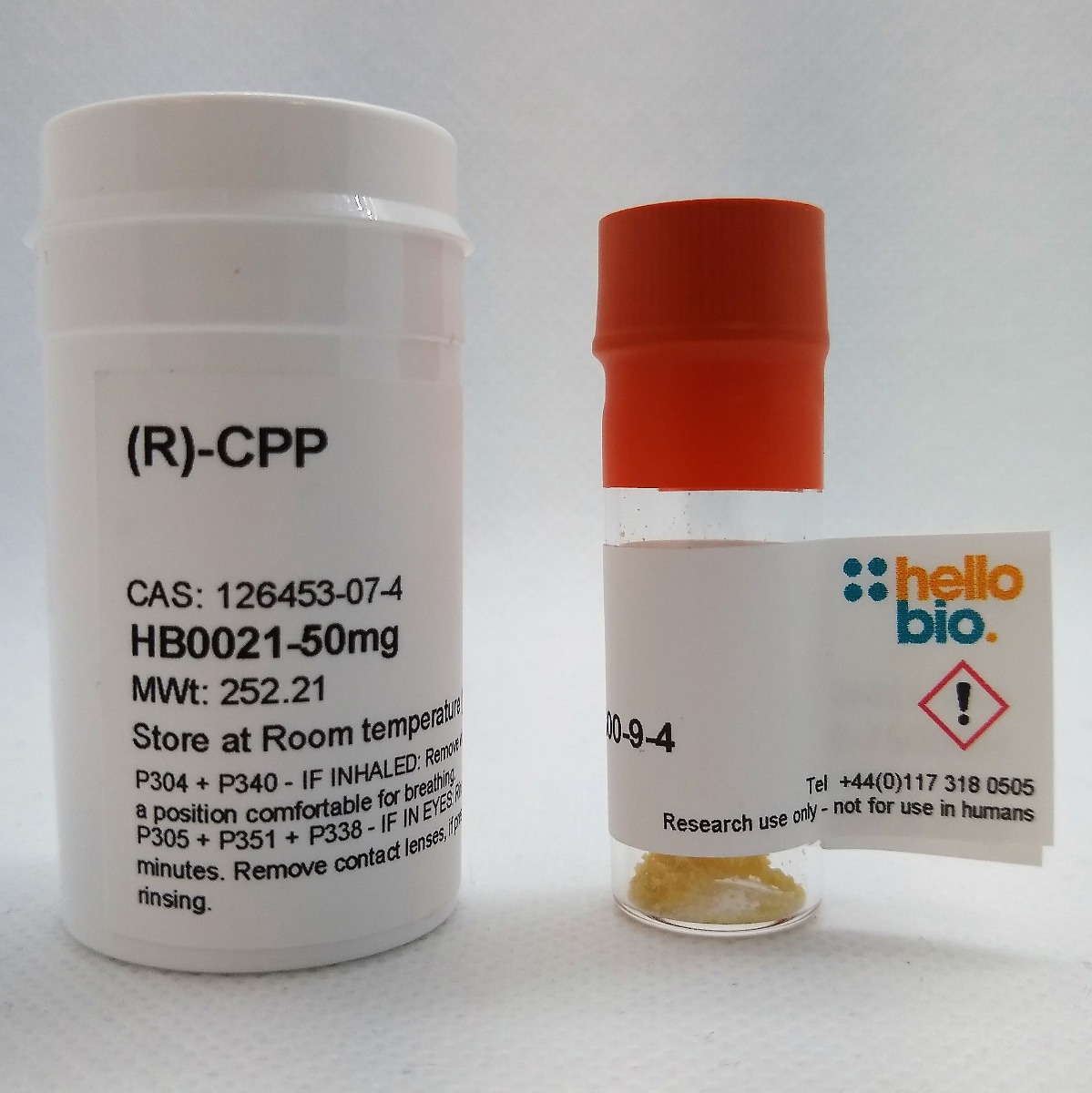 Biological Data
| | |
| --- | --- |
| Biological description | Potent NMDA receptor antagonist. More active enantiomer of (RS)-CPP. Selective for GluN2A subtypes over GluN2B, GluN2C and GluN2D subtypes (Ki values are 41 nM, 0.27, 0.63 and 1.99 μM respectively). Blocks NMDA receptor-mediated EPSCs. Shows antinociceptive effect. Active in vivo. |
Solubility & Handling
| | |
| --- | --- |
| Storage instructions | Room temperature (desiccate) |
| | |
| --- | --- |
| Solubility overview | Soluble in water (100mM) |
| | |
| --- | --- |
| Important | This product is for RESEARCH USE ONLY and is not intended for therapeutic or diagnostic use. Not for human or veterinary use. |
Chemical Data
| | |
| --- | --- |
| Chemical name | 3-((R)-2-Carboxypiperazin-4-yl)-propyl-1-phosphonic acid |
| | |
| --- | --- |
| Chemical structure | |
| | |
| --- | --- |
| Molecular Formula | C8H17N2O5P |
| | |
| --- | --- |
| PubChem identifier | 6603754 |
| | |
| --- | --- |
| SMILES | C1CN(C[C@@H](N1)C(=O)O)CCCP(=O)(O)O |
| | |
| --- | --- |
| InChi | InChI=1S/C8H17N2O5P/c11-8(12)7-6-10(4-2-9-7)3-1-5-16(13,14)15/h7,9H,1-6H2,(H,11,12)(H2,13,14,15)/t7-/m1/s1 |
| | |
| --- | --- |
| InChiKey | CUVGUPIVTLGRGI-SSDOTTSWSA-N |
References for (R)-CPP
References are publications that support the biological activity of the product
Long-term potentiation promotes proliferation/survival and neuronal differentiation of neural stem/progenitor cells.

Cho T et al (2013) PLoS One 8(10) : e76860.

Sertindole restores attentional performance and suppresses glutamate release induced by the NMDA receptor antagonist CPP.

Carli M et al (2011) Psychopharmacology (Berl) 214(3) : 625-37.

Structure-activity analysis of a novel NR2C/NR2D-preferring NMDA receptor antagonist: 1-(phenanthrene-2-carbonyl) piperazine-2,3-dicarboxylic acid.

Feng B et al (2004) Br J Pharmacol 141(3) : 508-16.
Publications
These publications cite the use of (R)-CPP purchased from Hello Bio:
Examination of diurnal variation and sex differences in hippocampal neurophysiology and spatial memory

Goode et al (2022) BioRxiv https://www.biorxiv.org/content/10.1101/2022.03.12.484083v1 : .

Synaptic mechanisms of top-down control in the non-lemniscal inferior colliculus

Oberle HM et al (2022) Elife 10

Convergent, functionally independent signaling by mu and delta opioid receptors in hippocampal parvalbumin interneurons

Banghar et al (2021) bioRxiv https://doi.org/10.1101/2021.04.23.441199 : doi

Synaptic mechanisms of top-down control by the auditory cortico-collicular pathway

Apostolides et al (2021) bioRxiv https://doi.org/10.1101/2021.07.26.453816 : doi