Product overview
| | |
| --- | --- |
| Description | L-type voltage gated calcium channel blocker |
| | |
| --- | --- |
| Alternative names | PN 200-110 |
Images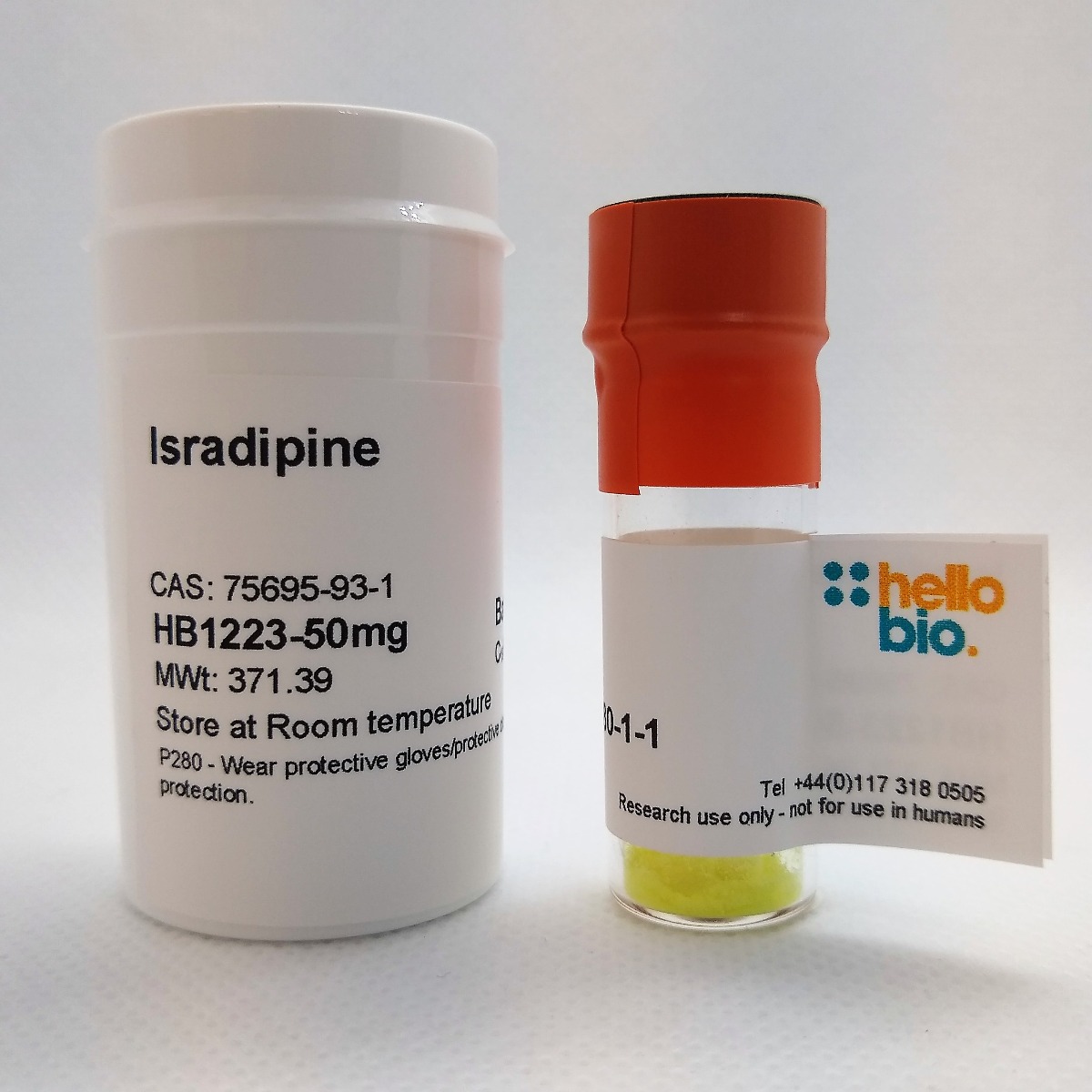 Biological Data
| | |
| --- | --- |
| Biological description | L-type voltage gated calcium channel blocker (EC50 = 1.4 nM). Highest affinity for Cav1.3 and Cav1.2 channels over Cav1.4. Displays neuroprotective properties. Blood brain barrier permeable. |
Solubility & Handling
| | |
| --- | --- |
| Storage instructions | Room temperature |
| | |
| --- | --- |
| Solubility overview | Soluble in DMSO (50mM) or ethanol (20mM) |
| | |
| --- | --- |
| Important | This product is for RESEARCH USE ONLY and is not intended for therapeutic or diagnostic use. Not for human or veterinary use. |
Chemical Data
| | |
| --- | --- |
| Chemical name | 4-(2,1,3-Benzoxadiazol-4-yl)-1,4-dihydro-2,6-dimethyl-3,5-pyridinecarboxylic acid methyl 1-methylethyl ester |
| | |
| --- | --- |
| Chemical structure | |
| | |
| --- | --- |
| Molecular Formula | C19H21N3O5 |
| | |
| --- | --- |
| SMILES | CC1=C(C(C(=C(N1)C)C(=O)OC(C)C)C2=CC=CC3=NON=C32)C(=O)OC |
| | |
| --- | --- |
| InChi | InChI=1S/C19H21N3O5/c1-9(2)26-19(24)15-11(4)20-10(3)14(18(23)25-5)16(15)12-7-6-8-13-17(12)22-27-21-13/h6-9,16,20H,1-5H3 |
| | |
| --- | --- |
| InChiKey | HMJIYCCIJYRONP-UHFFFAOYSA-N |
References for Isradipine
References are publications that support the biological activity of the product
L-type voltage-gated calcium channel blockade with isradipine as a therapeutic strategy for Alzheimer's disease.

Anekonda TS et al (2011) Neurobiol Dis 41(1) : 62-70.

The L-type channel antagonist isradipine is neuroprotective in a mouse model of Parkinson's disease.

Ilijic E et al (2011) Neurobiol Dis 43(2) : 364-71.

Expression and 1,4-dihydropyridine-binding properties of brain L-type calcium channel isoforms.

Sinnegger-Brauns MJ et al (2009) Mol Pharmacol 75(2) : 407-14.

PN 200-110, a new calcium antagonist: electrophysiological, inotropic, and chronotropic effects on guinea pig myocardial tissue and effects on contraction and calcium uptake of rabbit aorta.

Hof RP et al (1984) J Cardiovasc Pharmacol 6(3) : 399-406.
Publications
These publications cite the use of Isradipine purchased from Hello Bio:
Dopaminergic Transmission Rapidly and Persistently Enhances Excitability of D1 Receptor-Expressing Striatal Projection Neurons

Lahiri and Bevan (2020) Neuron 106(2) : 277-290

Ionic Mechanism Underlying Rebound Depolarization in Medial Prefrontal Cortex Pyramidal Neurons.

Kurowski et al (2018) Front Cell Neurosci. : 12:93