Product overview
| | |
| --- | --- |
| Description | Non-selective NMDA / mGlu receptor agonist |
Images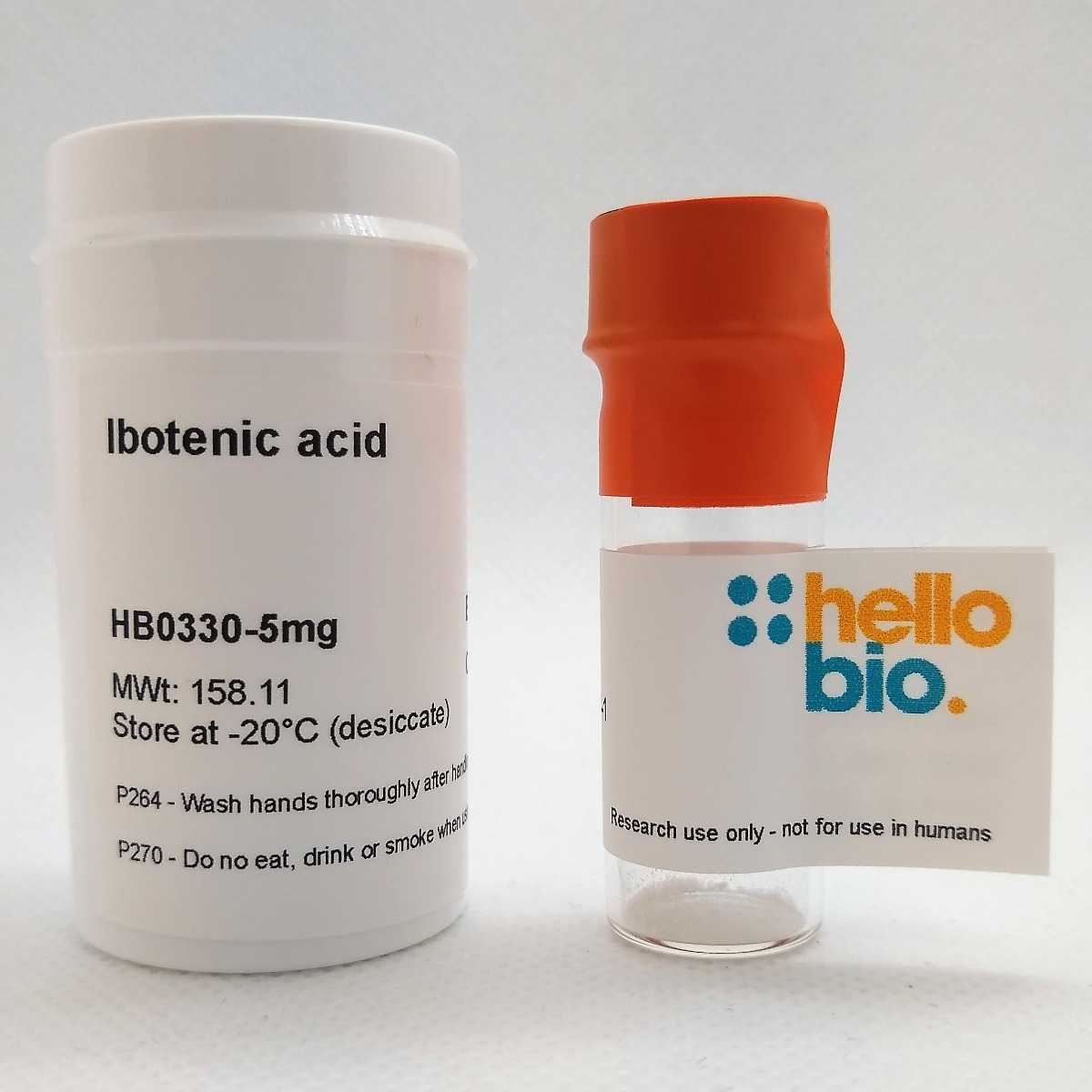 Biological Data
| | |
| --- | --- |
| Biological description | Non-selective NMDA and mGlu receptor agonist (EC50 values are 17, 43, 110, >1000 and >1000 μM for mGlu5a, mGlu1a, mGlu2, mGlu4a and mGlu6 receptors respectively). Shows excitotoxic actions. Used for cognitive dysfunction models for neurodegenerative disease research. |
Solubility & Handling
| | |
| --- | --- |
| Storage instructions | -20°C (desiccate) |
| | |
| --- | --- |
| Solubility overview | Soluble in water (10mM) and in 0.1M NaOH (100mM) |
| | |
| --- | --- |
| Important | This product is for RESEARCH USE ONLY and is not intended for therapeutic or diagnostic use. Not for human or veterinary use. |
Chemical Data
| | |
| --- | --- |
| Chemical name | α-Amino-(3-hydroxy-5-isoxazolyl)acetic acid |
| | |
| --- | --- |
| Chemical structure | |
| | |
| --- | --- |
| Molecular Formula | C5H6N2O4 |
| | |
| --- | --- |
| SMILES | C1=C(ONC1=O)C(C(=O)O)N |
| | |
| --- | --- |
| InChi | InChI=1S/C5H6N2O4/c6-4(5(9)10)2-1-3(8)7-11-2/h1,4H,6H2,(H,7,8)(H,9,10) |
| | |
| --- | --- |
| InChiKey | IRJCBFDCFXCWGO-UHFFFAOYSA-N |
References for Ibotenic acid
References are publications that support the biological activity of the product
Neurochemical and behavioral effects of the intrahippocampal co-injection of beta-amyloid protein1-40 and ibotenic acid in rats.

Li Y et al (2005) Life Sci 76(11) : 1189-97.

Ibotenic acid and thioibotenic acid: a remarkable difference in activity at group III metabotropic glutamate receptors.

Hermit MB et al (2004) Eur J Pharmacol 486(3) : 241-50.

Molecular pharmacology of homologues of ibotenic acid at cloned metabotropic glutamic acid receptors.

Bräuner-Osborne H et al (1998) Eur J Pharmacol 350(2-3) : 311-6.

Isomers of 2-amino-7-phosphonoheptanoic acid as antagonists of neuronal excitants.

Perkins MN et al (1982) Neurosci Lett 32(1) : 65-8.
Publications
These publications cite the use of Ibotenic acid purchased from Hello Bio:
Further development of a liquid chromatography-high-resolution mass spectrometry/mass spectrometry-based strategy for analyzing eight biomarkers in human urine indicating toxic mushroom or Ricinus communis ingestions

Bambauer TP et al (2021) Drug Test Anal 13(9) : 1603-1613

Development and application of a strategy for analyzing eight biomarkers in human urine to verify toxic mushroom or ricinus communis ingestions by means of hydrophilic interaction LC coupled to HRMS/MS

Bambauer et al. (2020) Talanta 213 (120847) : 1-8

Evaluation of novel organosilane modifications of paper spray mass spectrometry substrates for analyzing polar compounds

Bambauer TP et al (2019) Talanta : 677-684