Product overview
| | |
| --- | --- |
| Alternative names | Tacrolimus; Fujimycin; FK-506 |
| | |
| --- | --- |
| Description | Potent calcineurin phosphatase 2B inhibitor. Enhances osteoblastic differentiation in mesenchymal cells. |
Images
FK 506 product vial image | Hello Bio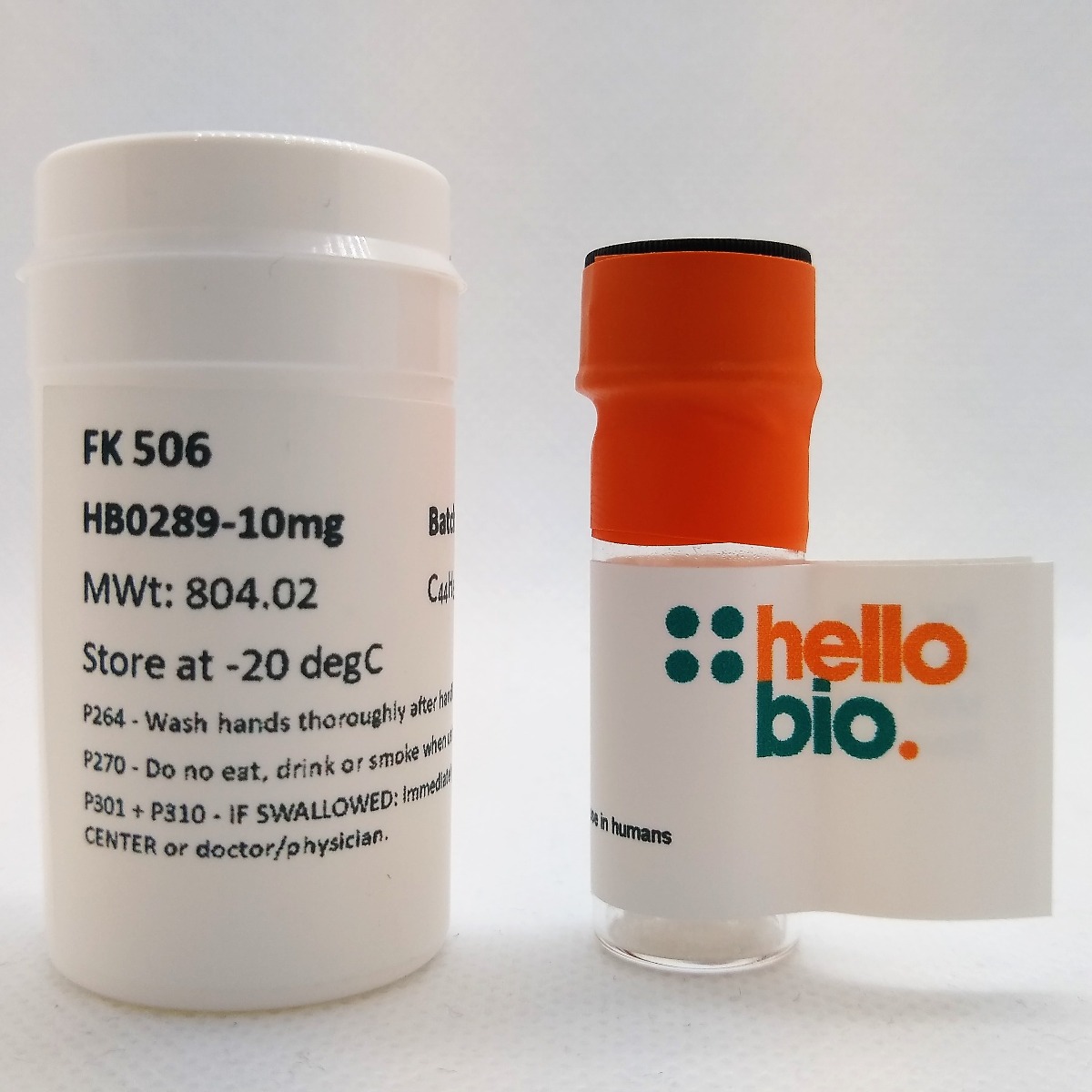 FK 506 product vial image | Hello Bio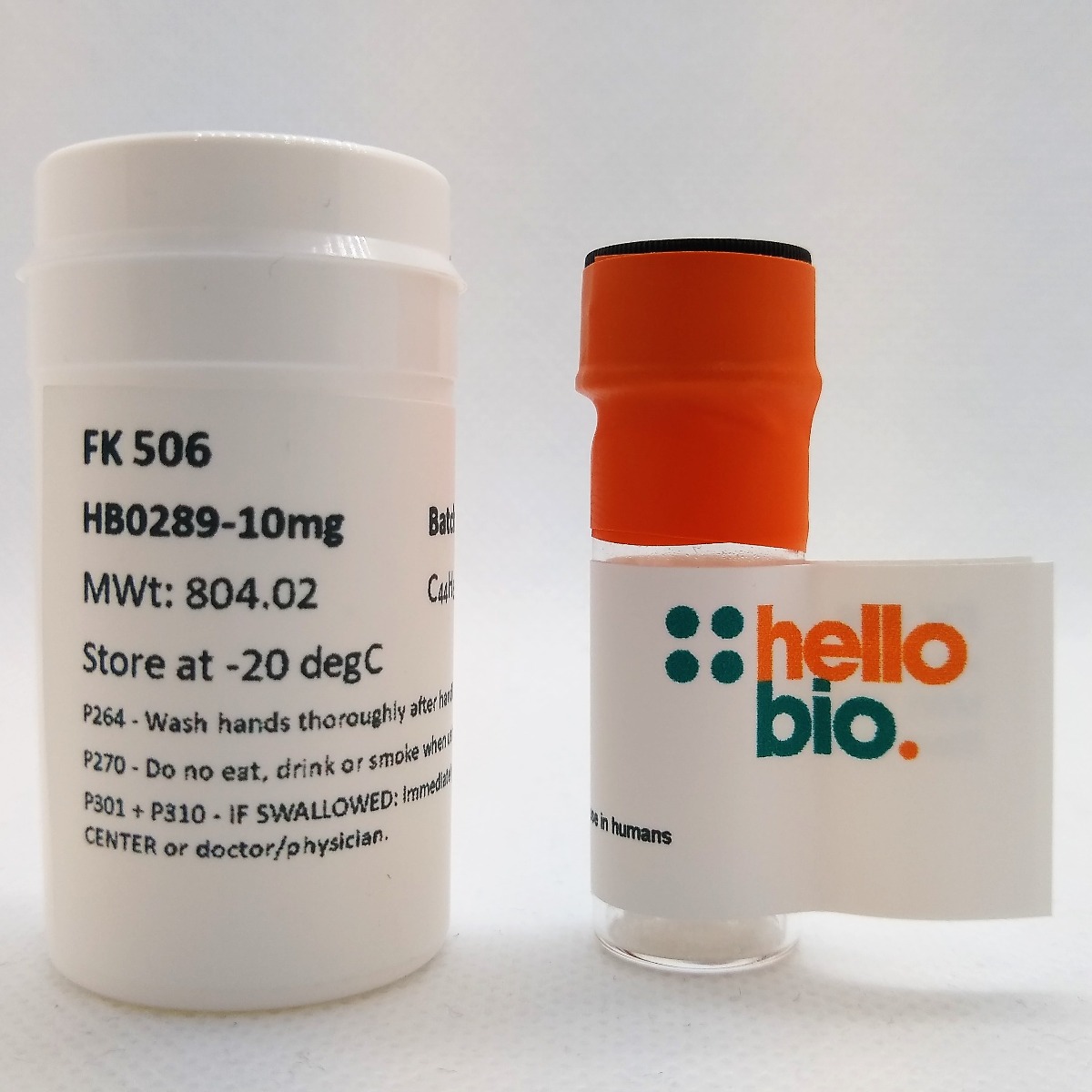 Biological Data
| | |
| --- | --- |
| Biological description | Potent calcineurin phosphatase 2B (PP2B) inhibitor (IC50 = 2 nM). Interacts with FK-506 binding protein. Also inhibits IL-2 production by activated T-cells and reduces amount of GLUT4 on human adipocytes. Enhances osteoblastic differentiation in mesenchymal cells. Displays neuroprotective, antibiotic and immunosuppressant properties. |
Solubility & Handling
| | |
| --- | --- |
| Storage instructions | -20°C |
| | |
| --- | --- |
| Solubility overview | Soluble in ethanol (100 mM) and DMSO (100 mM) |
| | |
| --- | --- |
| Important | This product is for RESEARCH USE ONLY and is not intended for therapeutic or diagnostic use. Not for human or veterinary use. |
Chemical Data
| | |
| --- | --- |
| Chemical name | (3S,4R,5S,8R,9E,12S,14S,15R,16S,18R,19R,26aS)-5,6,8,11,12,13,14,15,16,17,18,19,24,25,26,26a-Hexadecahydro-5,19-dihydroxy-3-[(1E)-2-[(1R,3R,4R)-4-hydroxy-3-methoxycyclohexyl]-1-methylethenyl]-14,16-dimethoxy-4,10,12,18-tetramethyl-8-(2-propen-1-yl)-15,19-epoxy-3H-pyrido[2,1-c][1,4]oxaazacyclotricosine-1,7,20,21(4H,23H)tetrone |
| | |
| --- | --- |
| Molecular Formula | C44H69NO12.H2O |
| | |
| --- | --- |
| PubChem identifier | 445643 |
| | |
| --- | --- |
| SMILES | C[C@@H]1C[C@@H]([C@@H]2[C@H](C[C@H]([C@@](O2)(C(=O)C(=O)N3CCCC[C@H]3C(=O)O[C@@H]([C@@H]([C@H](CC(=O)[C@@H](/C=C(/C1)\C)CC=C)O)C)/C(=C/[C@@H]4CC[C@H]([C@@H](C4)OC)O)/C)O)C)OC)OC |
| | |
| --- | --- |
| InChi | InChI=1S/C44H69NO12/c1-10-13-31-19-25(2)18-26(3)20-37(54-8)40-38(55-9)22-28(5)44(52,57-40)41(49)42(50)45-17-12-11-14-32(45)43(51)56-39(29(6)34(47)24-35(31)48)27(4)21-30-15-16-33(46)36(23-30)53-7/h10,19,21,26,28-34,36-40,46-47,52H,1,11-18,20,22-24H2,2-9H3/ |
| | |
| --- | --- |
| InChiKey | QJJXYPPXXYFBGM-NYOQZLQMSA-N |
| | |
| --- | --- |
| Appearance | White to off-white |
References for FK 506
References are publications that support the biological activity of the product
Cyclosporine A and Tacrolimus Reduce the Amount of GLUT4 at the Cell Surface in Human Adipocytes: Increased Endocytosis as a Potential Mechanism for the Diabetogenic Effects of Immunosuppressive Agents.

Pereira MJ et al (2014) J Clin Endocrinol Metab 99(10) : E1885-94.

Possible nitric oxide modulation in protective effect of FK-506 against 3-nitropropionic acid-induced behavioral, oxidative, neurochemical, and mitochondrial alterations in rat brain.

Kumar P et al (2010) Drug Chem Toxicol 33(4) : 377-92.

The complex of FK506-binding protein 12 and FK506 inhibits calcineurin phosphatase activity and IgE activation-induced cytokine transcripts, but not exocytosis, in mouse mast cells.

Fruman DA et al (1995) J Immunol 154(4) : 1846-51.

Mode of action of tacrolimus (FK506): molecular and cellular mechanisms.

Thomson AW et al (1995) Ther Drug Monit 17(6) : 584-91.