Product overview
| | |
| --- | --- |
| Description | Potent, non-competitive protein phosphatase inhibitor |
Images
Okadaic Acid product vial image | Hello Bio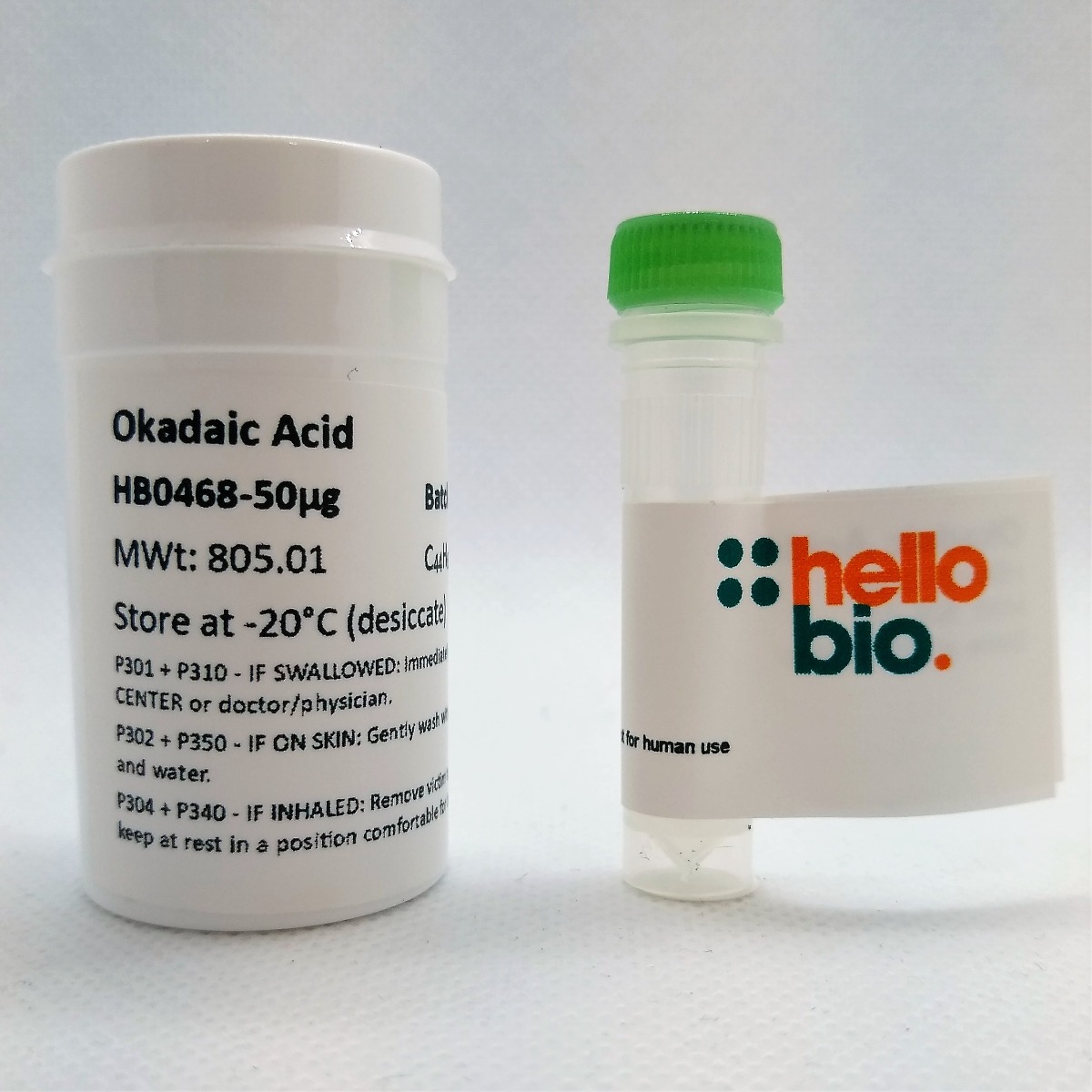 Okadaic Acid product vial image | Hello Bio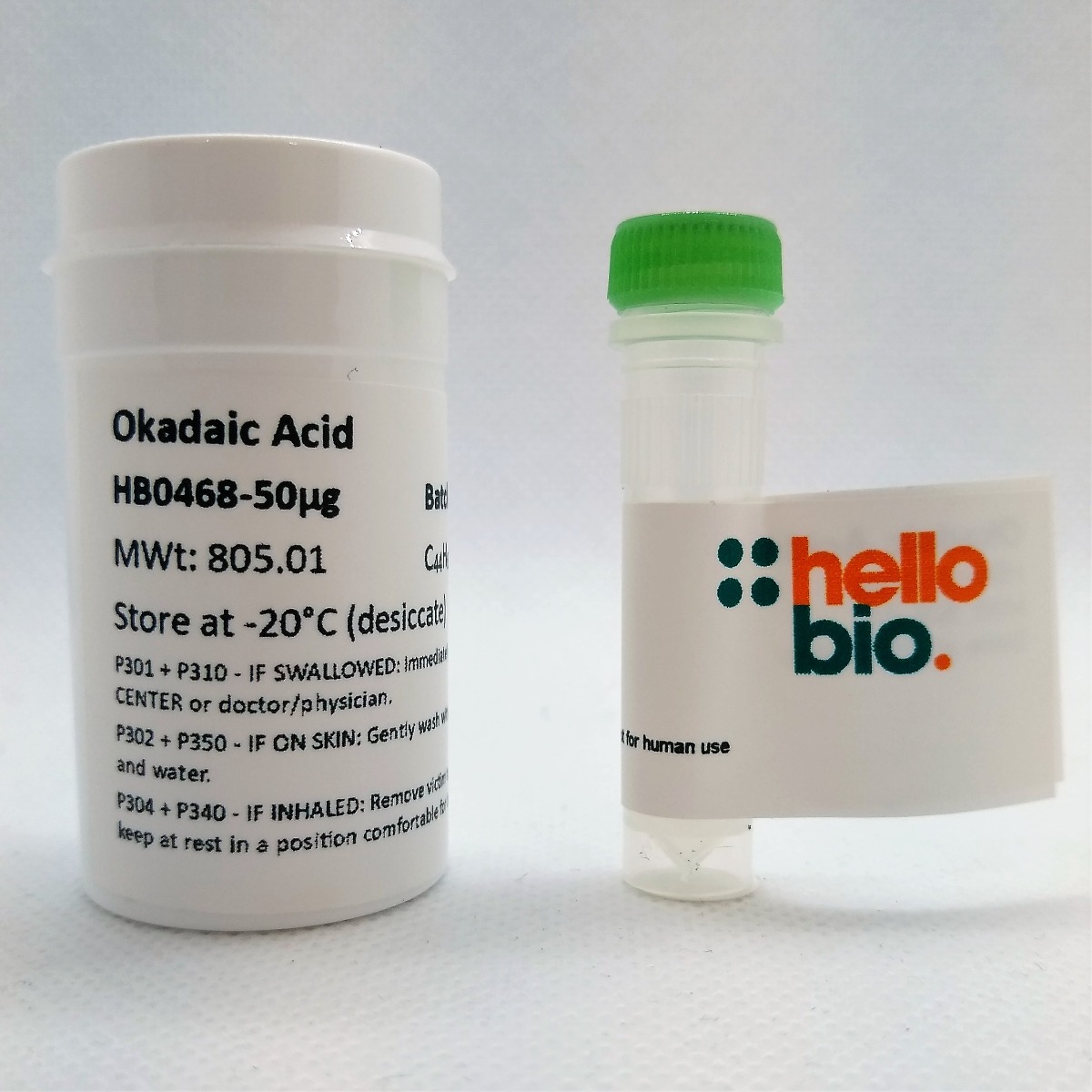 Biological Data
| | |
| --- | --- |
| Biological description | Potent and non-competitive protein phosphatase inhibitor. Exhibits higher selectivity for PP2A and PP1 over PCM (purified polycation-modulated) phosphatase and PP2B (ID50 values are 1.2, 315, 205 and 4530 nM respectively) yet little or no activity at PP2C. Displays apoptosis inducing properties with neurotoxic and tumor promoting effects. A diarrheic shellfish poisoning (DSP) toxin. |
Solubility & Handling
| | |
| --- | --- |
| Storage instructions | -20°C (desiccate) |
| | |
| --- | --- |
| Solubility overview | Soluble in DMSO (100mM) |
| | |
| --- | --- |
| Important | This product is for RESEARCH USE ONLY and is not intended for therapeutic or diagnostic use. Not for human or veterinary use. |
Chemical Data
| | |
| --- | --- |
| Chemical name | 9,10-Deepithio-9,10-didehydroacanthifolicin |
| | |
| --- | --- |
| Chemical structure | |
| | |
| --- | --- |
| Molecular Formula | C44H68O13 |
| | |
| --- | --- |
| PubChem identifier | 446512 |
| | |
| --- | --- |
| SMILES | C[C@@H]1CC[C@]2(CCCCO2)O[C@@H]1[C@@H](C)C[C@@H]([C@@H]3C(=C)[C@H]([C@H]4[C@H](O3)CC[C@]5(O4)CC[C@@H](O5)/C=C/[C@@H](C)[C@@H]6CC(=C[C@@]7(O6)[C@@H](CC[C@H](O7)C[C@](C)(C(=O)O)O)O)C)O)O |
| | |
| --- | --- |
| InChi | InChI=1S/C44H68O13/c1-25-21-34(55-44(23-25)35(46)12-11-31(54-44)24-41(6,50)40(48)49)26(2)9-10-30-14-18-43(53-30)19-15-33-39(57-43)36(47)29(5)38(52-33)32(45)22-28(4)37-27(3)13-17-42(56-37)16-7-8-20-51-42/h9-10,23,26-28,30-39,45-47,50H,5,7-8,11-22,24H2,1-4, |
| | |
| --- | --- |
| InChiKey | QNDVLZJODHBUFM-WFXQOWMNSA-N |
References for Okadaic Acid
References are publications that support the biological activity of the product
Okadaic acid: more than a diarrheic toxin.

Valdiglesias V et al (2013) Mar Drugs 11(11) : 4328-49.

Okadaic acid activates the PKR pathway and induces apoptosis through PKR stimulation in MG63 osteoblast-like cells.

Haneji T et al (2013) Int J Oncol 42(6) : 1904-10.

Okadaic acid activates atypical protein kinase C (zeta/lambda) in rat and 3T3/L1 adipocytes. An apparent requirement for activation of Glut4 translocation and glucose transport.

Standaert ML et al (1999) J Biol Chem 274(20) : 14074-8.

Inhibitory effect of a marine-sponge toxin, okadaic acid, on protein phosphatases. Specificity and kinetics.

Bialojan C et al (1988) Biochem J 256(1) : 283-90.
Publications
These publications cite the use of Okadaic Acid purchased from Hello Bio:
PP2A protects podocytes against Adriamycin-induced injury and epithelial-to-mesenchymal transition via suppressing JIP4/p38-MAPK pathway

Lu Z et al (2021) Cytotechnology 73(5) : 697-713