Product overview
| | |
| --- | --- |
| Description | Selective, non-competitive mGlu1 antagonist |
Images
CPCCOEt product vial image | Hello Bio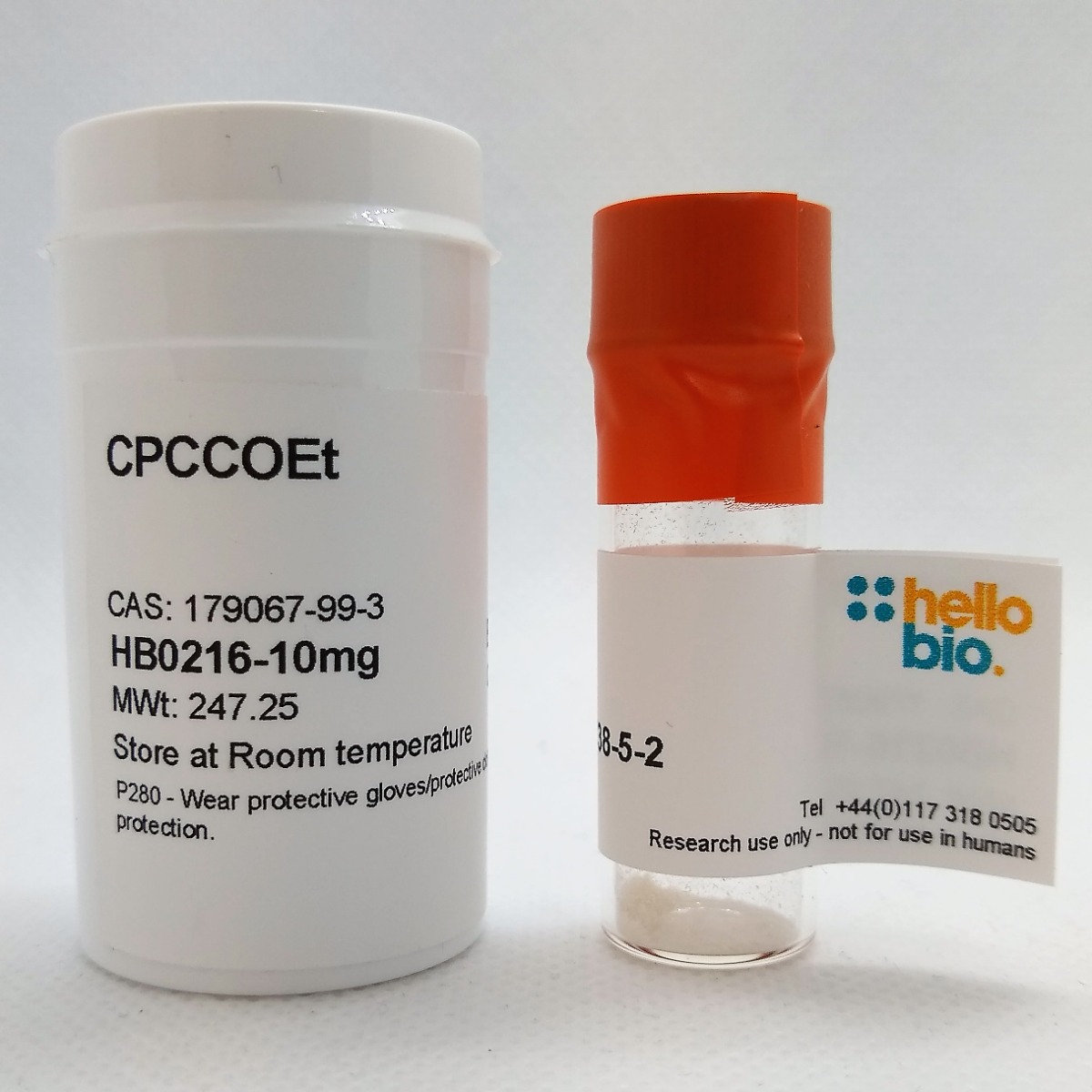 CPCCOEt product vial image | Hello Bio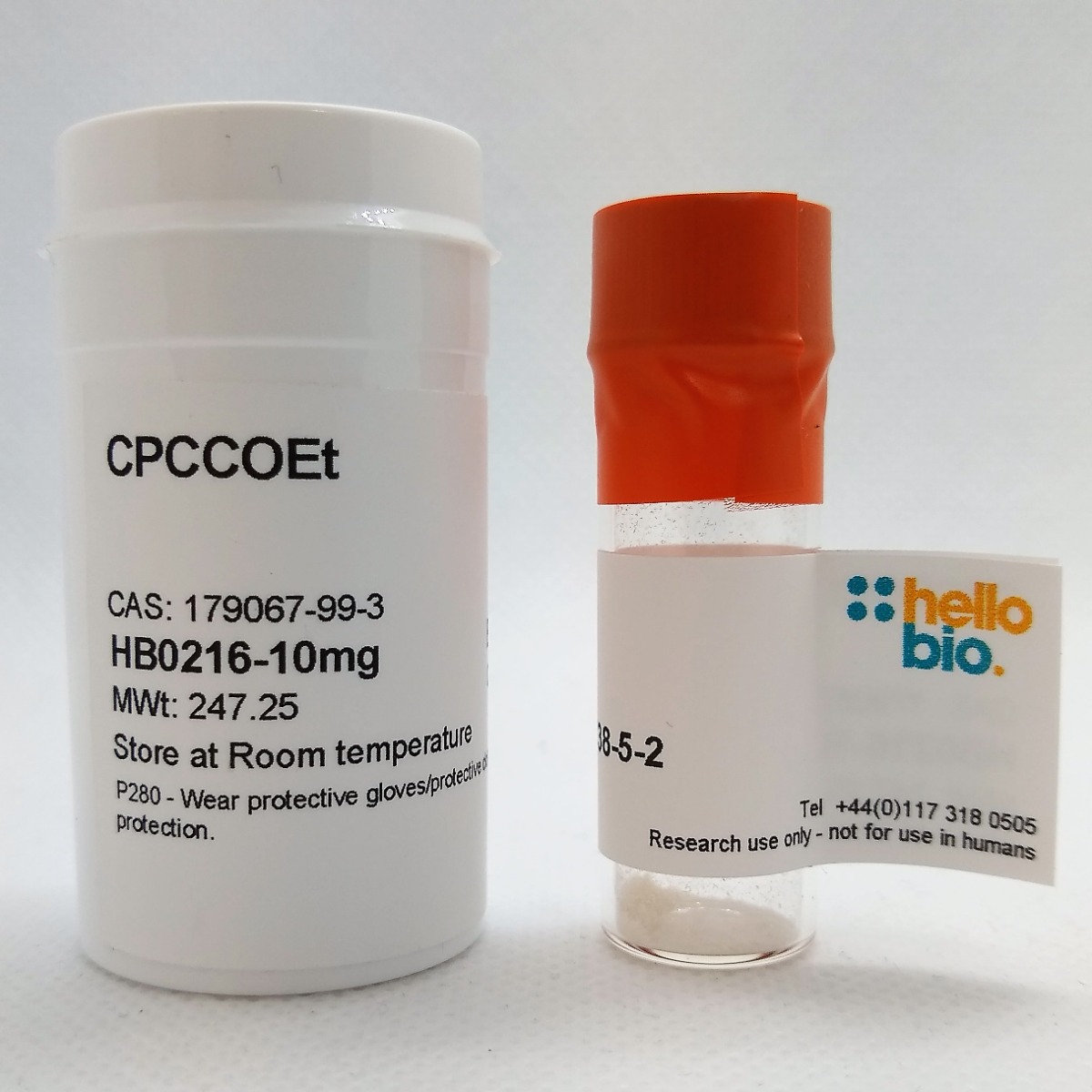 Biological Data
| | |
| --- | --- |
| Biological description | Selective and non-competitive mGlu1 receptor antagonist (IC50 = 6.5 µM). Displays no agonist or antagonist activity at mGlu2, 4a, 5a, 7b and 8a or iGlu receptors at concentrations up to 100µM. Prevents rebound potentiation. |
Solubility & Handling
| | |
| --- | --- |
| Storage instructions | Room temperature |
| | |
| --- | --- |
| Solubility overview | Soluble in DMSO (100mM) |
| | |
| --- | --- |
| Important | This product is for RESEARCH USE ONLY and is not intended for therapeutic or diagnostic use. Not for human or veterinary use. |
Chemical Data
| | |
| --- | --- |
| Chemical name | 7-(Hydroxyimino)cyclopropa[b]chromen-1a-carboxylate ethyl ester |
| | |
| --- | --- |
| Chemical structure | |
| | |
| --- | --- |
| Molecular Formula | C13H13NO4 |
| | |
| --- | --- |
| PubChem identifier | 6278000 |
| | |
| --- | --- |
| SMILES | CCOC(=O)C12CC1/C(=N\O)/C3=CC=CC=C3O2 |
| | |
| --- | --- |
| InChi | InChI=1S/C13H13NO4/c1-2-17-12(15)13-7-9(13)11(14-16)8-5-3-4-6-10(8)18-13/h3-6,9,16H,2,7H2,1H3/b14-11- |
| | |
| --- | --- |
| InChiKey | FXCTZFMSAHZQTR-KAMYIIQDSA-N |
References for CPCCOEt
References are publications that support the biological activity of the product
mGluR1-mediated facilitation of long-term potentiation at inhibitory synapses on a cerebellar Purkinje neuron.

Sugiyama Y et al (2008) Eur J Neurosci 27(4) : 884-96.

CPCCOEt, a noncompetitive metabotropic glutamate receptor 1 antagonist, inhibits receptor signaling without affecting glutamate binding.

Litschig S et al (1999) Mol Pharmacol 55(3) : 453-61.

Reversible and non-competitive antagonist profile of CPCCOEt at the human type 1alpha metabotropic glutamate receptor.

Hermans E et al (1998) Neuropharmacology 37(12) : 1645-7.
Publications
These publications cite the use of CPCCOEt purchased from Hello Bio:
Phenotypic characterization of Grm1crv4 mice reveals a functional role for the type 1 metabotropic glutamate receptor in bone mineralization.

Musante et al (2017) Bone. 94 : 114-123