Cesium Gluconate (Cs-Gluc)
Product overview
| | |
| --- | --- |
| Name | Cesium Gluconate (Cs-Gluc) |
| | |
| --- | --- |
| Alternative names | CeGlu, Cs-Gluc, Cs-Gluconate, CsGluconate |
Customer comments

We prepared a variety of Cesium Gluconate-based intracellular solutions to record excitatory synaptic currents from brain slices using whole-cell patch clamp. All solutions prepared using the Hello Bio Cesium Gluconate performed exactly as expected, saving us the time and trouble of synthesising the salt "in-house".

Verified customer, the University of Dundee
| | |
| --- | --- |
| Description | Potassium channel blocker. Component in cesium gluconate-based internal solutions used for patch clamp electrophysiology. |
Images
Cesium Gluconate - scientist approved | Hello Bio
Cesium Gluconate (Cs-Gluc) product vial image | Hello Bio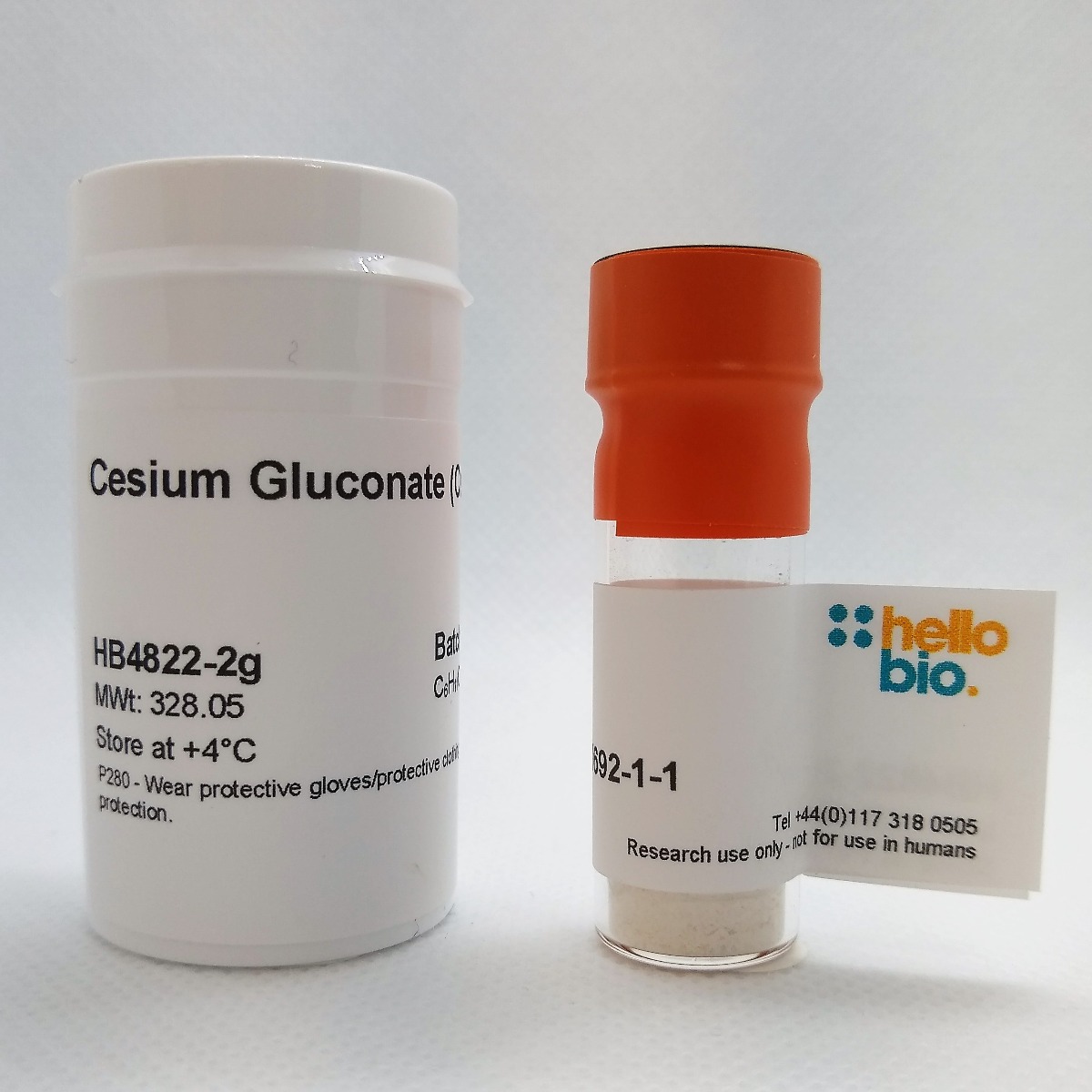 Cesium Gluconate - scientist approved | Hello Bio
Cesium Gluconate (Cs-Gluc) product vial image | Hello Bio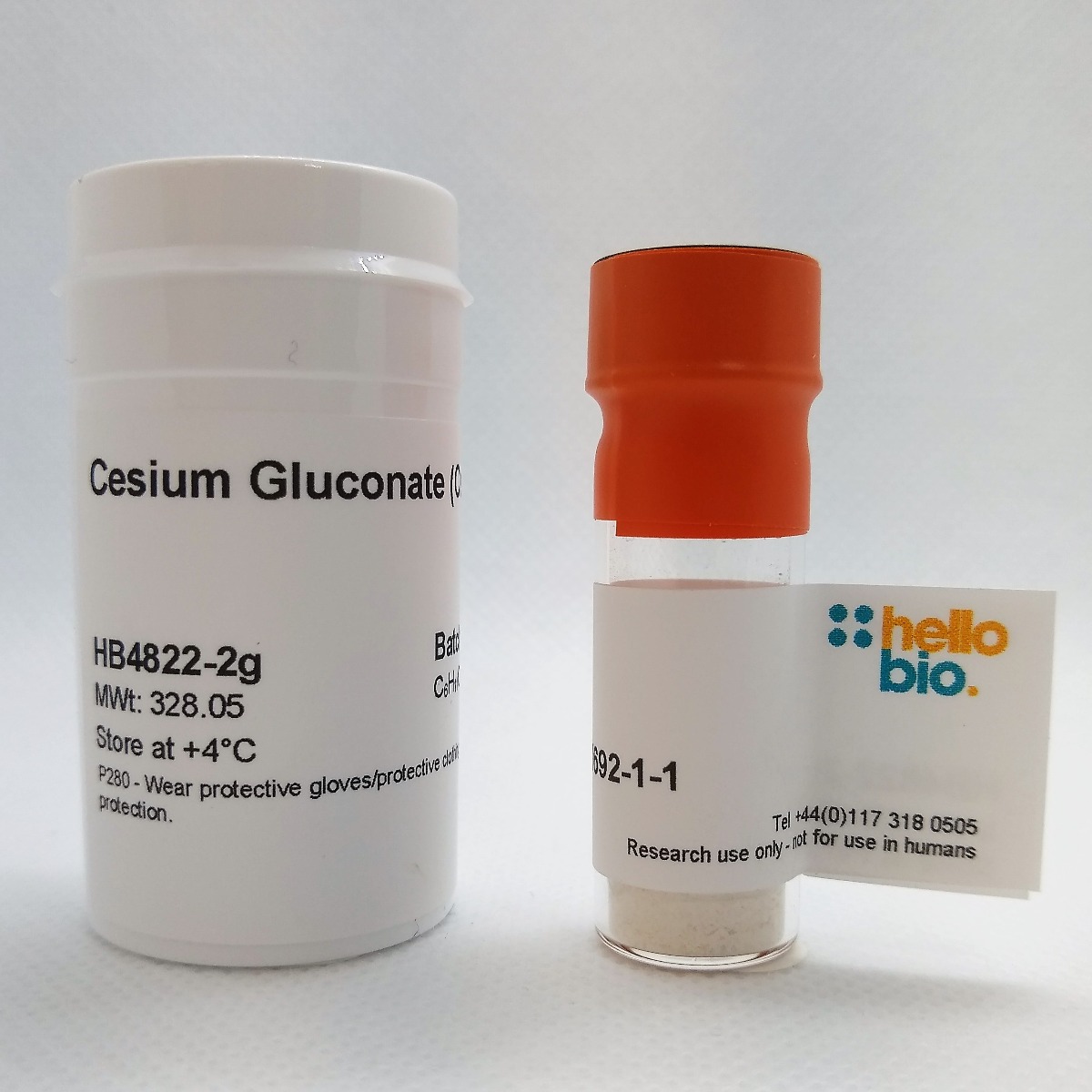 Biological Data
Biological description

Cesium gluconate is used as a component in cesium gluconate-based internal (intracellular) solutions for patch clamp electrophysiology.




Cesium blocks potassium (K+) channels and K+ currents to help provide a good space clamp.




Cesium-gluconate based internal solutions are commonly used for voltage-clamp applications and are useful when studying EPSCs (excitatory postsynaptic currents) / IPSCs (inhibitory postsynaptic currents).



Solubility & Handling
| | |
| --- | --- |
| Storage instructions | +4°C |
| | |
| --- | --- |
| Solubility overview | Soluble in water (200 mM) |
| | |
| --- | --- |
| Important | This product is for RESEARCH USE ONLY and is not intended for therapeutic or diagnostic use. Not for human or veterinary use. |
Chemical Data
| | |
| --- | --- |
| Chemical name | D-Gluconic acid cesium salt |
| | |
| --- | --- |
| Chemical structure | |
| | |
| --- | --- |
| Molecular Formula | C6H11CsO7 |
| | |
| --- | --- |
| SMILES | O[C@H]([C@@H](O)C(=O)O[Cs])[C@H](O)[C@H](O)CO |
| | |
| --- | --- |
| InChi | InChI=1S/C6H12O7.Cs/c7-1-2(8)3(9)4(10)5(11)6(12)13;/h2-5,7-11H,1H2,(H,12,13);/q;+1/p-1/t2-,3-,4+,5-;/m1./s1 |
| | |
| --- | --- |
| InChiKey | IDGWYOYDRLQSAS-JJKGCWMISA-M |
References for Cesium Gluconate (Cs-Gluc)
References are publications that support the biological activity of the product
An ion's view of the potassium channel. The structure of the permeation pathway as sensed by a variety of blocking ions.

French and Shoukimas (1985) J Gen Physiol 85(5) : 669-98

Analysis of the effects of cesium ions on potassium channel currents in biological membranes.

Clay and Shlesinger (1984) J Theor Biol 107(2) : 189-201

Voltage clamp studies on the effect of internal cesium ion on sodium and potassium currents in the squid giant axon.

Adelman and Senft (1966) J Gen Physiol 50(2) : 279-93
Publications
These publications cite the use of Cesium Gluconate (Cs-Gluc) purchased from Hello Bio: