Product overview
| | |
| --- | --- |
| Description | Selective mGlu5 positive allosteric modulator |
Images
CDPPB product vial image | Hello Bio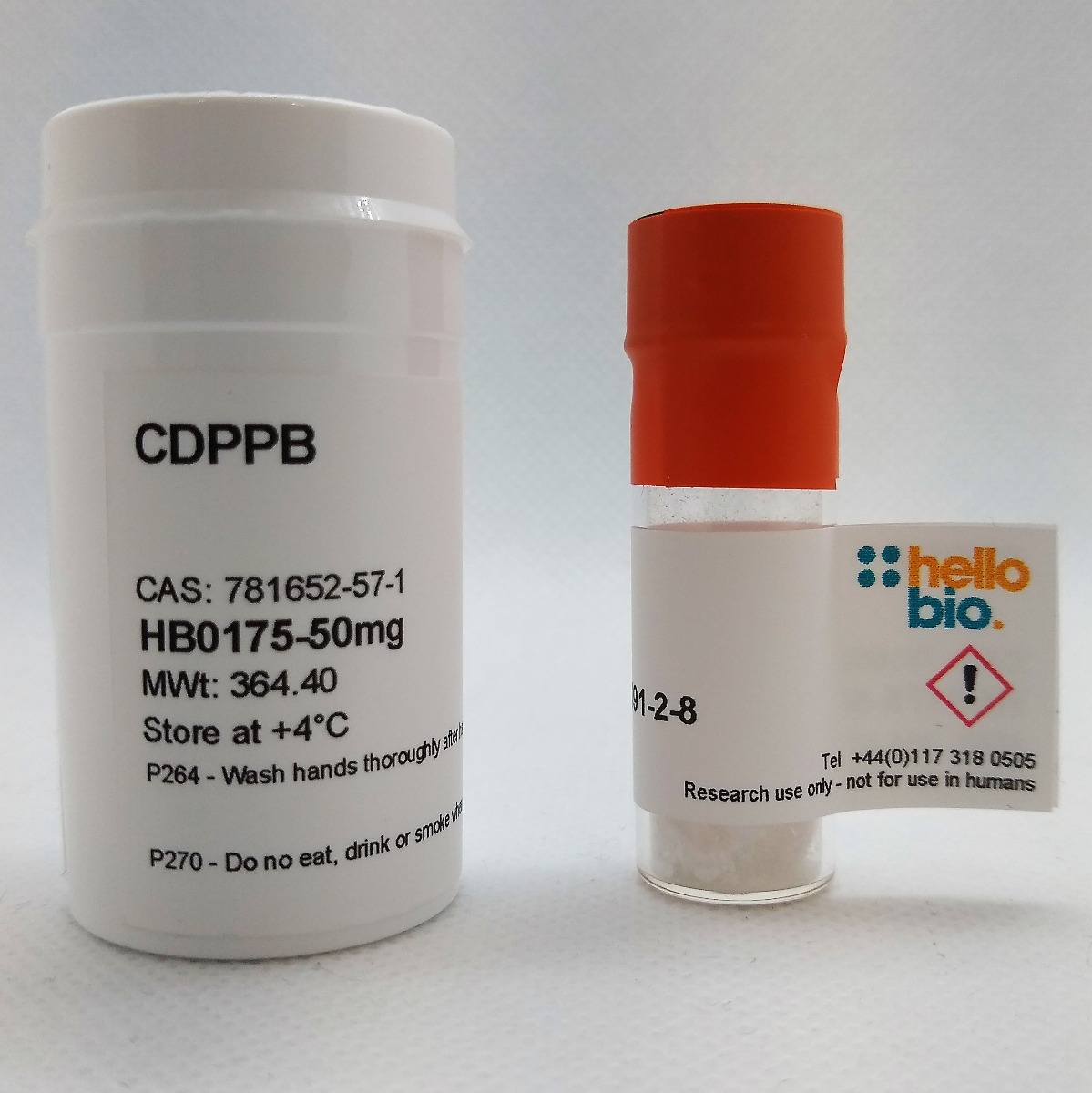 CDPPB product vial image | Hello Bio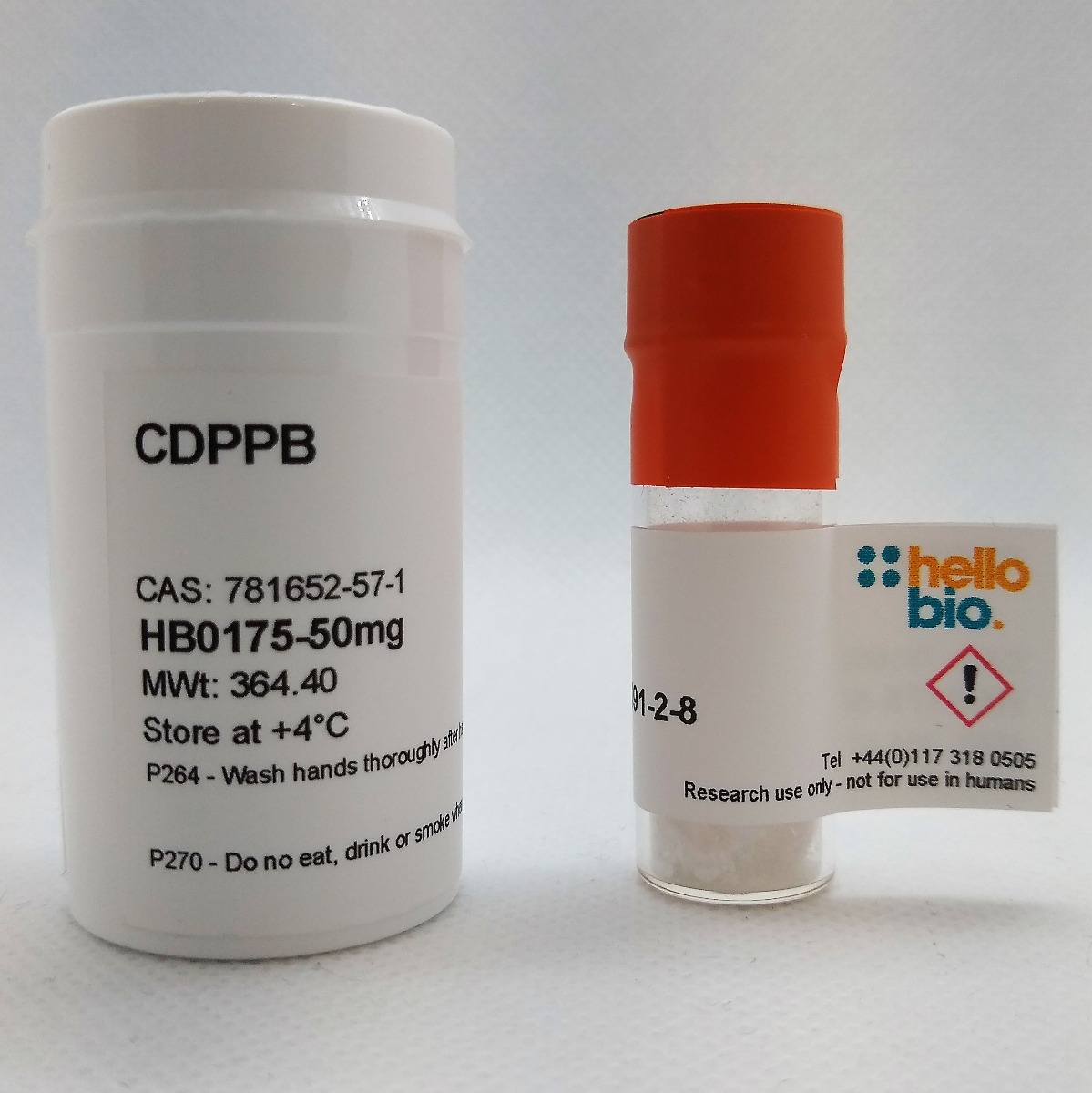 Biological Data
| | |
| --- | --- |
| Biological description | CDPPB is a selective mGlu5 receptor positive allosteric modulator (EC50 = 27 nM for human mGlu5 receptor). It shows anti-psychotic and cognitive enhancing actions. CDPPB is blood-brain barrier permeable. |
Solubility & Handling
| | |
| --- | --- |
| Storage instructions | +4°C |
| | |
| --- | --- |
| Solubility overview | Soluble in DMSO (75mM) |
| | |
| --- | --- |
| Important | This product is for RESEARCH USE ONLY and is not intended for therapeutic or diagnostic use. Not for human or veterinary use. |
Chemical Data
| | |
| --- | --- |
| Chemical name | 3-Cyano-N-(1,3-diphenyl-1H-pyrazol-5-yl)benzamide |
| | |
| --- | --- |
| Chemical structure | |
| | |
| --- | --- |
| Molecular Formula | C23H16N4O |
| | |
| --- | --- |
| PubChem identifier | 11245456 |
| | |
| --- | --- |
| SMILES | C1=CC=C(C=C1)C2=NN(C(=C2)NC(=O)C3=CC=CC(=C3)C#N)C4=CC=CC=C4 |
| | |
| --- | --- |
| InChi | InChI=1S/C23H16N4O/c24-16-17-8-7-11-19(14-17)23(28)25-22-15-21(18-9-3-1-4-10-18)26-27(22)20-12-5-2-6-13-20/h1-15H,(H,25,28) |
| | |
| --- | --- |
| InChiKey | BKUIZWILNWHFHD-UHFFFAOYSA-N |
References for CDPPB
References are publications that support the biological activity of the product
Effects of a metabotropic glutamate receptor 5 positive allosteric modulator, CDPPB, on spatial learning task performance in rodents.

Fowler SW et al (2013) Neurobiol Learn Mem 99 : 25-31.

Differential effects of the mGluR5 positive allosteric modulator CDPPB in the cortex and striatum following repeated administration.

Parmentier-Batteur S et al (2012) Neuropharmacology 62(3) : 1453-60.

A novel selective positive allosteric modulator of metabotropic glutamate receptor subtype 5 has in vivo activity and antipsychotic-like effects in rat behavioral models.

Kinney GG et al (2005) J Pharmacol Exp Ther 313(1) : 199-206.