Product overview
| | |
| --- | --- |
| Alternative names | ZVAD-FMK; Z-VAD.FMK |
| | |
| --- | --- |
| Description | Broad spectrum caspase inhibitor |
Images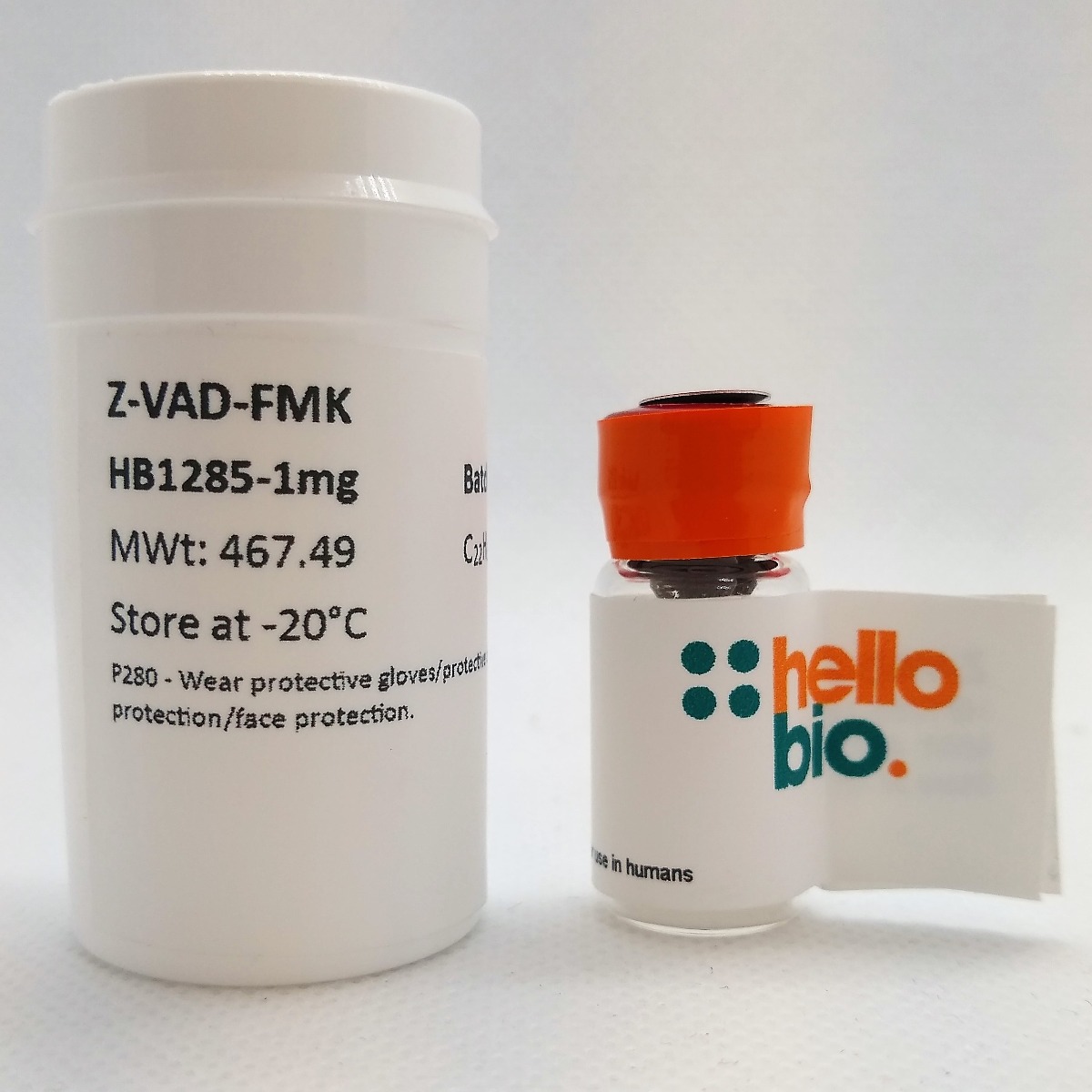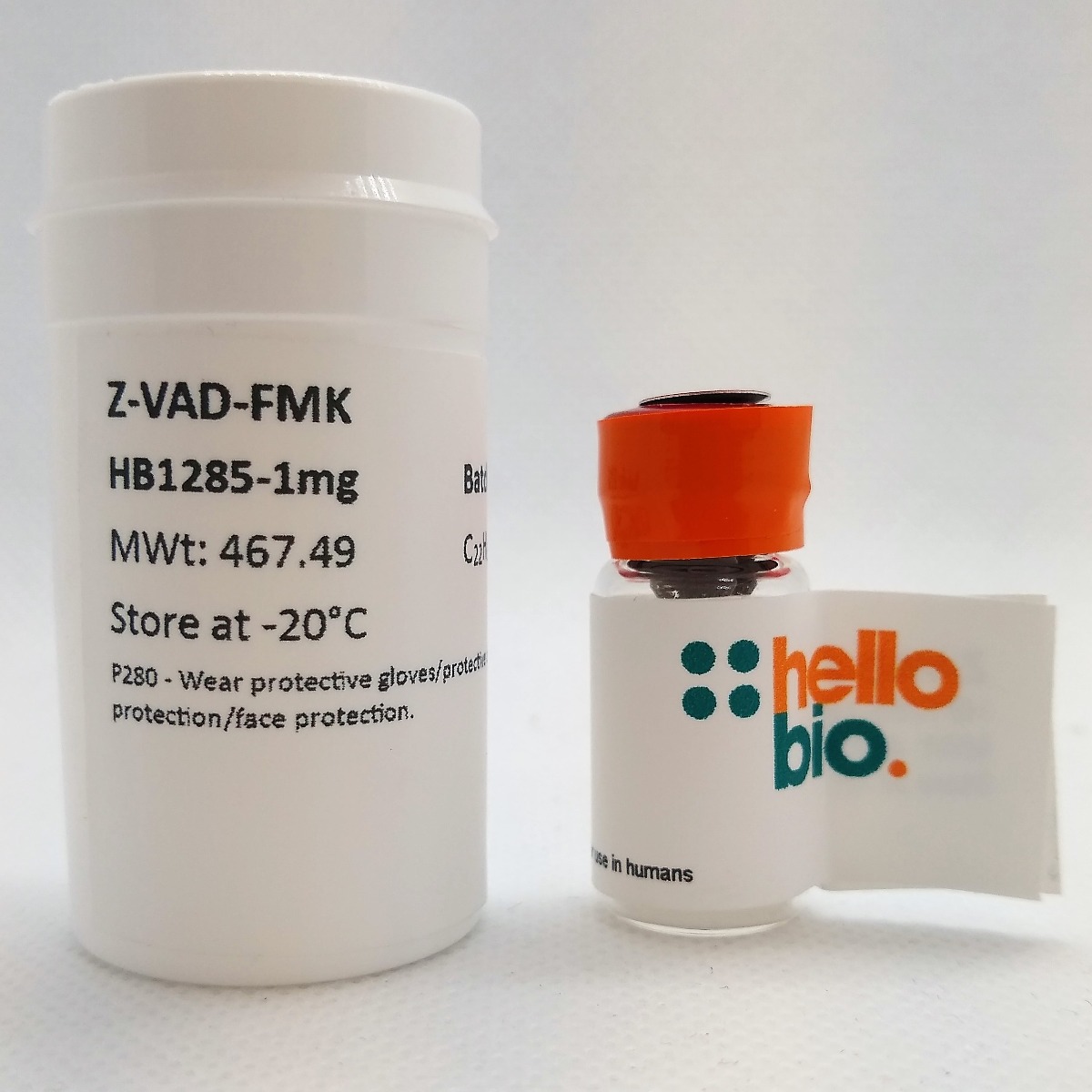 Biological Data
| | |
| --- | --- |
| Biological description | Broad spectrum caspase inhibitor. Blocks apoptosis and activation of caspases during Fas-L induced apoptosis. Also Inhibits T-cell proliferation displaying immunosuppressive properties. |
Solubility & Handling
| | |
| --- | --- |
| Storage instructions | -20°C |
| | |
| --- | --- |
| Solubility overview | Soluble in DMSO (20 mM) |
| | |
| --- | --- |
| Important | This product is for RESEARCH USE ONLY and is not intended for therapeutic or diagnostic use. Not for human or veterinary use. |
Chemical Data
| | |
| --- | --- |
| Chemical name | Benzyloxycarbonyl-Val-Ala-Asp(OMe)-fluoromethylketone |
| | |
| --- | --- |
| Chemical structure | |
| | |
| --- | --- |
| Molecular Formula | C22H30FN3O7 |
| | |
| --- | --- |
| PubChem identifier | 5497174 |
| | |
| --- | --- |
| SMILES | C[C@@H](C(=O)N[C@@H](CC(=O)OC)C(=O)CF)NC(=O)[C@H](C(C)C)NC(=O)OCC1=CC=CC=C1 |
| | |
| --- | --- |
| InChi | InChI=1S/C22H30FN3O7/c1-13(2)19(26-22(31)33-12-15-8-6-5-7-9-15)21(30)24-14(3)20(29)25-16(17(27)11-23)10-18(28)32-4/h5-9,13-14,16,19H,10-12H2,1-4H3,(H,24,30)(H,25,29)(H,26,31)/t14-,16-,19-/m0/s1 |
| | |
| --- | --- |
| InChiKey | MIFGOLAMNLSLGH-QOKNQOGYSA-N |
References for Z-VAD-FMK
References are publications that support the biological activity of the product
Radiation-induced cytochrome <i>c</i> release and the neuroprotective effects of the pan-caspase inhibitor z-VAD-fmk in the hypoglossal nucleus.

Li J et al (2014) Exp Ther Med 7(2) : 383-388.

Suppression of human T cell proliferation by the caspase inhibitors, z-VAD-FMK and z-IETD-FMK is independent of their caspase inhibition properties.

Lawrence CP et al (2012) Toxicol Appl Pharmacol 265(1) : 103-12.

Correlation of tumor necrosis factor alpha (TNF alpha) with high Caspase 3-like activity in myelodysplastic syndromes.

Mundle SD et al (1999) Cancer Lett 140(1-2) : 201-7.

Inhibition of human caspases by peptide-based and macromolecular inhibitors.

Garcia-Calvo M et al (1998) J Biol Chem 273(49) : 32608-13.