Product overview
| | |
| --- | --- |
| Description | Irreversible, cell permeable, broad spectrum caspase inhibitor. |
Images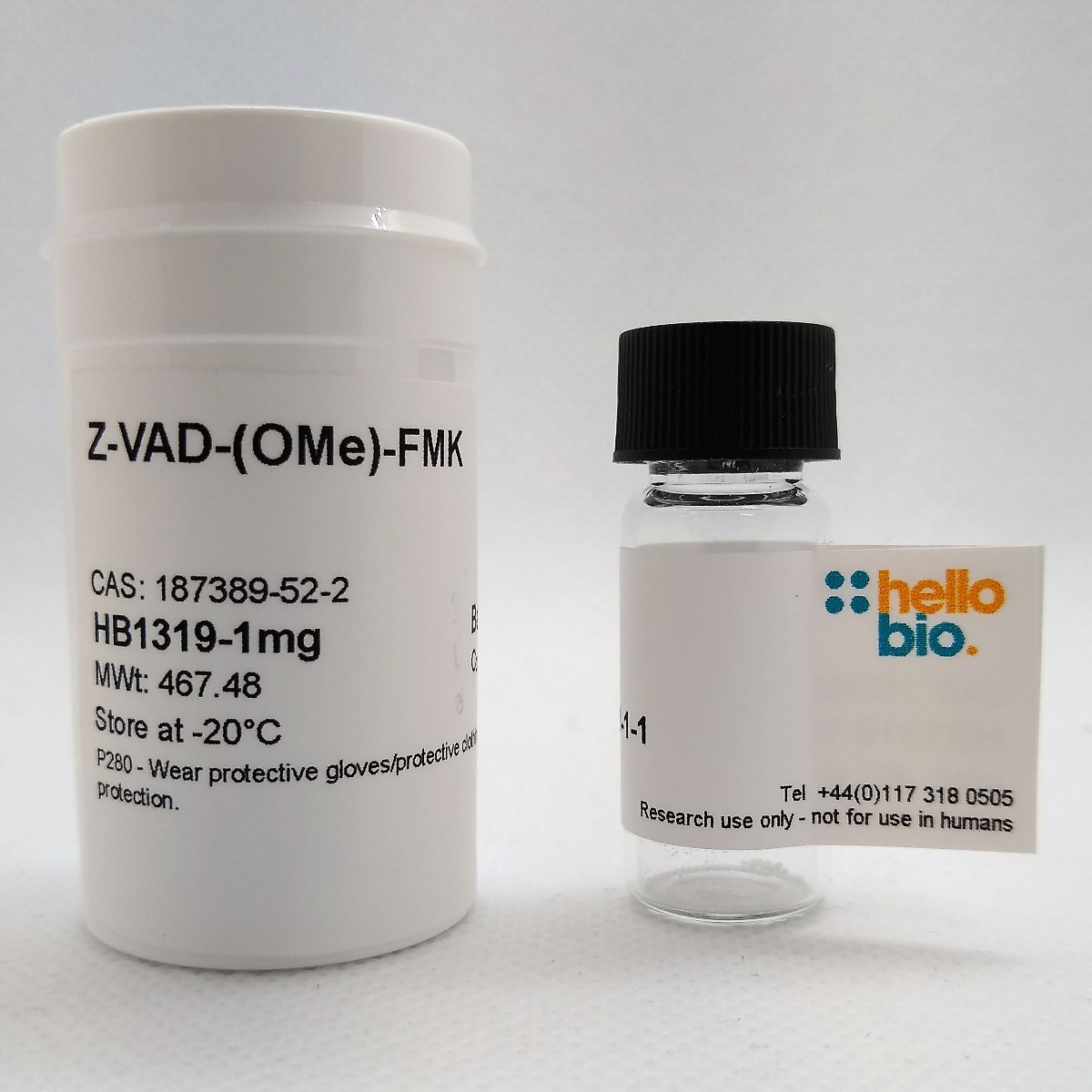 Biological Data
| | |
| --- | --- |
| Biological description | Irreversible, cell permeable, broad spectrum caspase inhibitor. Also inhibits PARP-1 cleavage and Fas-induced apoptosis. Hydrolysed by endogenous esterases into the biologically active form Z-VAD-FMK. |
Solubility & Handling
| | |
| --- | --- |
| Storage instructions | -20°C |
| | |
| --- | --- |
| Important | This product is for RESEARCH USE ONLY and is not intended for therapeutic or diagnostic use. Not for human or veterinary use. |
Chemical Data
| | |
| --- | --- |
| Chemical name | Benzyloxycarbonyl-Val-Ala-Asp(OMe)-fluoromethylketone |
| | |
| --- | --- |
| Chemical structure | |
| | |
| --- | --- |
| Molecular Formula | C22H30FN3O7 |
| | |
| --- | --- |
| PubChem identifier | 5497174 |
| | |
| --- | --- |
| SMILES | C[C@@H](C(=O)N[C@@H](CC(=O)OC)C(=O)CF)NC(=O)[C@H](C(C)C)NC(=O)OCC1=CC=CC=C1 |
| | |
| --- | --- |
| InChi | InChI=1S/C22H30FN3O7/c1-13(2)19(26-22(31)33-12-15-8-6-5-7-9-15)21(30)24-14(3)20(29)25-16(17(27)11-23)10-18(28)32-4/h5-9,13-14,16,19H,10-12H2,1-4H3,(H,24,30)(H,25,29)(H,26,31)/t14-,16-,19-/m0/s1 |
| | |
| --- | --- |
| InChiKey | MIFGOLAMNLSLGH-QOKNQOGYSA-N |
References for Z-VAD-(OMe)-FMK
References are publications that support the biological activity of the product
Amyloid precursor protein binding protein Fe65 is cleaved by caspases during DNA damage-induced apoptosis.

Saeki K et al (2011) Biol Pharm Bull 34(2) : 290-4.

A specific inhibitor of apoptosis decreases tissue injury after intestinal ischemia-reperfusion in mice.

Farber A et al (1999) J Vasc Surg 30(4) : 752-60.

Benzyloxycarbonyl-Val-Ala-Asp (OMe) fluoromethylketone (Z-VAD.FMK) inhibits apoptosis by blocking the processing of CPP32.

Slee EA et al (1996) Biochem J 315 ( Pt 1) : 21-4.