Product overview
| | |
| --- | --- |
| Alternative names | ZM241385 |
| | |
| --- | --- |
| Description | Potent, selective A2A receptor antagonist |
Images
ZM 241385 product vial image | Hello Bio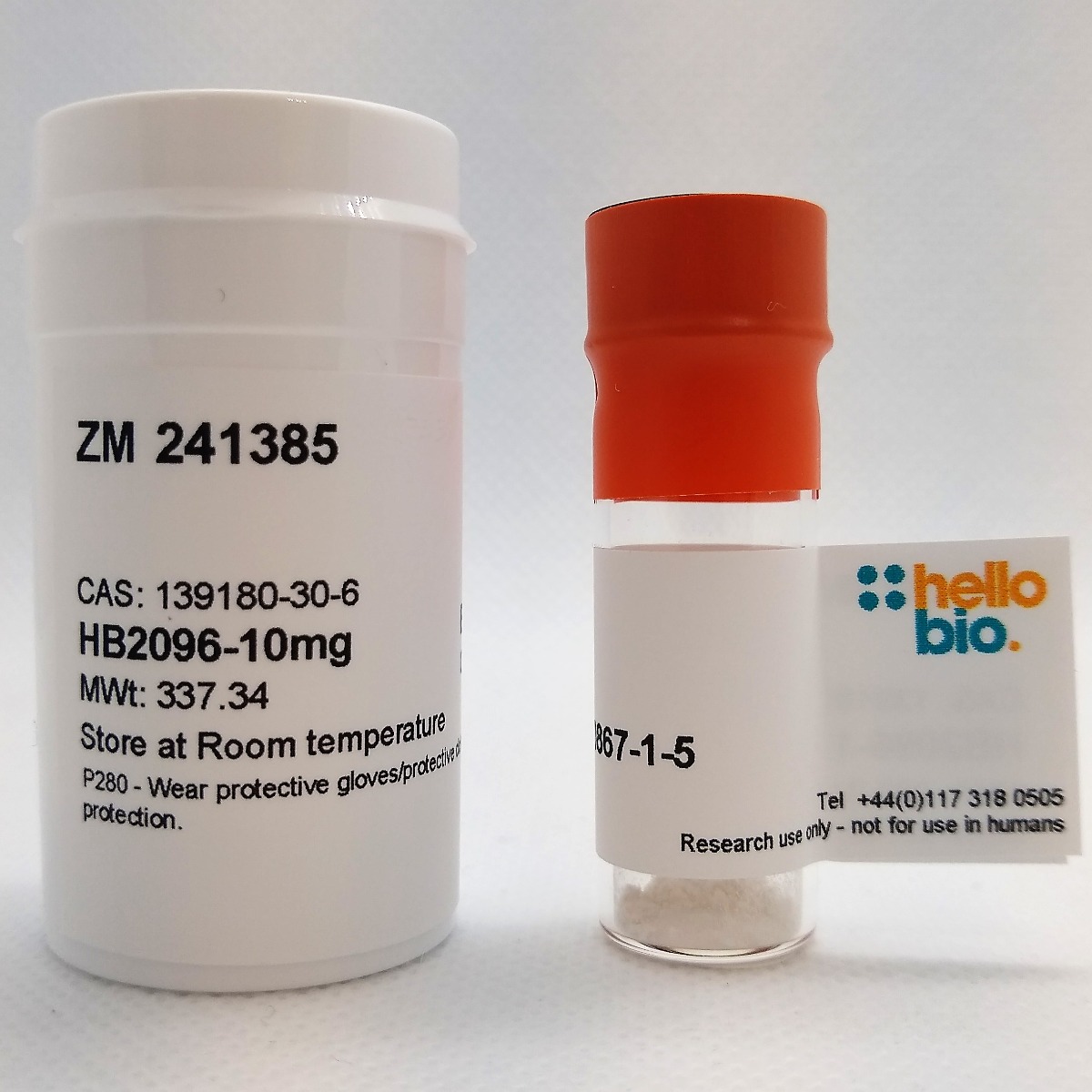 ZM 241385 product vial image | Hello Bio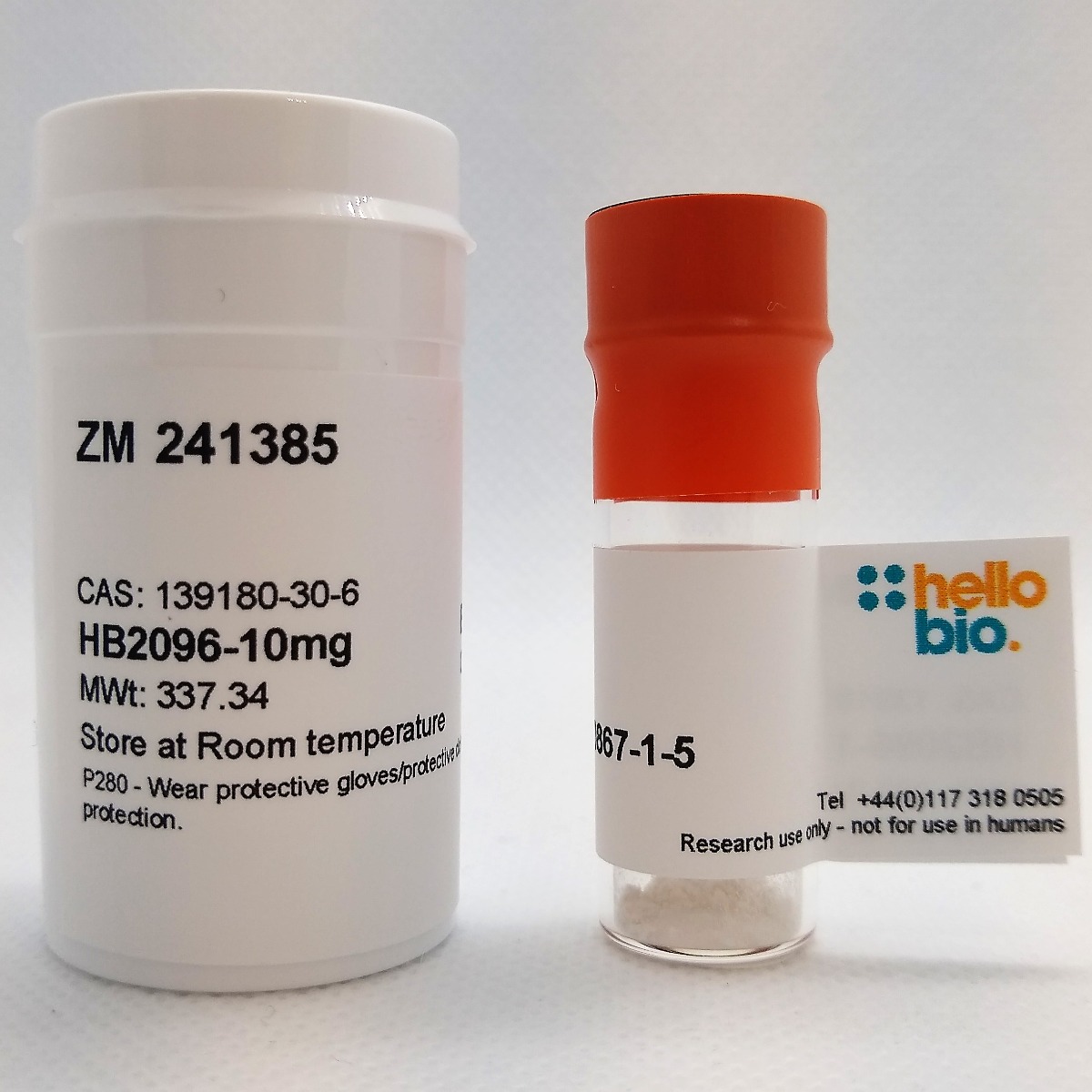 Biological Data
Biological description

ZM 241385 is a potent, selective adenosine A2A receptor inverse agonist (Ki values are <1, 50, 255 nM and >10 µM at A2A, A2B, A1 and A3 receptors respectively).


The crystal structure of the human A2A receptor was determined in complex with ZM 241385.

Activation of the A2A receptor enhances the release of glutamate, dopamine and acetylcholine and also inhibits GABA release.

The A2AR has been shown to interact with various receptors including the mGlu5, D2R, A1R and CB1 receptors.

A2A receptor activation modulates synaptic plasticity and neuronal excitability.


ZM 241385 is active in vivo.
Solubility & Handling
| | |
| --- | --- |
| Storage instructions | Room temperature |
| | |
| --- | --- |
| Solubility overview | Soluble in DMSO (100 mM) and in ethanol (5 mM) |
| | |
| --- | --- |
| Important | This product is for RESEARCH USE ONLY and is not intended for therapeutic or diagnostic use. Not for human or veterinary use. |
Chemical Data
| | |
| --- | --- |
| Chemical name | 4-(2-[7-Amino-2-(2-furyl)[1,2,4]tri azolo[2,3-a][1,3,5]triazin-5-ylamino]ethyl)phenol |
| | |
| --- | --- |
| Chemical structure | |
| | |
| --- | --- |
| Molecular Formula | C16H15N7O2 |
| | |
| --- | --- |
| PubChem identifier | 176407 |
| | |
| --- | --- |
| SMILES | C1=COC(=C1)C2=NN3C(=NC(=NC3=N2)NCCC4=CC=C(C=C4)O)N |
| | |
| --- | --- |
| InChi | InChI=1S/C16H15N7O2/c17-14-20-15(18-8-7-10-3-5-11(24)6-4-10)21-16-19-13(22-23(14)16)12-2-1-9-25-12/h1-6,9,24H,7-8H2,(H3,17,18,19,20,21,22) |
| | |
| --- | --- |
| InChiKey | PWTBZOIUWZOPFT-UHFFFAOYSA-N |
References for ZM 241385
References are publications that support the biological activity of the product
Adenosine A(2A) receptors in psychopharmacology: modulators of behavior, mood and cognition.

Shen and Chen (2009) Curr Neuropharmacol. 7(3) : 195-206

The 2.6 angstrom crystal structure of a human A2A adenosine receptor bound to an antagonist.

Jaakola et al (2008) Science 322 (5905) : 1211-7

Comparison of CGS 15943, ZM 241385 and SCH 58261 as antagonists at human adenosine receptors.

Ongini et al (1999) Naunyn Schmiedebergs Arch Pharmacol. 359(1) : 7-10

In vivo characterisation of ZM 241385, a selective adenosine A2A receptor antagonist.

Keddie et al (1996) Eur J Pharmacol 301(1-3) : 107-13

The in vitro pharmacology of ZM 241385, a potent, non-xanthine A2a selective adenosine receptor antagonist.

Poucher et al (1995) Br J Pharmacol 115(6) : 1096-102