Product overview
| | |
| --- | --- |
| Description | Potent inward rectifier K+ channel blocker |
Images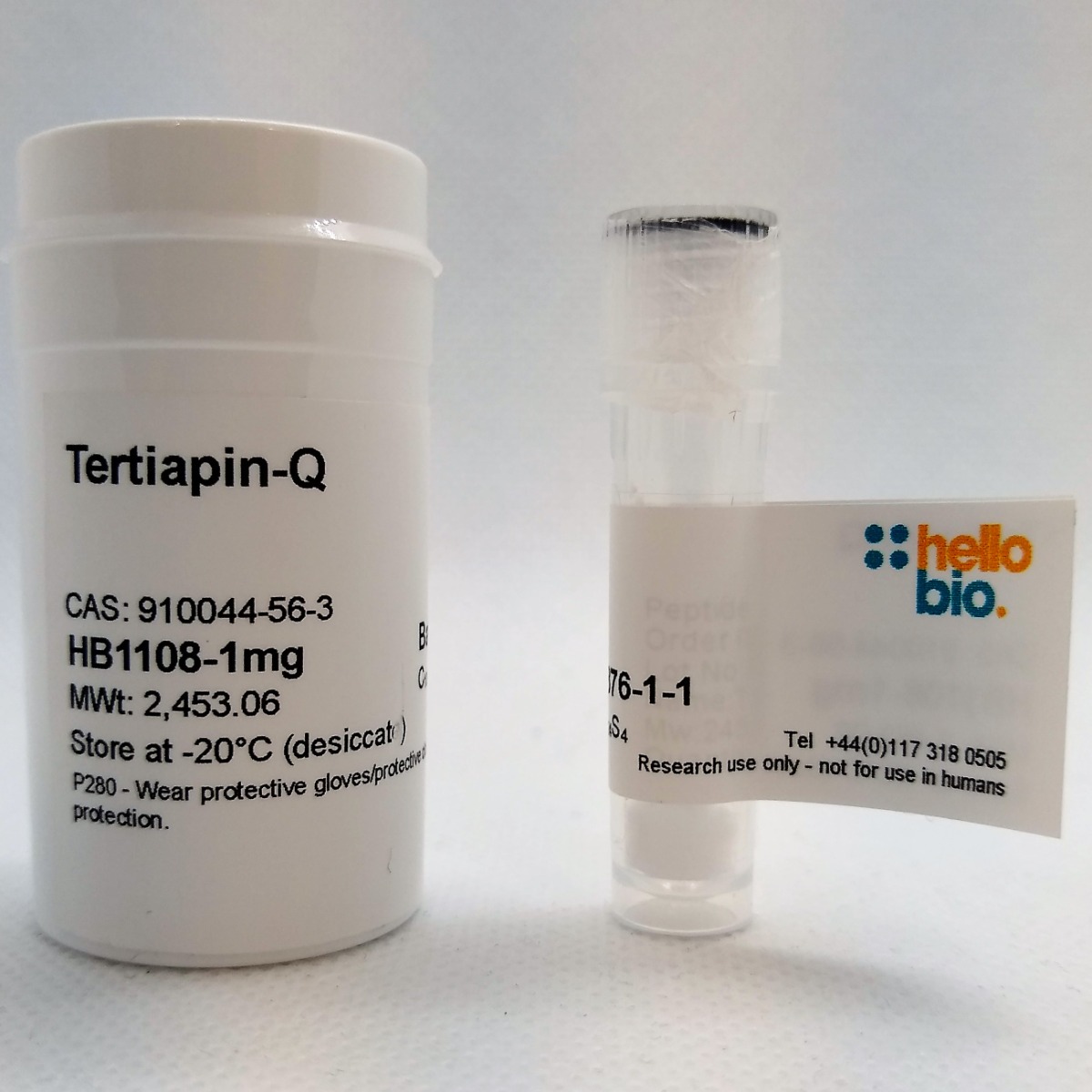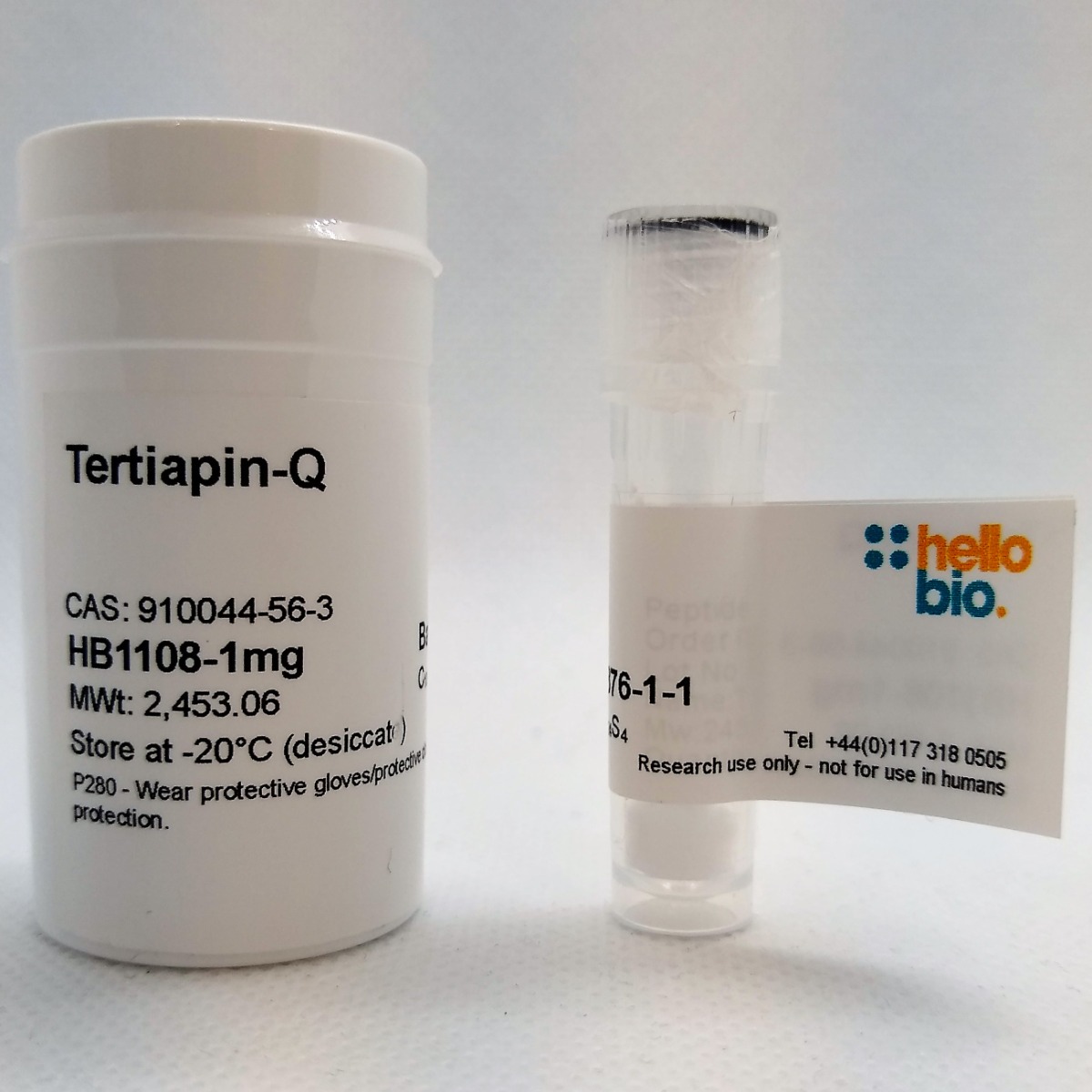 Biological Data
| | |
| --- | --- |
| Biological description | Potent inward rectifier K+ channel blocker. Inhibits Kir1.1 (ROMK1) and Kir3.1/3.4 (GIRK1/4) (Kd values are 1.3 and 13.3 nM respectively). |
Solubility & Handling
| | |
| --- | --- |
| Storage instructions | -20°C (desiccate) |
| | |
| --- | --- |
| Solubility overview | Soluble in water (2mg/ml) |
| | |
| --- | --- |
| Important | This product is for RESEARCH USE ONLY and is not intended for therapeutic or diagnostic use. Not for human or veterinary use. |
Chemical Data
| | |
| --- | --- |
| Chemical name | ALC*NC*NRIIIPHQC*WKKC*GKK (Modifications: Disulfide bonds 3 - 14 and 5 - 18, C-terminal amide) |
| | |
| --- | --- |
| Chemical structure | |
| | |
| --- | --- |
| Molecular Formula | C106H175N35O24S4 |
| | |
| --- | --- |
| PubChem identifier | 92131436 |
| | |
| --- | --- |
| SMILES | CC[C@H](C)[C@H]1C(=O)NC(C(=O)N[C@H](C(=O)N2CCC[C@H]2C(=O)N[C@H](C(=O)N[C@H](C(=O)N[C@H]3CSSC[C@@H](C(=O)N[C@H](C(=O)N[C@@H](CSSC[C@H](NC(=O)[C@@H](NC(=O)[C@@H](NC(=O)[C@@H](NC3=O)CC4=CNC5=CC=CC=C54)CCCCN)CCCCN)C(=O)NCC(=O)N[C@@H](CCCCN)C(=O)N[C@@H](CCCCN)C(=O)N)C(=O)N[C@H](C(=O)N1)CC(=O)N)CC(=O)N)NC(=O)[C@H](CC(C)C)NC(=O)[C@H](C)N)CCC(=O)N)CC6=CNC=N6)[C@@H](C)CC)[C@@H](C)CC |
| | |
| --- | --- |
| InChi | InChI=1S/C100H163N31O23S4/c1-10-52(6)79-98(152)129-80(53(7)11-2)99(153)130-81(54(8)12-3)100(154)131-37-23-30-74(131)97(151)123-67(40-57-44-110-50-113-57)91(145)118-64(31-32-75(106)132)88(142)125-71-47-157-158-48-72(126-89(143)65(38-51(4)5)119-83(137)55(9) |
| | |
| --- | --- |
| InChiKey | GYOKDEHVCCTTJF-VJPNZKQTSA-N |
References for Tertiapin-Q
References are publications that support the biological activity of the product
Engineered specific and high-affinity inhibitor for a subtype of inward-rectifier K+ channels.

Ramu Y et al (2008) Proc Natl Acad Sci U S A 105(31) : 10774-8.

The effects of tertiapin-Q on responses of the sinoatrial pacemaker of the guinea-pig heart to vagal nerve stimulation and muscarinic agonists.

Bolter CP et al (2008) Exp Physiol 93(1) : 53-63.

GABAergic activation of an inwardly rectifying K+ current in mouse cerebellar Purkinje cells.

Tabata T et al (2005) J Physiol 563(Pt 2) : 443-57.

Synthesis of a stable form of tertiapin: a high-affinity inhibitor for inward-rectifier K+ channels.

Jin W et al (1999) Biochemistry 38(43) : 14286-93.
Publications
These publications cite the use of Tertiapin-Q purchased from Hello Bio:
An Etiological Foxp2 Mutation Impairs Neuronal Gain in Layer VI Cortico-Thalamic Cells through Increased GABAB/GIRK Signaling

Druart M et al (2020) J Neurosci 40(44) : 8543-8555