Product overview
| | |
| --- | --- |
| Alternative names | SB-334867-A, SB334867A |
| | |
| --- | --- |
| Description | Selective non-peptide orexin OX1 receptor antagonist |
Images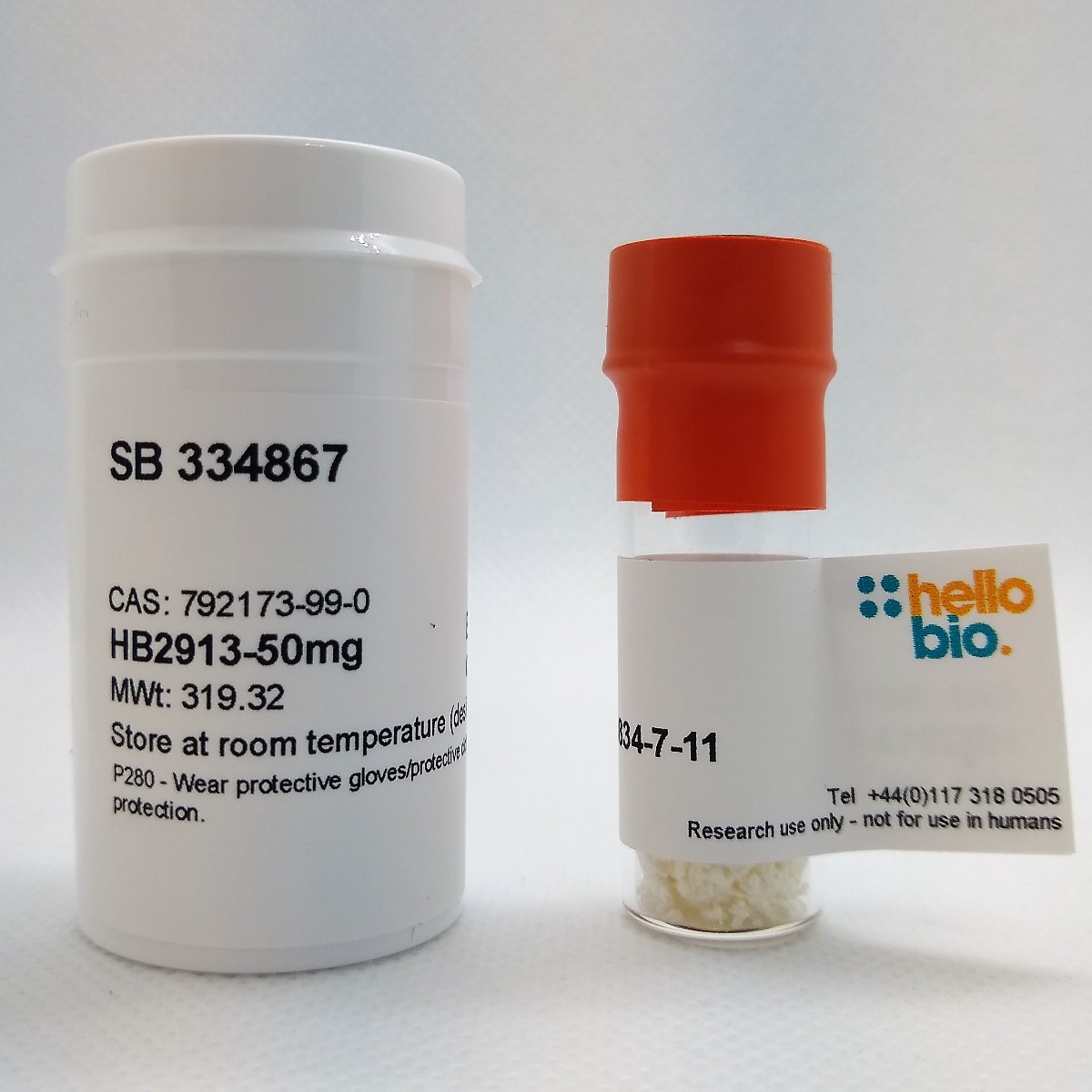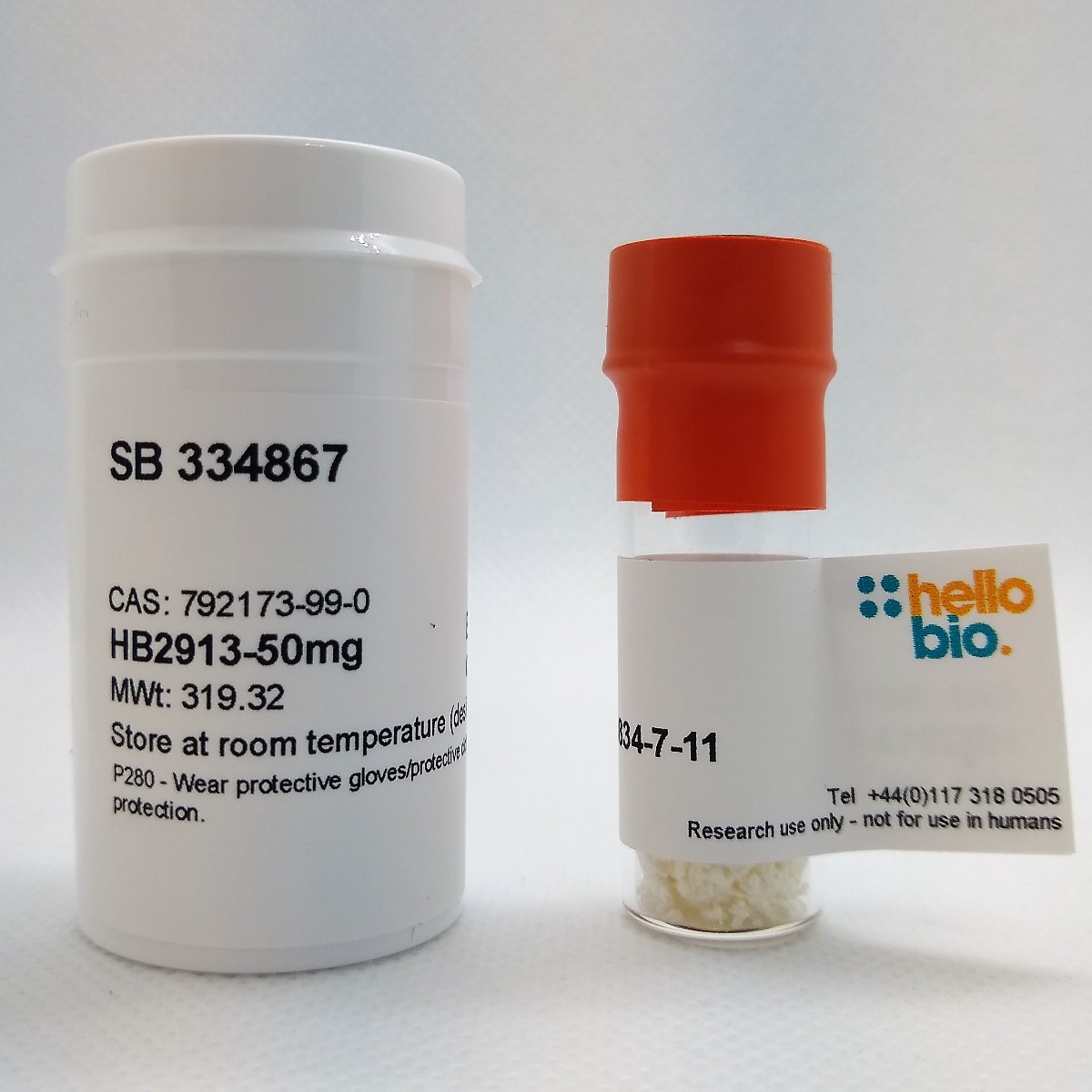 Biological Data
Biological description

Overview

First non-peptide selective orexin-1 (OX1) receptor antagonist which shows ~50-fold selectivity for OX1 over OX2 (pKb values are 7.2 and < 5 for inhibition of intracellular Ca2+ release in CHO cells expressing hOX1R and OX2R respectively).

Uses and applications

SB-334867 shows a variety of biological effects and has been used to investigate the role of OX1R in stress, obestiiy, drug addiction and relapse. It has been shown to reduce food intake and most active behaviours (eating, grooming, sniffing, locomotion and rearing), while increasing resting.
Solubility & Handling
| | |
| --- | --- |
| Storage instructions | Room temperature (desiccate) |
| | |
| --- | --- |
| Solubility overview | Soluble in DMSO (100 mM), and in ethanol (10 mM with gentle warming). Do not add acid to any formulatin to aid solubilisation as this may cause the compound to undergo hydrolysis. |
| | |
| --- | --- |
| Important | This product is for RESEARCH USE ONLY and is not intended for therapeutic or diagnostic use. Not for human or veterinary use |
Chemical Data
| | |
| --- | --- |
| Chemical name | N-(2-Methyl-6-benzoxazolyl)-N'-1,5-naphthyridin-4-yl urea |
| | |
| --- | --- |
| Chemical structure | |
| | |
| --- | --- |
| Molecular Formula | C17H13N5O2 |
| | |
| --- | --- |
| PubChem identifier | 6604926 |
| | |
| --- | --- |
| SMILES | CC1=NC2=C(O1)C=C(C=C2)NC(=O)NC3=C4C(=NC=C3)C=CC=N4 |
| | |
| --- | --- |
| InChi | InChI=1S/C17H13N5O2/c1-10-20-12-5-4-11(9-15(12)24-10)21-17(23)22-14-6-8-18-13-3-2-7-19-16(13)14/h2-9H,1H3,(H2,18,21,22,23) |
| | |
| --- | --- |
| InChiKey | AKMNUCBQGHFICM-UHFFFAOYSA-N |
References for SB 334867
References are publications that support the biological activity of the product
SB-334867 (an Orexin-1 Receptor Antagonist) Effects on Morphine-Induced Sensitization in Mice-a View on Receptor Mechanisms.

Lupina et al (2018) Mol Neurobiol 55(11) : 8473-8485

SB-334867-A: the first selective orexin-1 receptor antagonist.

Smart et al (2001) Br J Pharmacol. 132(6) : 1179-82

SB-334867, a selective orexin-1 receptor antagonist, enhances behavioural satiety and blocks the hyperphagic effect of orexin-A in rats.

Rodgers et al (2001) Eur J Neurosci. 13(7) : 1444-52
Publications
These publications cite the use of SB 334867 purchased from Hello Bio:
Optogenetic stimulation of lateral hypothalamic orexin/dynorphin inputs in the ventral tegmental area potentiates mesolimbic dopamine neurotransmission and promotes reward-related behaviours

Thomas et al (2020) bioRxiv : https://www.biorxiv.org/content/