Product overview
| | |
| --- | --- |
| Description | Highly potent, selective, reversible and cell permeable proteasome inhibitor |
Images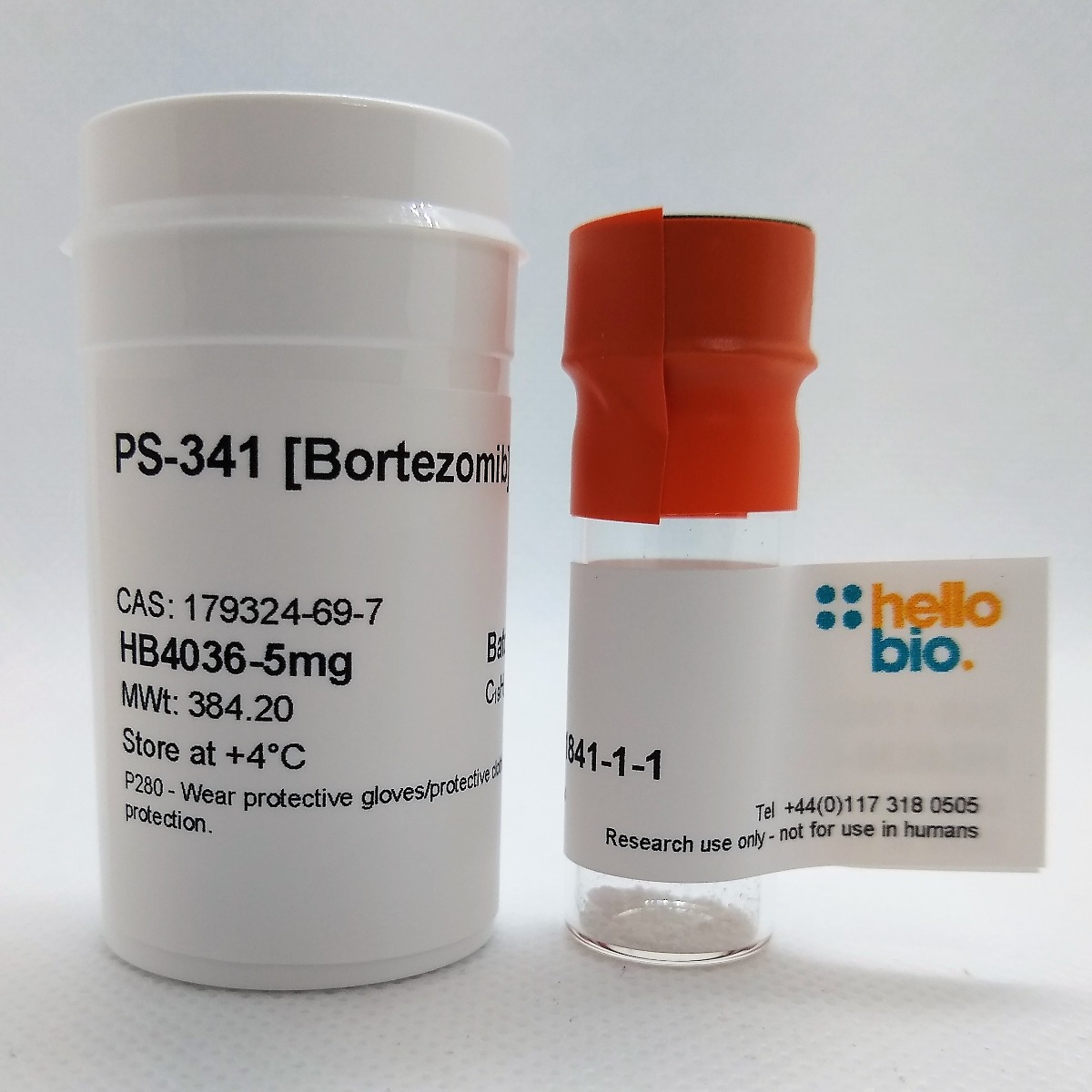 Biological Data
| | |
| --- | --- |
| Biological description | Highly potent, selective and reversible cell permeable inhibitor of the proteasome. Inhibits the chymotrypsin-like and caspase-like peptidase activity of the proteasome. Calpain and cathepsin inhibitor. Autophagy activator. Anticancer compound. Inhibits proliferation and migration of several tumor cell lines with nanomolar potency. Apoptosis inducer. |
Solubility & Handling
| | |
| --- | --- |
| Storage instructions | +4°C |
| | |
| --- | --- |
| Solubility overview | DMSO (100mM) |
| | |
| --- | --- |
| Important | This product is for RESEARCH USE ONLY and is not intended for therapeutic or diagnostic use. Not for human or veterinary use. |
Chemical Data
| | |
| --- | --- |
| Molecular Formula | C19H25BN4O4 |
| | |
| --- | --- |
| PubChem identifier | 387447 |
| | |
| --- | --- |
| SMILES | CC(C)C[C@H](NC(=O)[C@H](Cc1ccccc1)NC(=O)c2cnccn2)B(O)O |
| | |
| --- | --- |
| InChiKey | GXJABQQUPOEUTA-RDJZCZTQSA-N |
References for PS-341 [Bortezomib]
References are publications that support the biological activity of the product
The proteasome inhibitor PS-341 inhibits growth, induces apoptosis, and overcomes drug resistance in human multiple myeloma cells

Hideshima et al (3071-6.) Cancer Res. : 61(7)

Proteasome inhibitor PS-341 induces apoptosis through induction of endoplasmic reticulum stress-reactive oxygen species in head and neck squamous cell carcinoma cells

Fribley et al (2004) Mol Cell Biol 24(22) : 9695-704.

Development of the proteasome inhibitor PS-341

Adams et al (2002) Oncologist 7(1) : 9-16.