Product overview
| | |
| --- | --- |
| Description | Potent, selective KCa channel inhibitor |
Images
Charybdotoxin product vial image | Hello Bio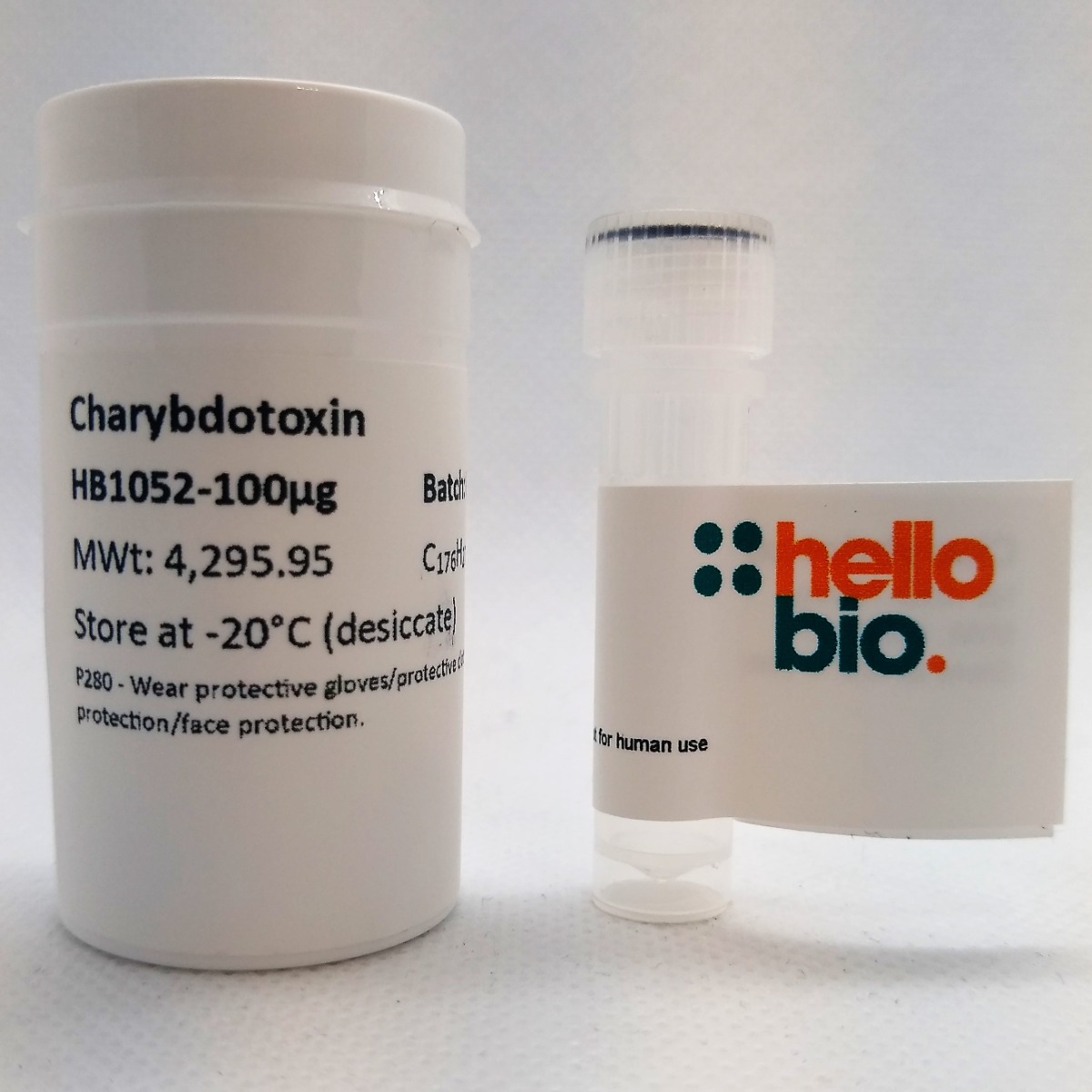 Charybdotoxin product vial image | Hello Bio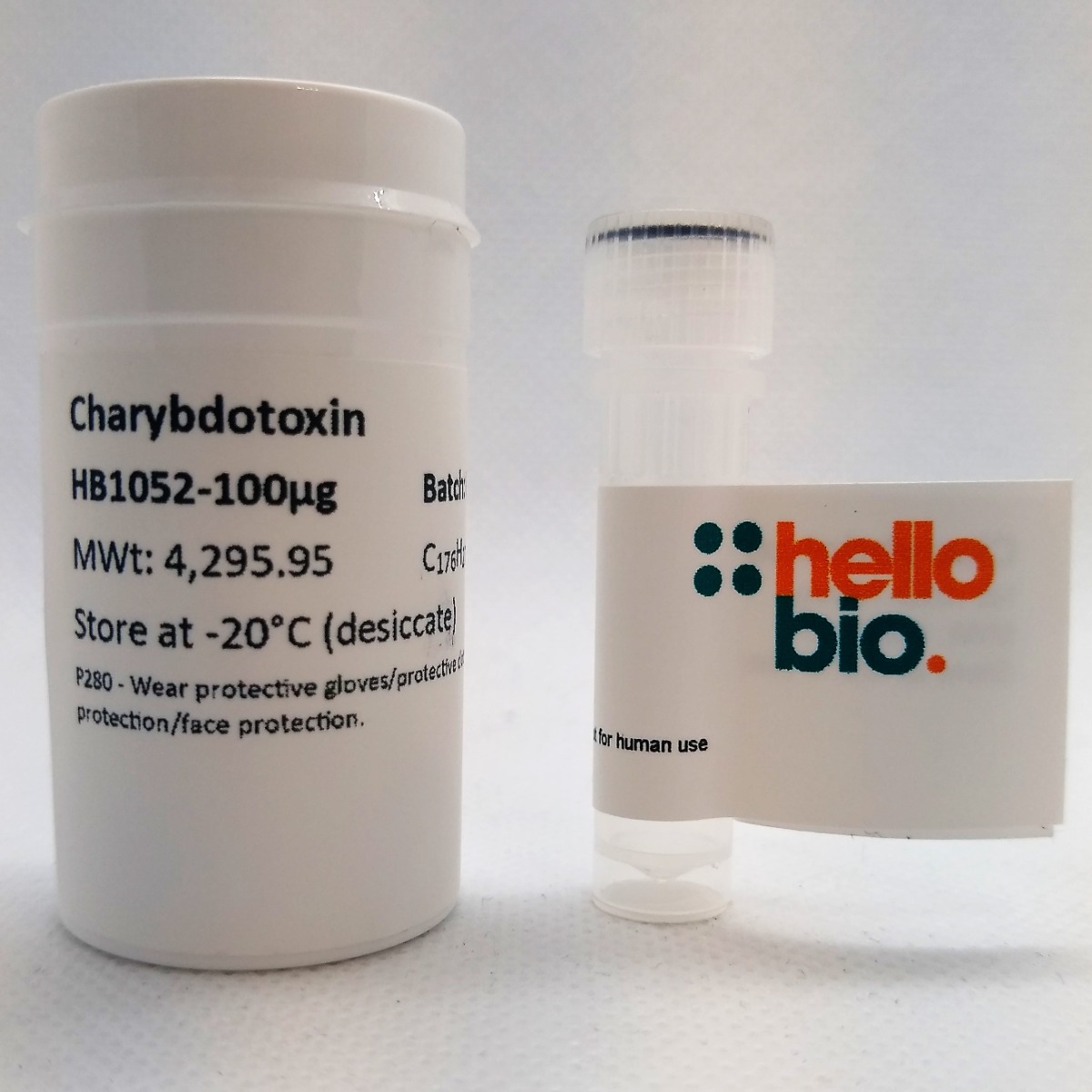 Biological Data
| | |
| --- | --- |
| Biological description | Potent and selective KCa channel inhibitor (Kd = 3.5 nM). Displays high affinity for Kv1.3. Also a homotetrameric F425H channel blocker (Kd = 48 nM). Found in venom of the Leiurus quinquestriatus hebraeus scorpion. |
Solubility & Handling
| | |
| --- | --- |
| Storage instructions | -20°C (desiccate) |
| | |
| --- | --- |
| Solubility overview | Soluble in water (1mg/ml) |
| | |
| --- | --- |
| Important | This product is for RESEARCH USE ONLY and is not intended for therapeutic or diagnostic use. Not for human or veterinary use. |
Chemical Data
| | |
| --- | --- |
| Molecular Formula | C176H277N57O55S7 |
| | |
| --- | --- |
| PubChem identifier | 102594130 |
| | |
| --- | --- |
| SMILES | [H]N1[C@@H](CCC1=O)C(=O)N[C@@H](CC1=CC=CC=C1)C(=O)N[C@@H]([C@@H](C)O)C(=O)N[C@@H](CC(N)=O)C(=O)N[C@@H](C(C)C)C(=O)N[C@@H](CO)C(=O)N[C@H]1CSSC[C@@H]2NC(=O)[C@H](CCCCN)NC(=O)CNC(=O)[C@H](CCCNC(N)=N)NC(=O)[C@H](CO)NC(=O)[C@@H](NC(=O)[C@H](CC(N)=O)NC(=O)[C@H](CC3=CNC=N3)NC(=O)[C@H](CC(C)C)NC(=O)[C@H](CCCNC(N)=N)NC(=O)[C@H](CCC(N)=O)NC(=O)[C@@H]3CSSC[C@H](NC(=O)[C@H](CCCNC(N)=N)NC(=O)[C@H](CSSC[C@H](NC(=O)[C@H](CCC(O)=O)NC(=O)[C@H](CCCCN)NC(=O)[C@H](CO)NC(=O)[C@@H](NC(=O)[C@@H](NC1=O)[C@@H](C)O)[C@@H](C)O)C(=O)N[C@@H](CC1=CNC4=C1C=CC=C4)C(=O)N[C@@H](CO)C(=O)N[C@@H](C(C)C)C(=O)N3)NC(=O)[C@H](CCCCN)NC(=O)[C@H](CCCCN)NC(=O)[C@H](CC(N)=O)NC(=O)[C@H](CCSC)NC2=O)C(=O)N[C@@H](CC1=CC=C(O)C=C1)C(=O)N[C@@H](CO)C(O)=O)[C@@H](C)O |
| | |
| --- | --- |
| InChiKey | CNVQLPPZGABUCM-UHFFFAOYSA-N |
References for Charybdotoxin
References are publications that support the biological activity of the product
Charybdotoxin and margatoxin acting on the human voltage-gated potassium channel hKv1.3 and its H399N mutant: an experimental and computational comparison.

Nikouee A et al (2012) J Phys Chem B 116(17) : 5132-40.

Interaction of agitoxin2, charybdotoxin, and iberiotoxin with potassium channels: selectivity between voltage-gated and Maxi-K channels.

Gao YD et al (2003) Proteins 52(2) : 146-54.

Electrostatic interaction between charybdotoxin and a tetrameric mutant of Shaker K(+) channels.

Thompson J et al (2000) Biophys J 78(5) : 2382-91.

Purification, sequence, and model structure of charybdotoxin, a potent selective inhibitor of calcium-activated potassium channels.

Gimenez-Gallego G et al (1988) Proc Natl Acad Sci U S A 85(10) : 3329-33.