Product overview
| | |
| --- | --- |
| Description | TRPV1 channel antagonist |
Images
Capsazepine product vial image | Hello Bio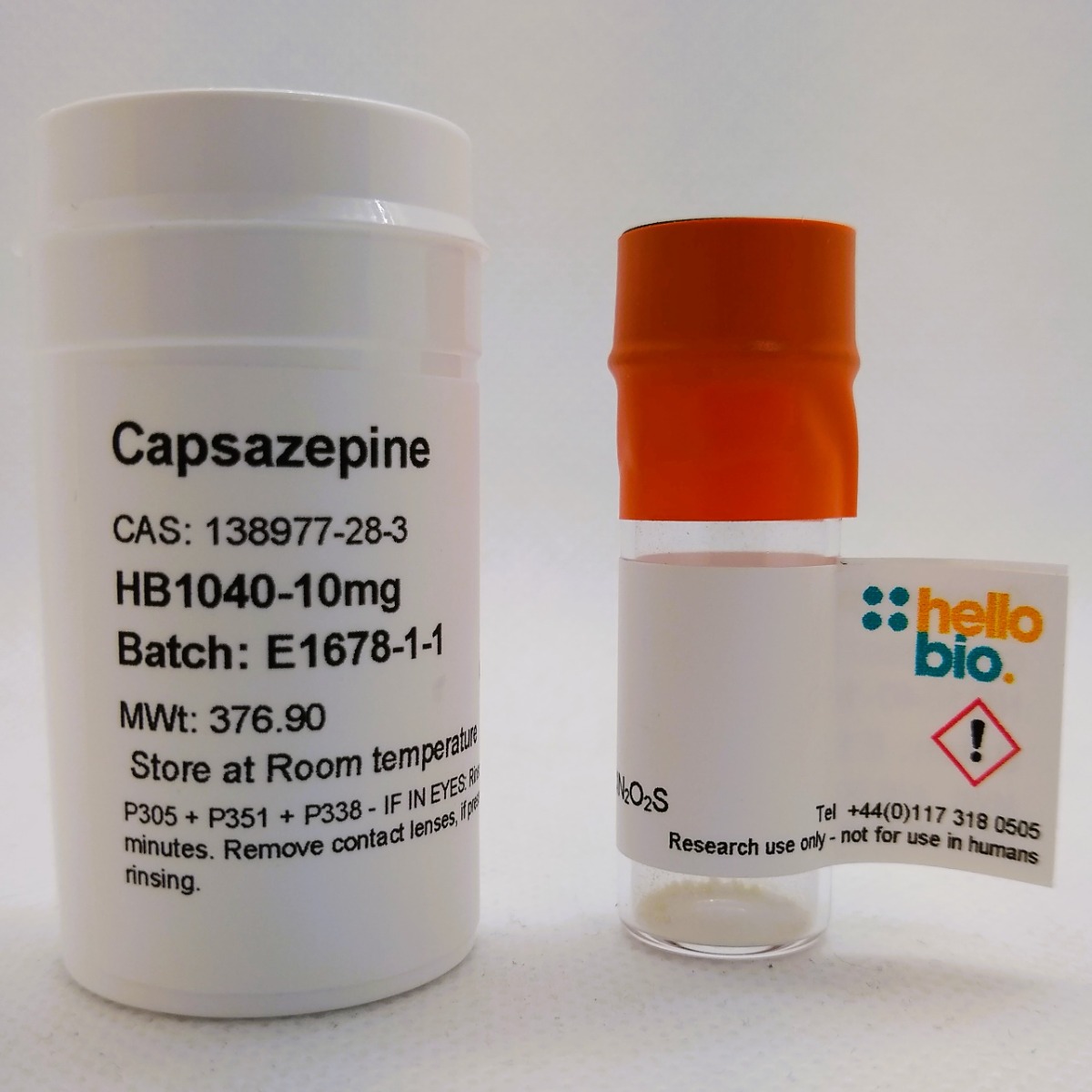 Capsazepine product vial image | Hello Bio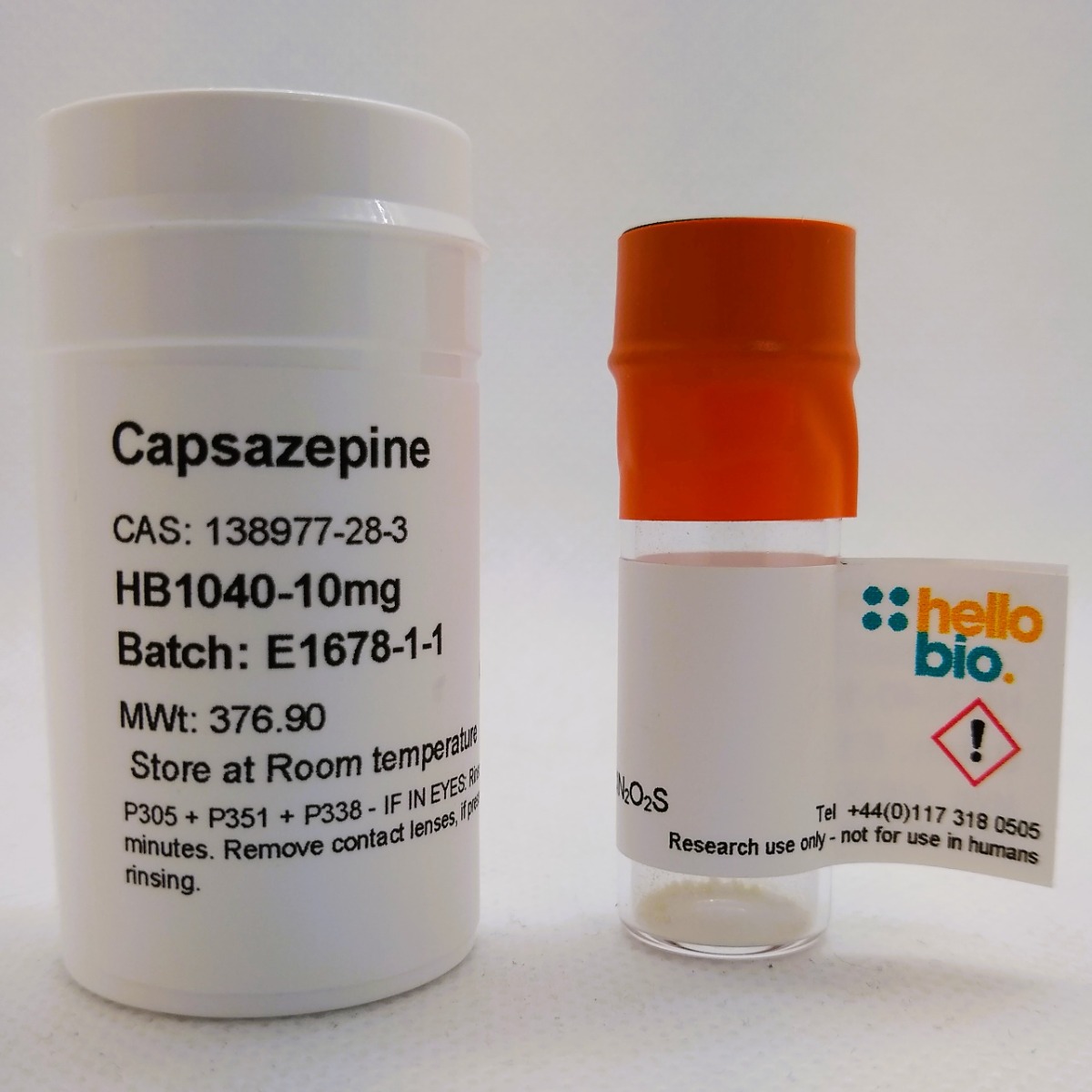 Biological Data
| | |
| --- | --- |
| Biological description | TRPV1 channel antagonist (IC50 = 562 nM). Converts N+, K+-ATPase into Na+-ATPase. Synthetic analog of capsaicin and competitive capsaicin antagonist. Displays analgesic and anticonvulsant properties. |
Solubility & Handling
| | |
| --- | --- |
| Storage instructions | Room temperature |
| | |
| --- | --- |
| Solubility overview | Soluble in ethanol (25mM) and in DMSO (100mM) |
| | |
| --- | --- |
| Important | This product is for RESEARCH USE ONLY and is not intended for therapeutic or diagnostic use. Not for human or veterinary use. |
Chemical Data
| | |
| --- | --- |
| Chemical name | N-[2-(4-Chlorophenyl)ethyl]-1,3,4,5-tetrahydro-7,8-dihydroxy-2H-2-benzazepine-2-carbothioamide |
| | |
| --- | --- |
| Chemical structure | |
| | |
| --- | --- |
| Molecular Formula | C19H21ClN2O2S |
| | |
| --- | --- |
| PubChem identifier | 2733484 |
| | |
| --- | --- |
| SMILES | C1CC2=CC(=C(C=C2CN(C1)C(=S)NCCC3=CC=C(C=C3)Cl)O)O |
| | |
| --- | --- |
| InChi | InChI=1S/C19H21ClN2O2S/c20-16-5-3-13(4-6-16)7-8-21-19(25)22-9-1-2-14-10-17(23)18(24)11-15(14)12-22/h3-6,10-11,23-24H,1-2,7-9,12H2,(H,21,25) |
| | |
| --- | --- |
| InChiKey | DRCMAZOSEIMCHM-UHFFFAOYSA-N |
References for Capsazepine
References are publications that support the biological activity of the product
TRPV1 antagonist capsazepine suppresses 4-AP-induced epileptiform activity in vitro and electrographic seizures in vivo.

Gonzalez-Reyes LE et al (2013) Exp Neurol 250 : 321-32.

Capsazepine, a synthetic vanilloid that converts the Na,K-ATPase to Na-ATPase.

Mahmmoud YA (2008) Proc Natl Acad Sci U S A 105(5) : 1757-61.

Functional properties of the high-affinity TRPV1 (VR1) vanilloid receptor antagonist (4-hydroxy-5-iodo-3-methoxyphenylacetate ester) iodo-resiniferatoxin.

Seabrook GR et al (2002) J Pharmacol Exp Ther 303(3) : 1052-60.

The discovery of capsazepine, the first competitive antagonist of the sensory neuron excitants capsaicin and resiniferatoxin.

Walpole CS et al (1994) J Med Chem 37(13) : 1942-54.
Publications
These publications cite the use of Capsazepine purchased from Hello Bio:
Rescuing Over-activated Microglia Restores Cognitive Performance in Juvenile Animals of the Dp(16) Mouse Model of Down Syndrome

Pinto B et al (2020) Neuron 108(5) : 887-904.e12