Product overview
| | |
| --- | --- |
| Name | AMN 082 dihydrochloride |
| | |
| --- | --- |
| Description | Selective mGlu7 agonist |
Images
AMN 082 dihydrochloride product vial image | Hello Bio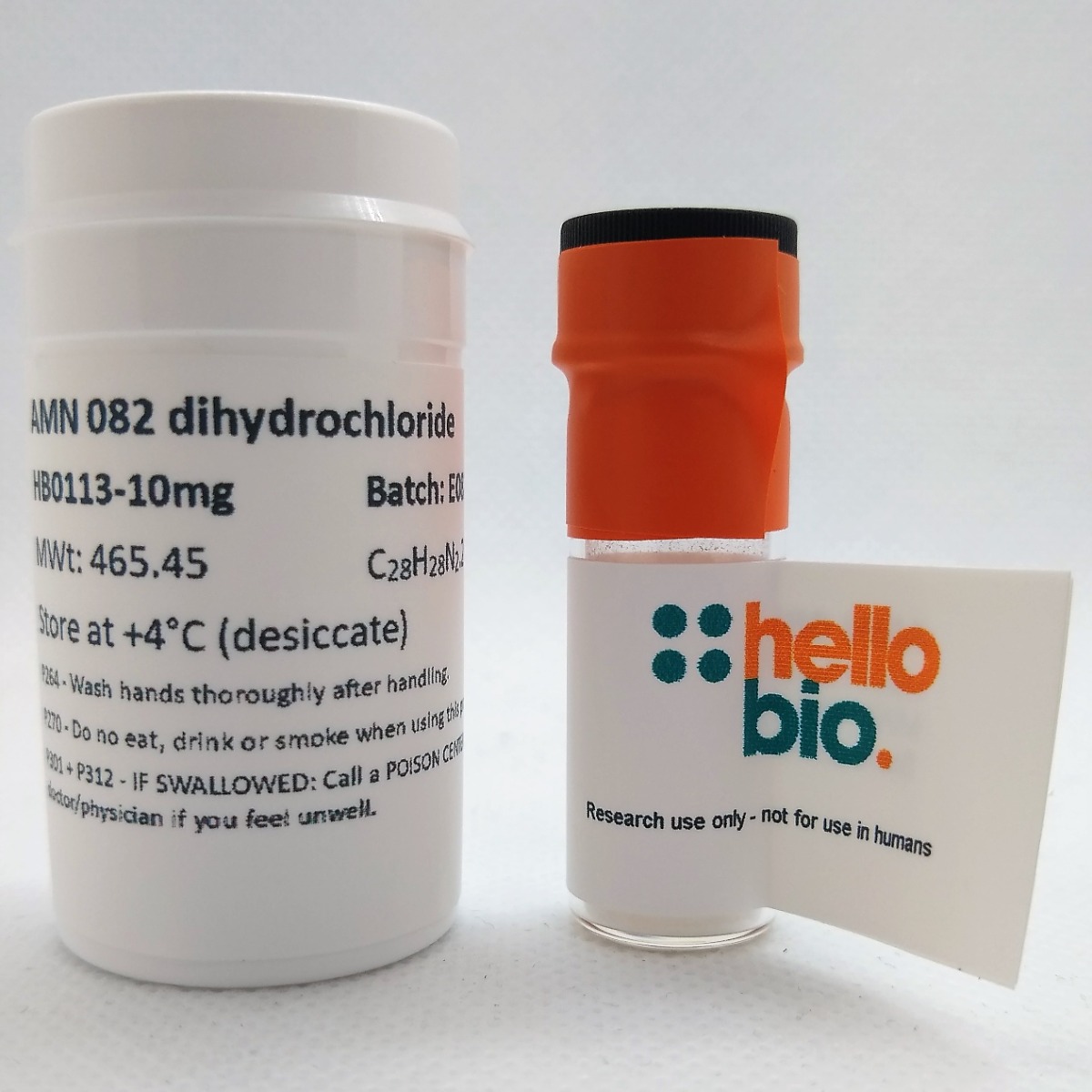 AMN 082 dihydrochloride product vial image | Hello Bio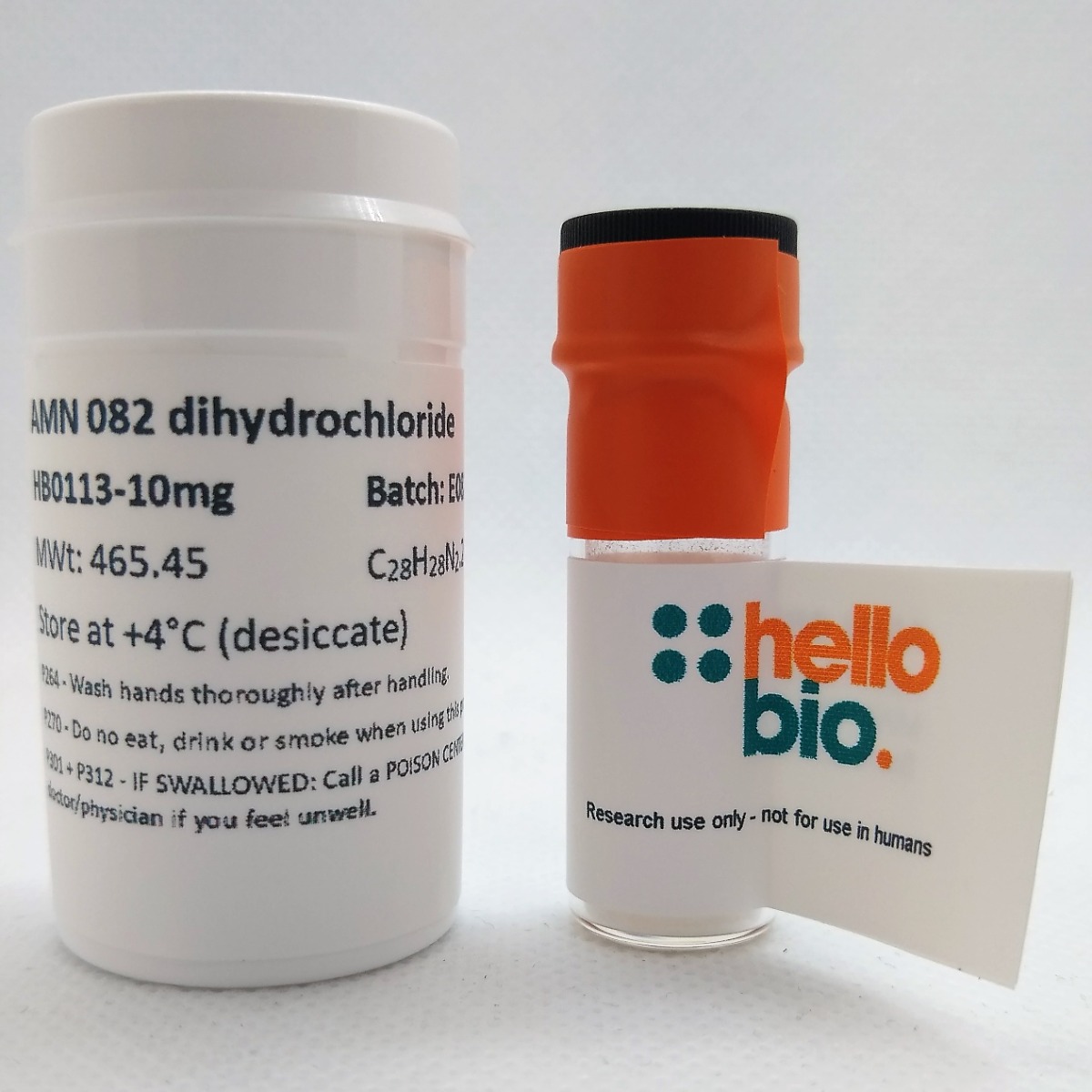 Biological Data
Biological description

AMN 082 dihydrochloride is a selective mGlu7 positive allosteric agonist. It is orally active and blood-brain barrier permeable.


AMN 082 binds at the mGlu7 allosteric site and at ≤10 μM fails to show appreciable activating or inhibitory effects at other mGluR subtypes and selected iGluRs.


Uses

AMN 082 effects may differ depending on brain region. For example, AMN082 decreases GABA and increases glutamate levels in the nucleus accumbens and amygdala and decreases glutamate and GABA release in the periaqueductal gray (PAG).


It potently inhibits accumulation of cAMP and stimulates GTPγS binding (EC50 = 64 - 290 nM) with agonist efficacies comparable with those of L-AP4. AMN082 also increase splasma corticosterone and ACTH levels.


AMN082 reduces fear acquisition and LTP in the amygdala but improves fear extinction. AMN 082 also produces anxiogenic- and anxiolytic-like effects, can facilitate nociception, shows anti-depressant-like activity, reduces ethanol and cocaine intake and facilitates extinction of aversive memories.
Application notes

In vitro use – guidelines

Non-specific actions may be observed at concentrations of 3-10 µM and above.

Therefore, for researchers wishing to investigate selective mGlu7 actions, it is recommended that this product is not used above concentrations of 1μM.


In vivo use – guidelines

Guidelines for maximally tolerated doses in vivo are: 6 mg/kg p.o. in mice and 20 mg/kg p.o. in rats



Those doses result in mGlu7-dependent physiological effects, e.g. modulation of stress-hormones.
However, non-selective effects have been observed at higher doses (2-3 times higher than those stated above).
Examples of such non-selective effects include head twists and tremor observed in mGlu7+/+ (wild-types) and mGlu7-/- mice (knock-outs).
The product can be orally administered (p.o.) in a methylcellulose suspension. For further details contact Dr. John F. Cryan at University College Cork. There is currently no data available on maximally tolerated doses for i.v., i.c.v., or i.p. routes of administration.


Use of knock-outs for validation of data

Dr. Peter J. Flor and his colleagues recommend that the physiological and pharmacological effects of AMN082 should ideally be confirmed by evaluation in mGlu7+/+ (wild-types) versus mGlu7-/- mice (KO).
Effects of AMN082 that are seen in mGlu7+/+ (wild-types) but not in mGlu7-/- mice (KO) are most likely mGlu7+/+ -mediated.
For details on obtaining mGlu7+/+ (wild-types) and mGlu7-/- mice (KO) please contact Dr. Peter J. Flor or Dr. Herman van der Putten.
Solubility & Handling
| | |
| --- | --- |
| Storage instructions | +4°C (desiccate) |
| | |
| --- | --- |
| Solubility overview | Soluble in DMSO (100mM) or water (2mM, gentle warming). Stock solutions (up to 10 mM) can be prepared in DMSO or methanol. |
Handling

If possible, make up solutions and use immediately.
If storage of solutions is required, you should aliquot out the solution into tightly sealed vials and store at -20°C and store these for up to one month.
Allow the product to equilibrate to RT for at least one hour before opening and using.
Always check that your product is completely dissolved before use. The solution should be precipitate-free, clear and colourless.
Once removed from -20°C, and brought to room temperature, it is recommended that the solution is used immediately.
| | |
| --- | --- |
| Important | This product is for RESEARCH USE ONLY and is not intended for therapeutic or diagnostic use. Not for human or veterinary use. |
Chemical Data
| | |
| --- | --- |
| Chemical name | N,N'-Bis(diphenylmethyl)-1,2-ethanediamine dihydrochloride |
| | |
| --- | --- |
| Chemical structure | |
| | |
| --- | --- |
| Molecular Formula | C28H28N2.2HCl |
| | |
| --- | --- |
| PubChem identifier | 11698390 |
| | |
| --- | --- |
| SMILES | C1=CC=C(C=C1)C(C2=CC=CC=C2)NCCNC(C3=CC=CC=C3)C4=CC=CC=C4.Cl.Cl |
| | |
| --- | --- |
| InChi | InChI=1S/C28H28N2.2ClH/c1-5-13-23(14-6-1)27(24-15-7-2-8-16-24)29-21-22-30-28(25-17-9-3-10-18-25)26-19-11-4-12-20-26;;/h1-20,27-30H,21-22H2;2*1H |
| | |
| --- | --- |
| InChiKey | YRQCDCNQANSUPB-UHFFFAOYSA-N |
References for AMN 082 dihydrochloride
References are publications that support the biological activity of the product
Metabotropic glutamate 7 receptor subtype modulates motor symptoms in rodent models of Parkinson's disease.

Greco B et al (2010) J Pharmacol Exp Ther 332(3) : 1064-71.

Activation of the mGlu7 receptor elicits antidepressant-like effects in mice.

Palucha A et al (2007) Psychopharmacology (Berl) 194(4) : 555-62.

A selective metabotropic glutamate receptor 7 agonist: activation of receptor signaling via an allosteric site modulates stress parameters in vivo.

Mitsukawa K et al (2005) Proc Natl Acad Sci U S A 102(51) : 18712-7.