Product overview
| | |
| --- | --- |
| Name | Fasudil hydrochloride |
| | |
| --- | --- |
| Description | ROCK and cyclic nucleotide-dependent protein kinase inhibitor |
| | |
| --- | --- |
| Alternative names | HA 1077; 1-(5-Isoquinolinesulfonyl)homopiperazine, Monohydrochloride salt |
Images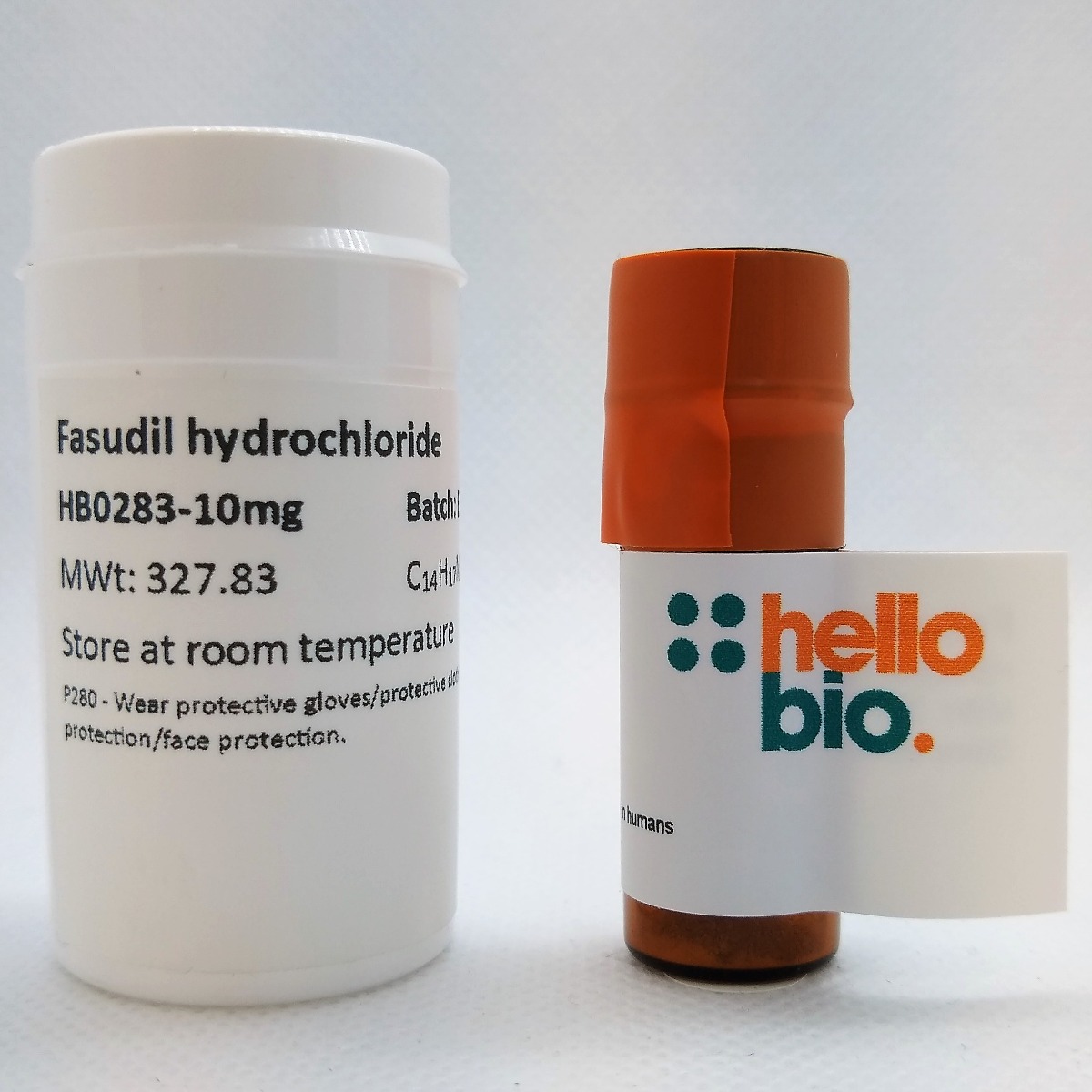 Biological Data
| | |
| --- | --- |
| Biological description | Rho-associated kinase inhibitor (IC50 = 10.7 µM) and cyclic nucleotide-dependent protein kinase inhibitor. Inhibits NOS in microglia and pro-inflammatory factors in brain tissue. Also reduces nitric oxide, IL-1β, IL-6 and TNF. Shows antioxidant effects which can reverse hypertension and neuroprotective actions. |
Solubility & Handling
| | |
| --- | --- |
| Storage instructions | Room temperature |
| | |
| --- | --- |
| Solubility overview | Soluble in water (100mM) and in DMSO (75mM) |
| | |
| --- | --- |
| Important | This product is for RESEARCH USE ONLY and is not intended for therapeutic or diagnostic use. Not for human or veterinary use. |
Chemical Data
| | |
| --- | --- |
| Chemical name | 5-(1,4-diazepan-1-ylsulfonyl)isoquinoline;hydrochloride |
| | |
| --- | --- |
| Chemical structure | |
| | |
| --- | --- |
| Molecular Formula | C14H17N3O2S.HCl |
| | |
| --- | --- |
| PubChem identifier | 163751 |
| | |
| --- | --- |
| SMILES | C1CNCCN(C1)S(=O)(=O)C2=CC=CC3=C2C=CN=C3.Cl |
| | |
| --- | --- |
| InChi | InChI=1S/C14H17N3O2S.ClH/c18-20(19,17-9-2-6-15-8-10-17)14-4-1-3-12-11-16-7-5-13(12)14;/h1,3-5,7,11,15H,2,6,8-10H2;1H |
| | |
| --- | --- |
| InChiKey | LFVPBERIVUNMGV-UHFFFAOYSA-N |
References for Fasudil hydrochloride
References are publications that support the biological activity of the product
Fasudil reversed MCT-induced and chronic hypoxia-induced pulmonary hypertension by attenuating oxidative stress and inhibiting the expression of Trx1 and HIF-1α.

Liu M et al (2014) Respir Physiol Neurobiol 201 : 38-46.

Fasudil protects hippocampal neurons against hypoxia-reoxygenation injury by suppressing microglial inflammatory responses in mice.

Ding J et al (2010) J Neurochem 114(6) : 1619-29.