Product overview
| | |
| --- | --- |
| Alternative names | g-strophanthin |
| | |
| --- | --- |
| Description | Selective Na+ / K+ ATPase inhibitor. Shows antiviral activity. |
Images
Ouabain product vial image | Hello Bio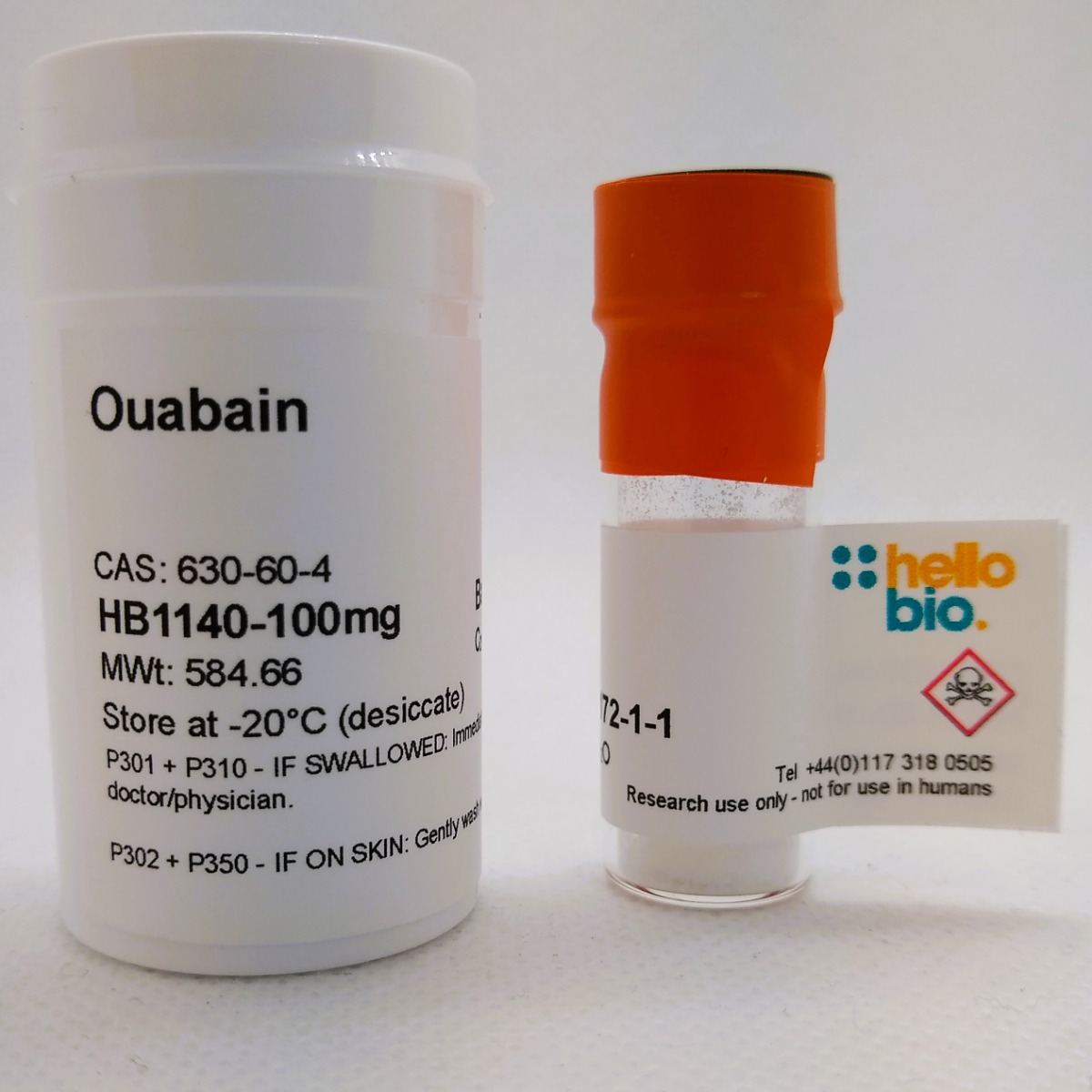 Ouabain product vial image | Hello Bio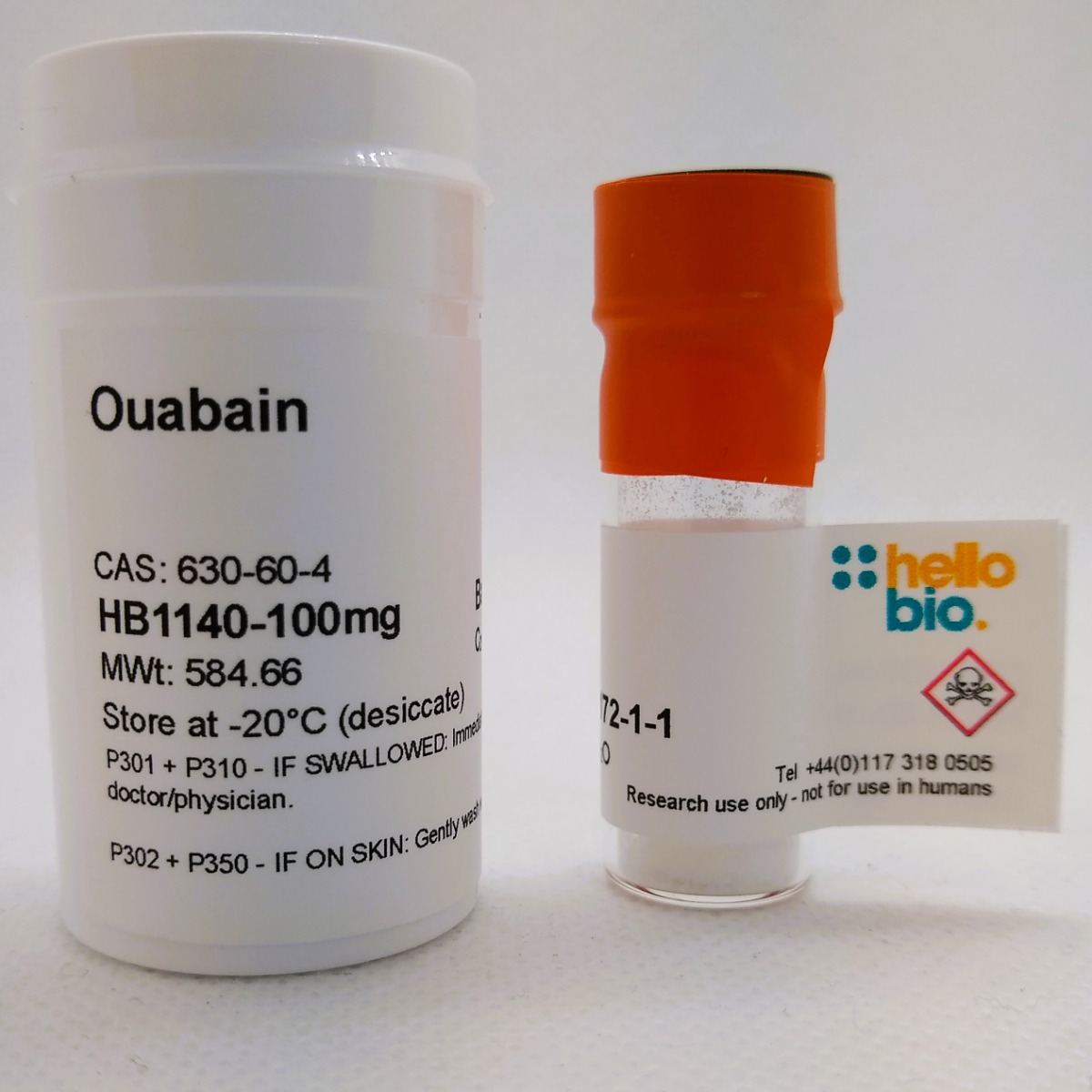 Biological Data
Biological description

Selective Na+ / K+ ATPase inhibitor. Thought to act as a proliferative agent; promotes cardiac and vascular myocyte cell growth. Shows positive inotropic, vasoconstrictive and hypertensive actions.

Also shows antiviral activity (e.g. reported anti-MERS-CoV activity in Vero cells)
Solubility & Handling
| | |
| --- | --- |
| Storage instructions | -20°C (desiccate) |
| | |
| --- | --- |
| Solubility overview | Soluble in water (10mM) and in DMSO (100mM) |
| | |
| --- | --- |
| Important | This product is for RESEARCH USE ONLY and is not intended for therapeutic or diagnostic use. Not for human or veterinary use. |
Chemical Data
| | |
| --- | --- |
| Chemical name | 3-[(6-Deoxy-α-L-mannopyranosyl)oxy]-1,5,11α,14,19-pentahydoxycard-20(22)-enolide |
| | |
| --- | --- |
| Chemical structure | |
| | |
| --- | --- |
| Molecular Formula | C29H44O12.8H2O |
| | |
| --- | --- |
| PubChem identifier | 439501 |
| | |
| --- | --- |
| SMILES | C[C@H]1[C@@H]([C@H]([C@H]([C@@H](O1)O[C@H]2C[C@H]([C@@]3([C@@H]4[C@@H](CC[C@@]3(C2)O)[C@]5(CC[C@@H]([C@]5(C[C@H]4O)C)C6=CC(=O)OC6)O)CO)O)O)O)O |
| | |
| --- | --- |
| InChi | InChI=1S/C29H44O12/c1-13-22(34)23(35)24(36)25(40-13)41-15-8-19(32)28(12-30)21-17(3-5-27(28,37)9-15)29(38)6-4-16(14-7-20(33)39-11-14)26(29,2)10-18(21)31/h7,13,15-19,21-25,30-32,34-38H,3-6,8-12H2,1-2H3/t13-,15-,16+,17+,18+,19+,21+,22-,23+,24+,25-,26+,27-,28 |
| | |
| --- | --- |
| InChiKey | LPMXVESGRSUGHW-HBYQJFLCSA-N |
References for Ouabain
References are publications that support the biological activity of the product
Screening of FDA-approved drugs using a MERS-CoV clinical isolate from South Korea identifies potential therapeutic options for COVID-19

Ko et al (2020) bioRxiv : Preprint

Increased constrictor tone induced by ouabain treatment in rats.

Pulgar VM et al (2013) J Cardiovasc Pharmacol 62(2) : 174-83.

Effect of m-calpain in PKCalpha-mediated proliferation of pulmonary artery smooth muscle cells by low dose of ouabain.

Shaikh S et al (2013) Indian J Biochem Biophys 50(5) : 419-27.

Different roles of the cardiac Na+/Ca2+-exchanger in ouabain-induced inotropy, cell signaling, and hypertrophy.

Bai Y et al (2013) Am J Physiol Heart Circ Physiol 304(3) : H427-35.