Product overview
| | |
| --- | --- |
| Description | Potent, selective TRPV4 channel antagonist |
Images
HC 067047 product vial image | Hello Bio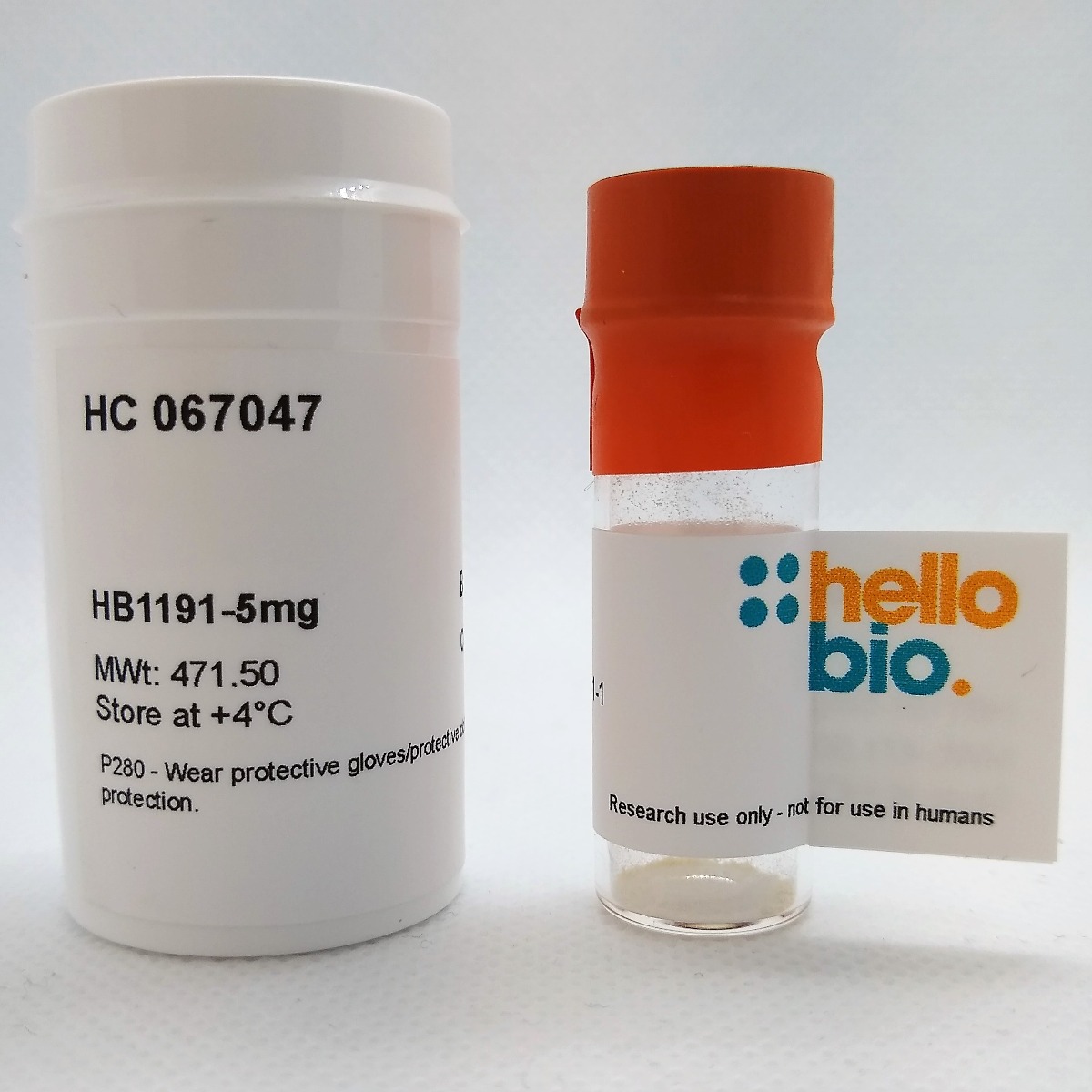 HC 067047 product vial image | Hello Bio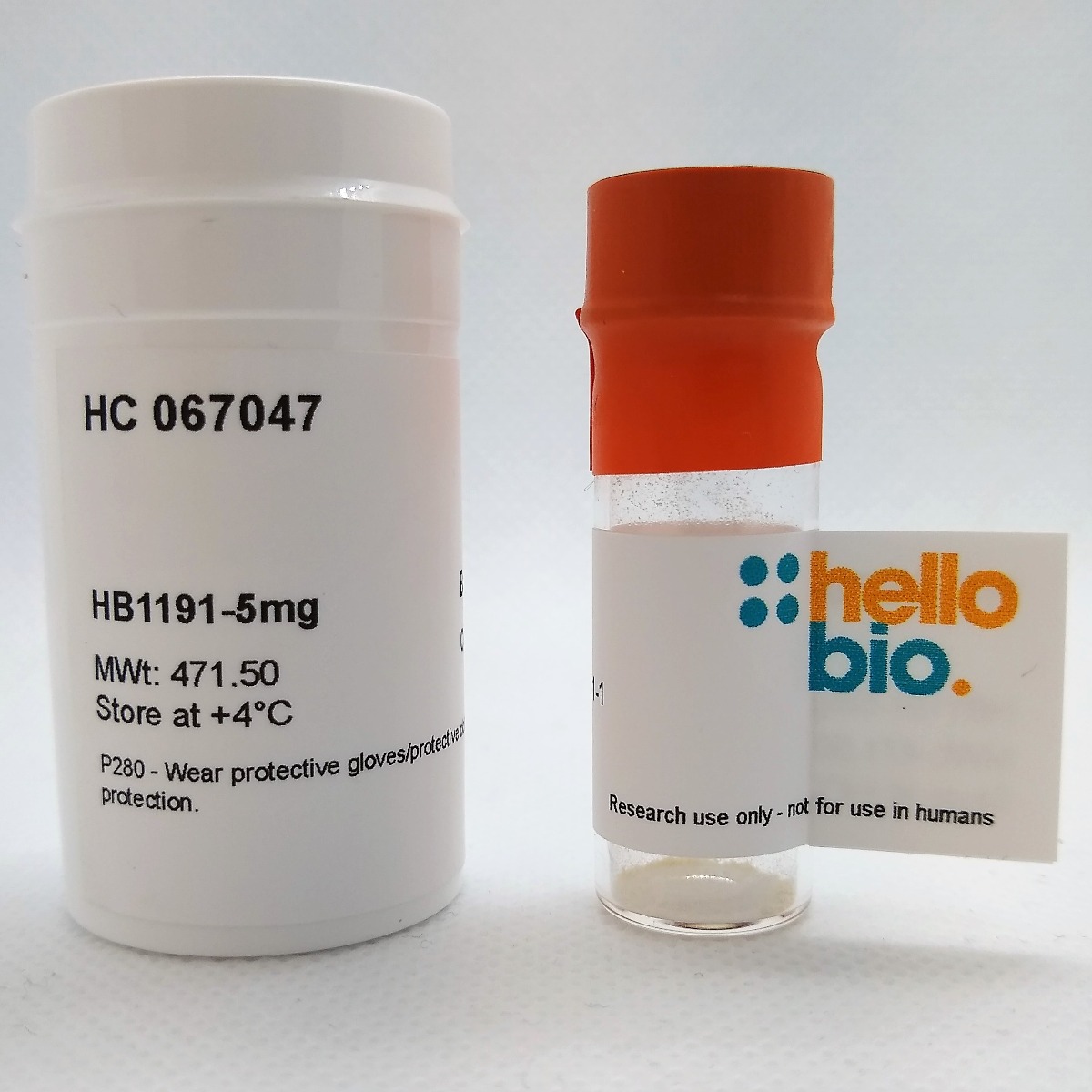 Biological Data
| | |
| --- | --- |
| Biological description | Potent and selective TRPV4 channel antagonist (IC50 values are 17, 48 and 133 nM for mouse, human and rat TRPV4 channels respectively). Increases ATP release from porcine lenses (IC50 = 2.5 µM). Also reduces 4α-phorbol 12,13-didecanoate (4α-PDD)-induced Ca2+ responses (IC50 = 22 nM). Exhibits reduced activity for TRPM8 and hERG channels. |
Solubility & Handling
| | |
| --- | --- |
| Storage instructions | +4°C |
| | |
| --- | --- |
| Solubility overview | Soluble in DMSO (100mM) and in ethanol (25mM) |
| | |
| --- | --- |
| Important | This product is for RESEARCH USE ONLY and is not intended for therapeutic or diagnostic use. Not for human or veterinary use. |
Chemical Data
| | |
| --- | --- |
| Chemical name | 2-Methyl-1-[3-(4-morpholinyl)propyl ]-5-phenyl-N-[3-(trifluoromethyl)phenyl]-1H-pyrrole-3-carboxamide |
| | |
| --- | --- |
| Chemical structure | |
| | |
| --- | --- |
| Molecular Formula | C26H28F3N3O2 |
| | |
| --- | --- |
| PubChem identifier | 2742550 |
| | |
| --- | --- |
| SMILES | CC1=C(C=C(N1CCCN2CCOCC2)C3=CC=CC=C3)C(=O)NC4=CC=CC(=C4)C(F)(F)F |
| | |
| --- | --- |
| InChi | InChI=1S/C26H28F3N3O2/c1-19-23(25(33)30-22-10-5-9-21(17-22)26(27,28)29)18-24(20-7-3-2-4-8-20)32(19)12-6-11-31-13-15-34-16-14-31/h2-5,7-10,17-18H,6,11-16H2,1H3,(H,30,33) |
| | |
| --- | --- |
| InChiKey | NCZYSQOTAYFTNM-UHFFFAOYSA-N |
References for HC 067047
References are publications that support the biological activity of the product
TRPV4 in porcine lens epithelium regulates hemichannel-mediated ATP release and Na-K-ATPase activity.

Shahidullah M et al (2012) Am J Physiol Cell Physiol 302(12) : C1751-61.

Implication of the ryanodine receptor in TRPV4-induced calcium response in pulmonary arterial smooth muscle cells from normoxic and chronically hypoxic rats.

Dahan D et al (2012) Am J Physiol Lung Cell Mol Physiol 303(9) : L824-33.

Inhibition of the cation channel TRPV4 improves bladder function in mice and rats with cyclophosphamide-induced cystitis.

Everaerts W et al (2010) Proc Natl Acad Sci U S A 107(44) : 19084-9.
Publications
These publications cite the use of HC 067047 purchased from Hello Bio: