Product overview
| | |
| --- | --- |
| Alternative names | FK 520, FR 900520 |
| | |
| --- | --- |
| Description | Calcineurin phosphatase inhibitor |
Images
Ascomycin product vial image | Hello Bio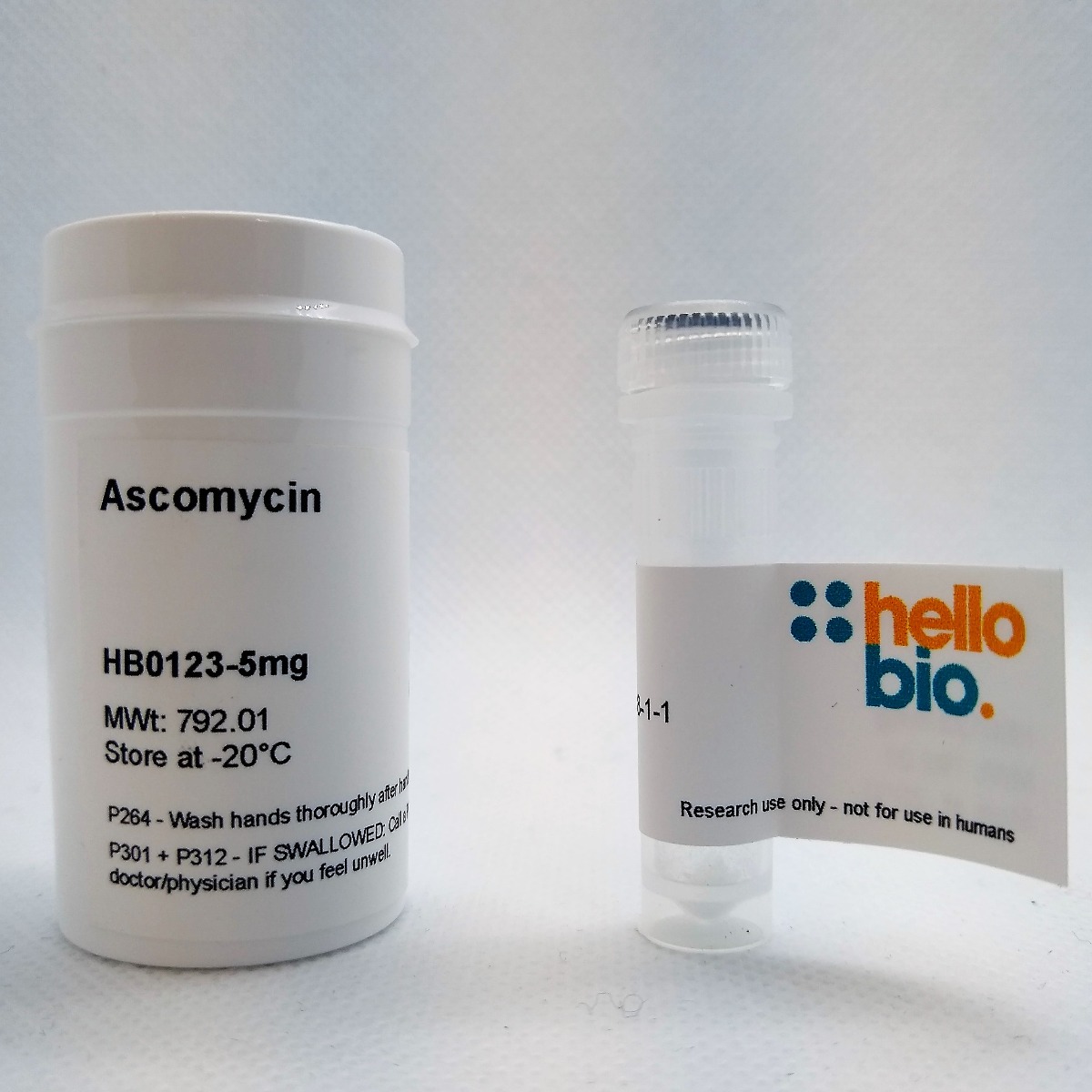 Ascomycin product vial image | Hello Bio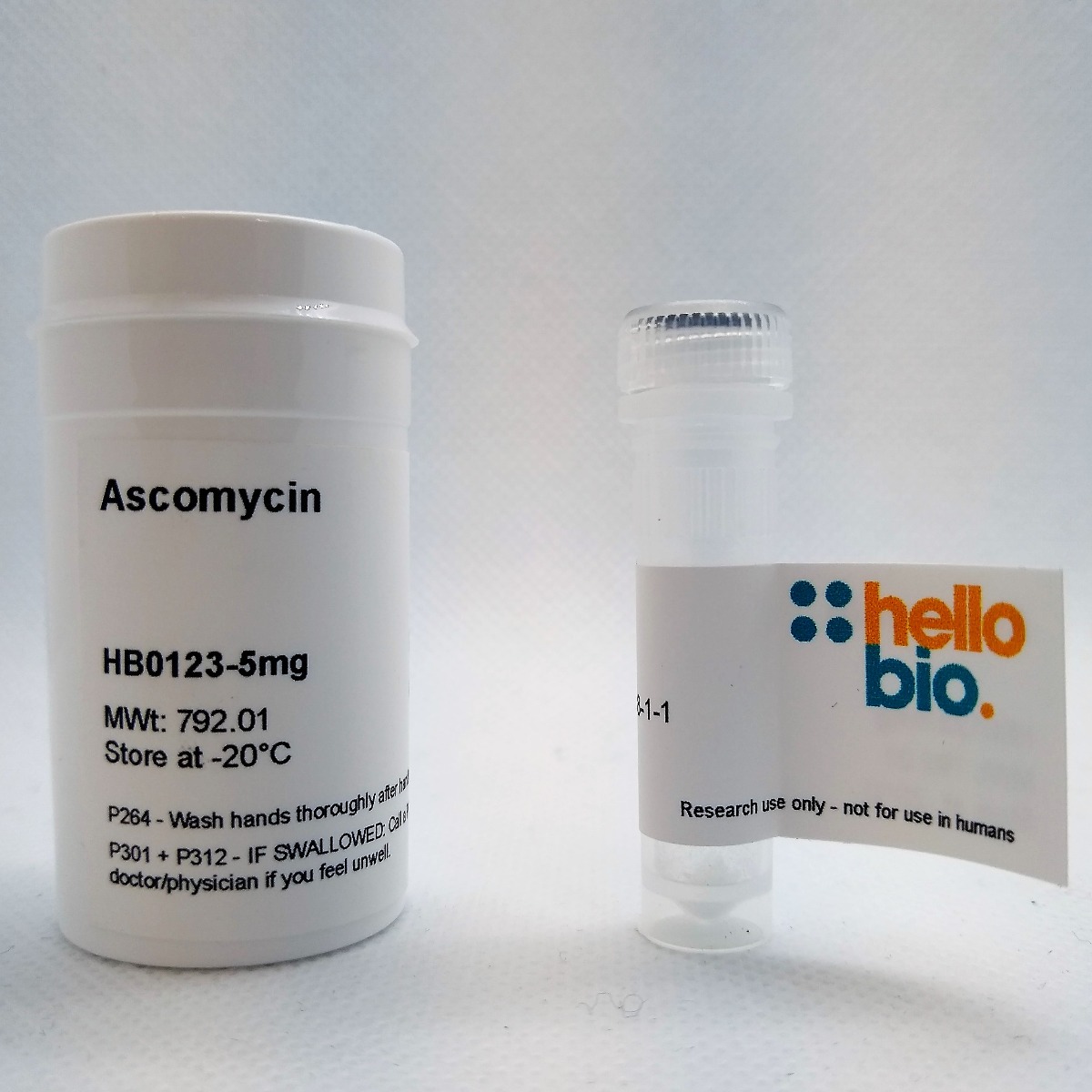 Biological Data
| | |
| --- | --- |
| Biological description | Calcineurin phosphatase inhibitor that binds to FK 506-binding protein 12 (FKBP12) (IC50 = 49 nM). Also suppresses T-cells (IC50 = 3.9 nM). Displays neurogenerative, neuroprotective and anticonvulsant properties. |
Solubility & Handling
| | |
| --- | --- |
| Storage instructions | -20°C |
| | |
| --- | --- |
| Solubility overview | Soluble in DMSO (50mM) or ethanol (50mM) |
| | |
| --- | --- |
| Important | This product is for RESEARCH USE ONLY and is not intended for therapeutic or diagnostic use. Not for human or veterinary use. |
Chemical Data
| | |
| --- | --- |
| Chemical name | (3S,4R,5S,8R,9E,12S,14S,15R,16S,18R ,19R,26aS)-8-Ethyl-5,6,8,11,12,13,14,15,16,17,18,1 9,24,25,26,26a-hexadecahydro-5,19-dihydroxy-3-[(1E )-2-[(1R,3R,4R)-4-hydroxy-3-methoxycyclohexyl]-1-methylethenyl]-14,16-dimethoxy-4,10,12,18-tetrameth yl-15,19-epoxy-3H-pyrido[2,1-c][1,4]oxaazacyclotricosine-1,7,20,21(4H,23H)tetrone |
| | |
| --- | --- |
| Chemical structure | |
| | |
| --- | --- |
| Molecular Formula | C43H69NO12 |
| | |
| --- | --- |
| PubChem identifier | 5282071 |
| | |
| --- | --- |
| SMILES | O[C@H]1[C@H](OC)C[C@H](/C=C(C)/[C@@H](O4)[C@H](C)[C@@H](O)CC([C@H](CC)/C=C(C)/C[C@H](C)C[C@H](OC)[C@@]2([H])O[C@](C(C(N3[C@@](C4=O)([H])CCCC3)=O)=O)(O)[C@H](C)C[C@@H]2OC)=O)CC1 |
| | |
| --- | --- |
| InChiKey | ZDQSOHOQTUFQEM-NURRSENYSA-N |
References for Ascomycin
References are publications that support the biological activity of the product
Ascomycin and FK506: pharmacology and therapeutic potential as anticonvulsants and neuroprotectants.

Sierra-Paredes G et al (2008) CNS Neurosci Ther 14(1) : 36-46.

Anticonvulsant effect of the calcineurin inhibitor ascomycin on seizures induced by picrotoxin microperfusion in the rat hippocampus.

Vázquez-López A et al (2006) Pharmacol Biochem Behav 84(3) : 511-6.

Genetically engineered analogs of ascomycin for nerve regeneration.

Revill WP et al (2002) J Pharmacol Exp Ther 302(3) : 1278-85.