CA200689 CellAura fluorescent β2 antagonist [(S)-propranolol-red]
Product overview
| | |
| --- | --- |
| Name | CA200689 CellAura fluorescent β2 antagonist [(S)-propranolol-red] |
| | |
| --- | --- |
| Biological description | Competitive fluorescent β2-adrenoceptor antagonist. Displays selectivity for β2 over β1 and β3 (apparent KD values are 9.21, 7.76 and 7.09 respectively). Antagonizes the activity of isoprenaline, a non-selective β-adrenoceptor agonist. Exhibits no intrinsic agonist activity. |
| | |
| --- | --- |
| Alternative names | CA200689|;β2-633-AN2 |
| | |
| --- | --- |
| Description | Competitive fluorescent β2-adrenoceptor antagonist |
Images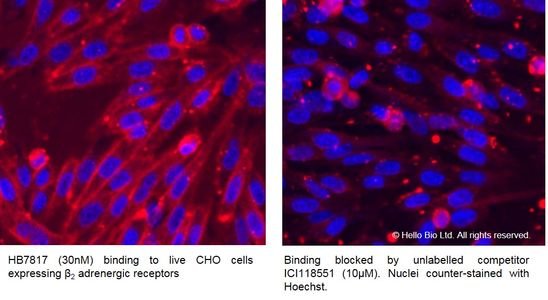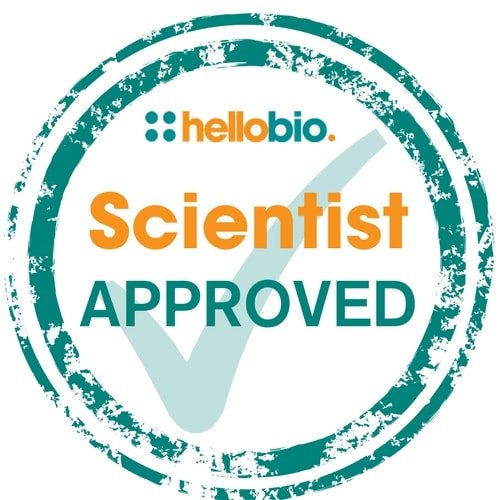 Biological Data
| | |
| --- | --- |
| Application notes | For imaging at β1 / β2 / β3 adrenoceptors use solutions up to 100 nM. |
| | |
| --- | --- |
| Pharmacological validation | The CellAura fluorescent β2 antagonist [(S)-propranolol-red] ligand was shown to antagonize the activity of the non-selective β agonist, isoprenaline, in three separate recombinant CHO cell lines expressing either the human β1, β2 or β3 receptor and a cyclic AMP-responsive secreted placental alkaline phosphatase (SPAP) reporter gene. The cyclic AMP-induced expression of SPAP was measured under basal and forskolin-stimulated (maximal) conditions. Addition of CellAura fluorescent β2 antagonist [(S)-propranolol-red] to the basal or forskolin-stimulated cells did not significantly alter basal and stimulated SPAP levels, demonstrating that CellAura fluorescent β2 antagonist [(S)-propranolol-red] has no intrinsic agonist activity at either β1, β2 or β3 receptors. To determine the apparent KD for CellAura fluorescent β2 antagonist [(S)-propranolol-red] at β1, β2 and β3 receptors, cells were treated with varying concentrations of isoprenaline alone, or in the presence of 1µM CellAura fluorescent β2 antagonist [(S)-propranolol-red], and the cyclic AMP-induced expression of SPAP measured. The apparent KD was calculated from the rightward shift of the agonist response curve in the presence of CellAura fluorescent β2 antagonist [(S)-propranolol-red], compared to the response curve for the agonist alone, for β1, β2 and β3 receptor expressing cell lines. |
Solubility & Handling
| | |
| --- | --- |
| Storage instructions | -20°C (protect from light) |
| | |
| --- | --- |
| Solubility overview | Soluble in DMSO |
| | |
| --- | --- |
| Handling | After thawing individual aliquots for use, we recommend briefly sonicating the sample to ensure it is fully dissolved and the solution is homogeneous. We do not recommend using the product after subjecting it to repetitive freeze-thaw cycles. |
| | |
| --- | --- |
| Shipping conditions | The product, supplied in a dry form, is stable at ambient temperature for periods of up to a few days and does not require shipping on ice/dry ice. |
| | |
| --- | --- |
| Important | This product is for RESEARCH USE ONLY and is not intended for therapeutic or diagnostic use. Not for human or veterinary use. |
Chemical Data
| | |
| --- | --- |
| Formulation | Lyophilized film |
Publications
These publications cite the use of CA200689 CellAura fluorescent β2 antagonist [(S)-propranolol-red] purchased from Hello Bio:
Investigation of Receptor Heteromers Using NanoBRET Ligand Binding.

Johnstone EKM et al (2021) International journal of molecular sciences 22

Functional solubilization of the β2-adrenoceptor using diisobutylene maleic acid

Harwood CR et al (2021) iScience 24(12) : 103362

ThermoFRET: A novel nanoscale G protein coupled receptor thermostability assay functional in crude solubilised membrane preparations

Veprintsev et al (2020) bioRxiv https://doi.org/10.1101/2020.07.07.191957 : doi

GPCR Solubilization and Quality Control

Miljus T et al (2020) Methods Mol Biol 2127 : 105-127

Synthesis and characterization of high-affinity 4,4-difluoro-4-bora-3a,4a-diaza-s-indacene-labeled fluorescent ligands for human β-adrenoceptors.

Baker JG et al. (2011) J Med Chem 54(19) : 6874-87.